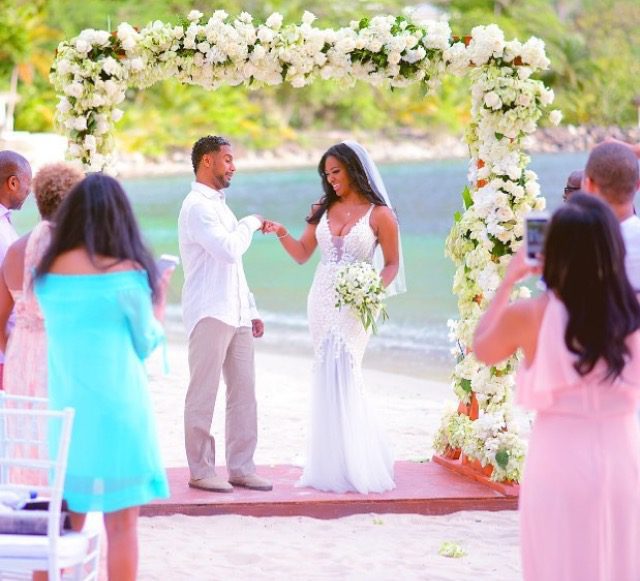 Kenya Moore has revealed why she kept her newfound love under wraps.
On June 10, "The Real Housewives of Atlanta" star exchanged vows with businessman Marc Daly, 47, during a seaside ceremony in St. Lucia. The duo, who met through a mutual friend, chef Roblé Ali, met about a year ago but didn't begin dating until December 2016. According to Moore, their very first date was a game changer.
"I've never experienced a first date like this before," she told People. "You know when you meet people, and you like them or have good chemistry with them but you don't feel like the world has changed? I felt like the Earth moved after our first date."
While the two wouldn't walk down the aisle for another seven months, Moore confessed she was all in, early on. "I probably would have married him in 30 days, the feeling was that strong," she said. "But we wanted to wait and get to know each other and make sure it wasn't an infatuation. We needed to make sure it was actually real."
Moore described Daly as "extremely romantic" — bringing a lot of "calm, security and protection" to her. A stark contrast from her roller-coaster relationships played out for reality TV.
"People think they know me from the glimpses they have of my life being a reality star," Moore added. "And I don't see myself as a reality star. I see myself as a person who allows you to see moments in time. You don't really see all of me — it's impossible, I'm not followed 24 hours a day. But [Marc] sees me for who I am. … He really knows my heart."
As for why she opted to keep her beau's name a secret, she said: "He didn't sign up for this world, I did," she explained. "Every time someone has been associated with me, they attack that person — immediately going after them, trying to bring them down and saying crazy things. They tear people apart. And so for [Marc], he was like, 'This is about me and you — it's not about me or you.' He just wanted it to be about our pure love and not about him.
"That's why I fell in love with him. For him, it's about being my protector and my best friend — not being someone that stands next to me, but someone who supports me and is okay with being behind me sometimes. He doesn't want my money, he doesn't want my fame, he doesn't want my success — he just wants my heart, and he has it."