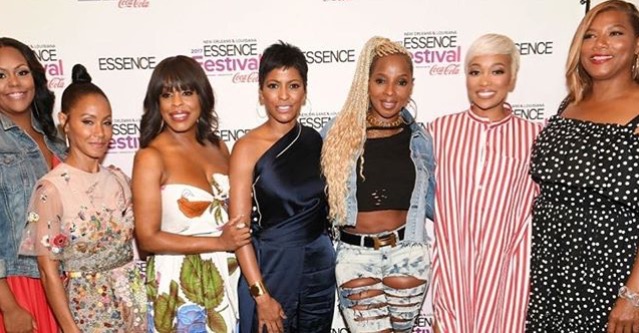 Essence Festival is heating up and some of Hollywood's stars are dishing out sound advice.
Taking the stage for ESSENCE Fest's Strength of a Woman panel, with Tamron Hall, Girls Trip co-stars Queen Latifah and Jada Pinkett Smith, "Claws" actress Niecy Nash, singer Monica, and more, revealed what advice they'd give their 15-year-old selves.
Kicking things off, Latifah urged young women to simply "Love yourself because people will love you for who you are in the future." She admitted that she could only touch on the path she has taken. "It's a tough question to answer because I don't know anything other than this journey. I'd probably tell my 15-year-old self, 'Yo, you're gonna be in a movie with Jada Pinkett.'
"But, seriously, I would say love yourself because my teenage years I didn't. I wasted a lot of my time on a lot of things, not wasted my life, but there's a lot out there to see and do. And, I would have made myself have a conversation with my mother because by the time I was 17, I had that conversation with my mother and I probably could have saved her two years of crying, not knowing what she was going through while I was figuring out what I wanted to do. I probably would have gotten closer to who I've become," she concluded.
Meanwhile, Smith revealed that she wishes she had left the past, in the past. "I would just basically tell myself that it's OK. At 15 years old it was rough and I brought a lot of pain out of my childhood into my adulthood that I'm just now dissolving. And, that pain held me back and I wish I had known then that pain is just a part of your journey and it's not because you've done something wrong or because you're cursed or you're a bad person, we're all going through it.
"We all have pain, we all have a story. And, so, all we need to do is support each other through it and I wish I had known that Jada, it's just a part of it, baby. It's going to be OK," said the "Gotham" actress, providing a polite reminder to always lift those around you.
Though it's no secret that both stars have experienced their fair share of struggles, their tenacity has helped them rise to the top. Up next, the two are on the press circuit for their highly anticipated film about four lifelong friends who travel to New Orleans for the annual ESSENCE Festival, where things get wet, wild, and spectacularly hilarious.
Girl's Trip hits theaters on July 21, 2017.