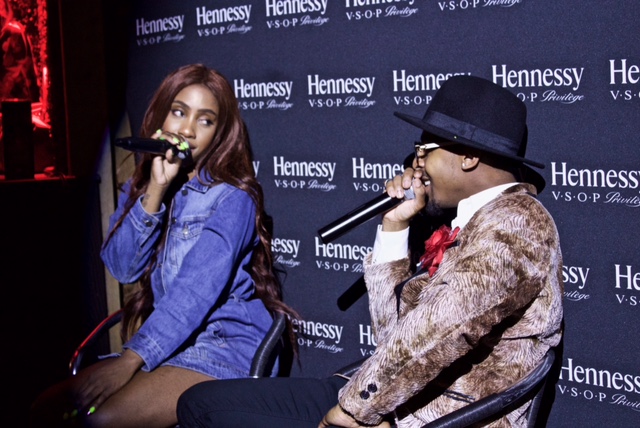 Grammy award-winning songwriter Sevyn Streeter has returned to the charts after a two long years of silence. Since her last EP Call Me Crazy But… dropped in December of 2013, fans have been expecting more from the beautiful songstress. And now that she's back, she's ready to share her life experiences and former relationship with rapper B.O.B. Streeter released her very first studio album, Girl Disrupted on July 7 and celebrated her 30th birthday on the same day. Girl Disrupted is now no.1 on Itunes.
Streeter revealed that dark moments during her time of self analyzation triggered her creativity. On the album, Streeter gets vulnerable and raunchy.
Metro Detroit fans got a chance to hear the album first hand at her listening party, Thursday July 7, at the Bosco Cafe. Sponsored by Hennessy V.S.O.P., select attendees sipped Hennessy cocktails and snapped selfies with the woman of the hour. Detroit radio personality Stewie sat down with Streeter for an interview. Streeter was presented with a special name engraved Hennessy V.S.O.P. Privilege bottle from V.S.O.P. sponsors. Fans had the pleasure of hearing snippets from the album. Tracks included "Anything You Want," featuring Jeremih, Ty Dolla Sign, and Wiz Khalifa, and "Been a Minute" featuring, August Alsina.
Read Streeter's exclusive interview with rolling out below.
It's been a long time! Two years to be exact. Welcome back! Today is a big day for you! You're celebrating your 30th birthday, and releasing your very first studio album! Can you tell us why you decided to release this highly anticipated project on your birthday? (7-7-17)
Well seven, for me is perfection and completion. I could not complete this album and until all of my stories were told. Whether it was dealing with love, dealing with heartbreak, dealing with liberation, depression, or dealing with whatever it was…it was important to me that I addressed everything that I have gone through to justify why it even took so long to get an album to you! Know what I mean? I was very well aware of the fact that it's been two years, and I didn't want to keep fans waiting anymore! I'm so just appreciative…two years is a long time for fans to remain engaged, and to still f—–g care, and still wondering what Sevyn is working on. That's a long time!
Do you think your previous relationship with rapper B.O.B. influenced any songs?
Absolutely. I write from what I go through. Like literally….I'll be all the way honest, it's this guy that I'm talking to right now…when I sent him a song today that's on the album, I was like "Listen to this song, it's part fact and part fiction… I definitely owe you 'pub', but you ain't gettin' it!" (laughs) So yeah, all my music is inspired by a relationship, whether it's with B.O.B, or whoever. He definitely influenced the record, we had plenty of songs together that y'all didn't hear…so yeah, he inspired the record, good and bad, know what I mean? Just like anyone else I've ever dated or encountered. It doesn't have to be a dude, it could be a girlfriend, best friend, colleague or whatever. So, I write about all of it.
What exactly does Girl Disrupted means? What's the pen like on this album and what can we expect?
There's a lot of vulnerability and sexuality, and everything else in between. The album itself touches on going through…man just difficult times, dark times, depressing times, like…Girl Disrupted means love, loyalty, and liberation. From heartbreaks to being in love, loyalty whether it's to yourself or to someone else. It touches on liberation, talking about forgiving yourself and others who did you wrong. The beautiful thing about liberation is, you forgive them and move past them anyway. You don't have to accept them back into your life, but you move past them. So love, loyalty, and liberation umm…that's Girl Disrupted! It's genuine, it's honest, it's transparent and I'm just in a really good space. I knew that my fans deserve music right now….I just created this from the good and kindness of my heart. God is so much a part of this process if people only knew. There [have] been so many changes in my life….and my album reflects, you know, my place and where I am with God and my life. Before this, I had moments where I didn't even want to pray to God… dealing with depression where I didn't want to pray, but I was smart enough and that spiritual subconscious stepped in and kept godly people around me. My mother's a minister, my dad's a pastor… you know it just runs so deep! Whether I'm singing about sex, love, depression, it all stems from a foundation, and that foundation is honesty. I'm in the best space that I haven't been in a very, very, long time.
You "penned" for a lot of our favorite artists such as Chris Brown, MJB, Kelly Rowland, etc. When you write a song, how do you determine if the song is something you want to kee or pass along?
Well, when I write a song as a single, I'll sell it to different artists…because I'm not going to let it sit in my laptop, it doesn't do me any good, it's not helping, right? So if I'm not gonna use it as a single, I'll sell the song and let somebody else sing it.
If there's one thing you want your fans to interpret from this album, what would it be?
I want them to disrupt some s–t! Real talk, like disrupt some s–t. Like, I had to get rid of so many people in my life that made me feel stifled. You have to do that sometimes, Even if it's your own comfortability. My album is very diverse, it's about liberation and so many different things, but when it all breaks down it's about honesty, and transparency with yourself and not having fear…because at the end of the day, this is what I say to myself: God created everything down here. The thing that helped me, was knowing that God controls everything. He controls everything, so I shouldn't have fear of anybody or anything down here. It's like knowing the boss, and you're having issues at the job. But you know the boss, right? So that's just the mentality that I have…if it doesn't feel right then it's not for me.
See pictures from the event below. Photo gallery credit: Mr. Ware Photography except where noted otherwise