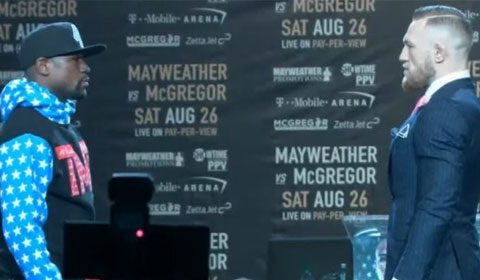 Trash talking at press conferences before a professional boxing match is normal but what Conor McGregor said to Floyd Mayweather has some yelling racism.
At a recent event between the two fighters, Mayweather was announced and came out shadowboxing as McGregor was already on stage. The assembled crowd cheered as Mayweather showed off his moves and then McGregor made a statement that shocked the crowd. McGregor yelled to Mayweather, "Dance for me boy."
Mayweather then strolled over to McGregor, looked at him, and then walked away as the crowd went wild. McGregor's was blatantly racist, you just don't call a black man boy and tell him to dance.
McGregor's comment was blatantly racist — you just don't call a Black man "boy" and tell him to dance.
See it below.