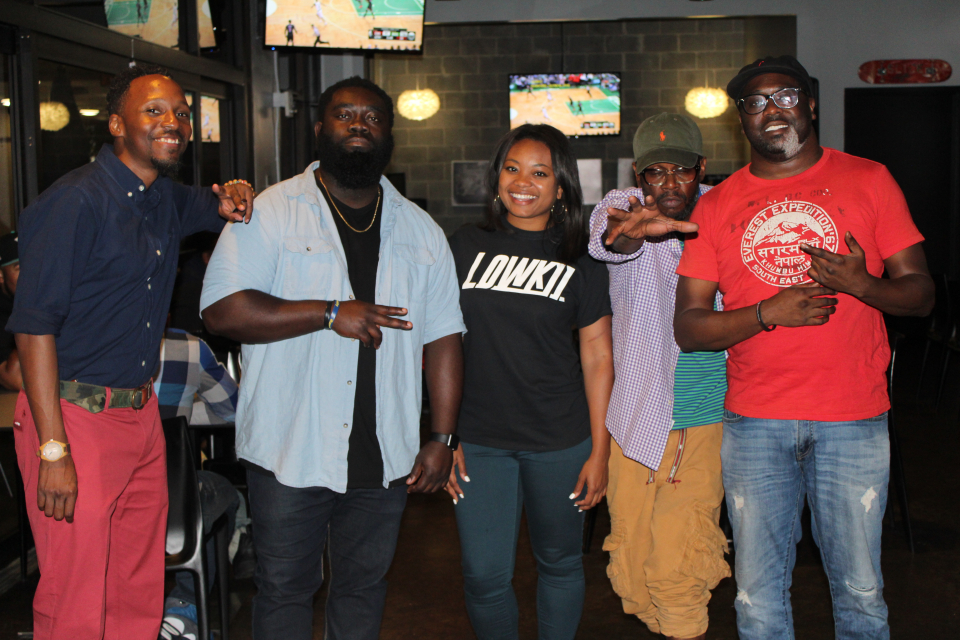 Rap music continues to serve as one of the top music genres of this generation. But as the music thrives, even the most hardcore rap fans may lack knowledge of certain facts and aspects of the culture. Enter Hip-Hop Trivia ATL.
Every Wednesday evening at Slice in downtown Atlanta, music journalists Maurice Garland and Branden Peters along with DJ Dusei Da Great and Crystal Thomas put hip-hop fans to the test. Each event focuses on specific themes such as Trap Music; Texas hip-hop; Dungeon Family; Hip-Hop Soul; 2 Pac; Jay-Z, and Def Jam records to name a few.
"I came up with the idea for doing a hip-hop bar trivia night about three years ago," Peters says. "I like bar trivia, but I felt like it lacked flavor. The idea came to fruition when I met with Crystal Thomas of Damn Fam and began fleshing out the idea. Maurice [Garland] thought it was a great idea as well so the three of us started working together and the rest is history. Our DJ, Dusei Da Great, has been there from the first event putting together the music selection for each theme."
Several teams compete for a chance to win special prizes. Some of the questions include, "Name the Whip/Nae Nae rapper who was recently detained in Dubai over a business dispute? Silent"; "What song was Terror Squad was nominated for a Grammy in 2004 that also sparked a dance trend? Lean Back";  "Yung Joc's video for 'It's Goin Down' popularized the motorcycle dance. What was the name of the album the single was featured on? New Joc City."; and "Migos are credited for inventing the Dab, but they actually later gave credit to this Atlanta rapper for being the originator. Skippa The Flippa." 
"One of the things we tell people every night is, 'Don't feel bad if you got the question wrong, because you're still learning something new,'" Garland says. "We're using this platform to educate people on the culture. Elders learn about new stuff, younger people learn the history. With so much misinformation and forgotten history, Hip-Hop Trivia ATL is here to teach, preserve and bridge gaps simultaneously. All while having a fun time."
Hip-Hop Trivia ATL takes place every Wednesday at 8 p.m. at Slice on Piedmont (75 Piedmont AVE, NE).
For more info: [email protected]