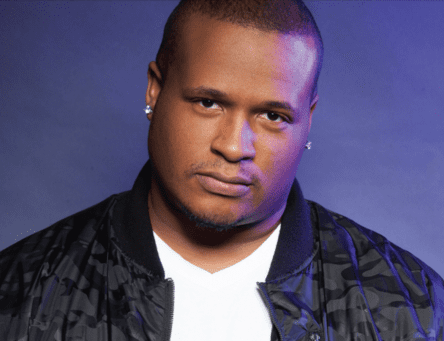 R&B singer Ricco Barrino is "American Idol" winner Fantasia Barrino's older brother. Critics believe he may be taking a step in the wrong direction naming his newest project Fantasia's Brother but the North Carolina native says there's a method to the madness.
Rolling out spoke with Ricco to discuss his new music project and his journey to overcome depression.
Check out what he had to say below.
How did you start in the music business?
First and foremost, I was always around music but wasn't into the industry. I always had dreams of singing, though. I had to figure out if I was going to keep pursuing football or follow the family trade. My uncles started out during the Motown era under Berry Gordy. That had a big influence on me.
What kind of personal issues held you back from pursuing your dream?
I was going through domestic violence issues with my girlfriend at the time. She was a girl from the 'hood who liked to fight. I liked what I saw but didn't get a chance to see who she really was. We would fight every day after school. I was depressed and found myself not wanting to live anymore. One day I spoke with a counselor at my grandmother's church and that automatically changed my life.
How was the transition moving to Atlanta to further your career?
I moved to Atlanta to pursue music. I wanted my brother to come with me and he didn't want to at first. If you noticed my brother from my sister's show "Fantasia For Real," he's stubborn and a character. It took him getting his car repossessed for him to want to come with me. We jumped in a rusty Cadillac with no gas meter. The whole ride we didn't even know how much gas was in the tank. We got there and was like, where is So So Def and Stankonia at? It felt like the underground railroad because we were in this big city and don't know our way around.
How did you begin to make a name for yourself?
It was the early 2000s: me, my brother and my friend formed a group called Infinity. We set out to start making an impression on the city [Atlanta] and we did. We would perform at Apache Cafe every week. It was always packed and more and more people would come to see us. My sister Fantasia was really young at the time but I brought her down as my secret weapon. She had the voice. It felt like a scene from The Five Heartbeats. They were hating on us. They didn't want her to perform because she was so young.
When did your sister get her first, big moment to sing?
My dad and my sister's boyfriend suggested putting her on "American Idol." That was something I hadn't even thought about. I had just got back from Atlanta and my dad let me take the car to bring her down for the audition. I told her as we were driving down, "If you win, I will do background for you, but if I win you get to do background for me," and we both chuckled about it.
At what moment did you step out of Fantasia's shadow and focus on your own career?
The first reach to make it about me was I went to do my audition in another city. I took a bus to New York and slept on the street. I went through three rounds and started to question if this show was for me. I felt like I wasn't being myself and pulled out of the audition rounds. I came back home because I felt there had to be a better way. She ended up winning and I did background for her. I was slowly getting towards my goal. I started to meet a lot of people with her and years went by. I finally felt like enough was enough because I wasn't getting anywhere. I got with a good friend of mine named Keith Mack who was one of the super producers at Grand Hustle. I told him I had a game plan. I came out with a song called "Bubblegum" and this was during the snap music era. My career took off from that point. Jason Jete,r who practically birthed T.I., flew me down [to Atlanta] and we formed a relationship. The next thing you know, I was signed as a Grand Hustle artist and that's how my career began.
Why did you decide to become an independent artist after having stability from a major label?
For me, I think it chose me because I was around it so much. I learned that I could use music as a form of expression to tell my story how I want to tell it.
What is the hardest part of doing everything yourself?
The security blanket was the hardest part. When you finally get off the safety net and walk away is when it's most challenging. It has its pros and cons. It's hard for me because of the path that I've chosen. In this day and time, television will get you very far like how celebs have done with reality TV. I chose not to go that way because I wanted the music to stand out. Some may say I should take those opportunities. I don't want to be remembered as an artist who blew up off TV but my songs didn't last.
What music projects do you have in the works?
I just finished up a new music project with T.I.; although, we don't have a title yet for it. We have something coming very soon. I currently have out two mixtapes called Twenty 12 Play, which was an erotic driven mixtape that came out in 2012. I also have out Musical Evolution, which describes where I was at coming out from a 360 deal where I started to mature in my music. I'm dropping a new single called "Let's Dance" and my third project is going to be called Fantasia's Brother. A lot of people laugh and wonder why I am calling it that. I have to make some calculated risks. I haven't even told her yet.