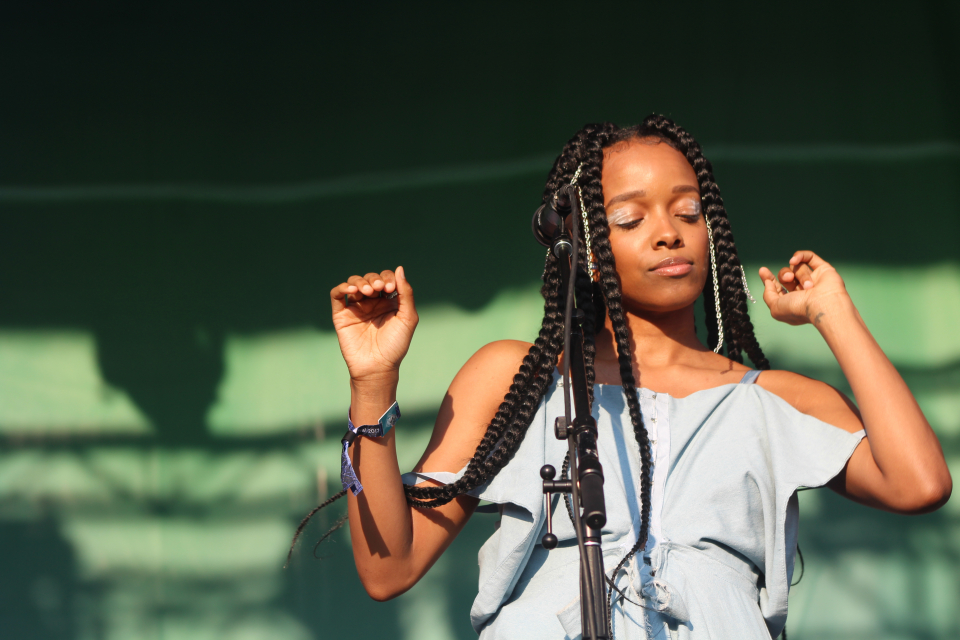 Chicago artist Jamila Woods, who was named one of the Top 5 Chicago artists to check for in 2017 by rolling out, brought her talents to the Pitchfork Music Festival. Originally, Jamila was set to perform on the blue stage, a stage reserved for artists who may not necessarily be one of the main draws. A major misfortune befell the group Avalanche, who was playing the green stage and they had to cancel. Subsequently, Jamila got switched to the green stage.
The green stage is the main stage where A Tribe Called Quest performed the night before and Solange was selected to perform late the next night. There were fans who were present at Jamila's set who were there originally to see the band who had canceled. However, after hearing the first groove from Jamila's band, they all stayed put.
You could tell by looking at Jamila and her background singers that they were a bit overwhelmed having to fill this major spot. They adjusted. Jamila's set was confident, powerful and defined. Her presence was captivating and her voice filled Union Park with an angelic vibe. Her performances of "VRY BLK", "LSD" and "Holy" drew the most praise.
We spoke with Charlaya, one of the festival goers who was not familiar with Jamila. She said, "I did not know who she was; when I heard her voice I was like wait, this doesn't sound like Australian DJs. She now has a new follower; she gave a great set and I will be looking her up as soon as I get home to Atlanta."
There are moments in an artist's career that help to build on their notoriety in a major way. It is up to that artist to seize that moment, make it theirs and make it memorable. Jamila earned her moment and new fans, along the way.
Check out a few pics below.