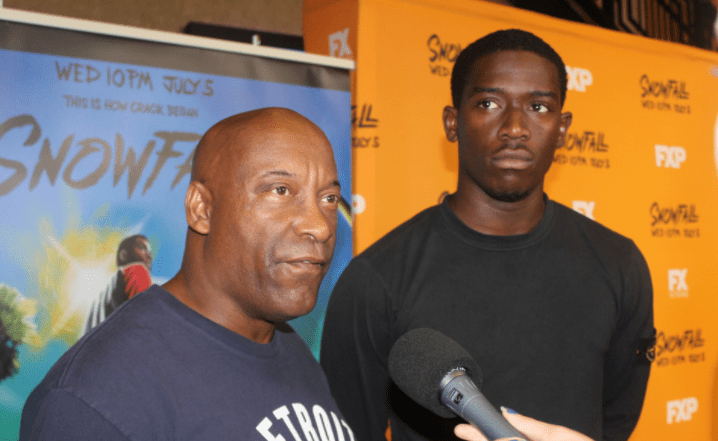 Award-winning director John Singleton made a stop in Detroit to screen his new FX series, "Snowfall," an hour-long drama set in the early '80s in Los Angeles. The series takes place during the infancy of the crack-cocaine epidemic and portrays its radical impact on the culture.
During the screening, rolling out spoke with Singleton about his most recent television series.
Tell us how your projects explore Black culture in America.
That's self-explanatory. I just keep it real and, hopefully, people respond to it and dig what I'm doing.
How do you want audiences to interpret the themes in the show?
I mean that's not up to me, that's up to them. I can't say how they should interpret it. I want them to be passionate about what they're seeing, that's all.
What were your objectives during casting? What led to the selection of these particular actors?
To find people that were interesting, that folks would want to watch on TV every week. You gotta find people that you just wanna see. … Just the folks that are really good for the parts — that's what we selected.
---
After chatting with Singleton, we spoke with actor Damson Idris, who plays a young street entrepreneur, Franklin Saint. Idris said the lead role was really important to him because his acting career is something he has always aspired to do.
"I enjoy having the responsibility, and I enjoy driving a story forward," he said. "I enjoy doing movies and stories that might change the world and affect somebody in a positive way. So it feels amazing."
Did you think your first leading role would be with a director like John Singleton?
Oh, no way, never in my wildest dreams! I thought it was going to be with [someone] like my neighbor next door, who decides to start acting or directing or whatever. Like, I never thought it would be John Singleton. [I'm] truly blessed, he's really passionate about every job that he does and every story he tells, and anyone who is involved becomes passionate because it resonates. He has a great soul, and he's really childish almost. And everyone was in a great mood on set and [excited that we] were able to put what we put on screen.
How does it feel to play a drug dealer?
Street entrepreneur, which is a fancy word for a drug dealer. I sold cocaine for real; that's how I got into the role. No, I'm playing with you. It's the thing about African Americans. Black British actors say, "Why [do] they only get awards when they play drug dealers, or maids or anything?" But I don't think that's the truth. I think as long as the story is important for the culture, then it's all worth it. As long as it's played with prestige, elegance, and respect, and not just any type of drug dealer, with no thought process going on, no arch, just a drug dealer that's just out here, then those are the roles I'll never ever play. But Franklin Saint is nothing like that.
---
Co-creator and show runner Dave Andron shared that it feels great guiding Singleton into the TV world and helping him learn the dynamics of TV.
"I kind of get to learn from him, too, [about] the filmmaking aspect and the [reality] of South Central," he said.
What do you want people to take away from this series?
I just want them to understand what happened. I want to know why this place that was a working-class Black neighborhood in the period of a year turned into a war zone. Why wasn't it dealt with by the powers that be? I feel like it was the tipping point for the African Americans in this country in a lot of ways. Like, it really could have gone in one direction, and instead, it went another with sending people to jail. I don't know if people understand what a big, big corner this was — and not in a good way.
"Snowfall" airs Wednesdays at 10 p.m. EST on FX.