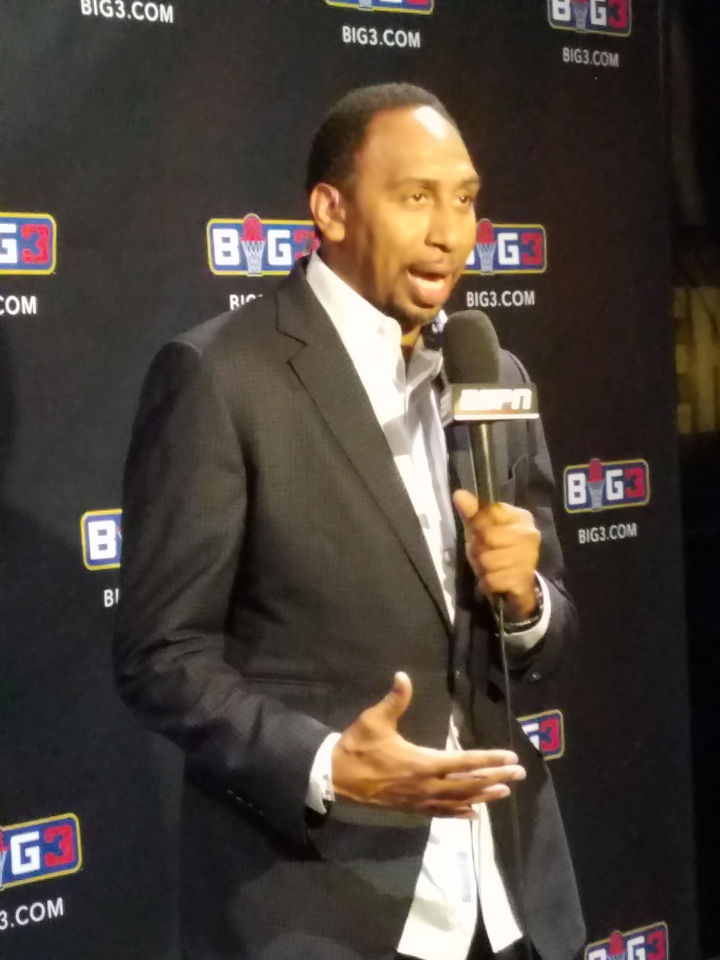 Rolling out spoke exclusively to ESPN's Stephen A. Smith at Wells Fargo Center in Philadelphia Sunday afternoon at Ice Cube's BIG3 basketball league stop. We asked him if either Floyd Mayweather or Conor McGregor crossed the line at the MayMac World Tour, last week. We also asked what Allen Iverson means to Philadelphia.
"I don't think they crossed the line," Smith replied. He offered plenty of verbal support for his argument: "There's no greater icon to me than Muhammad Ali. Well, for years, he tormented Joe Frazier, called him a gorilla and things of that nature."
He also mentioned infamous remarks by a former Brooklyn boxer: "We have Mike Tyson, who is a convicted rapist, and he was talking about eating Lennox Lewis's children. Or telling that to the reporters before saying 'All praise due to Allah!'"
But be clear, Smith isn't giving him a pass and doesn't like the comments made by McGregor, specifying the "boy" comments. "No we don't like that; no Black person should like that," he said.
One thing is for sure: Floyd Mayweather and Conor McGregor appear willing to say just about anything to market the fight. This may help the bottom line for both fighters, but especially the business savvy Mayweather.
Smith also expained what Iverson means to Philadelphia.
"To me, it's everything because he personified and epitomized everything that the city of Philadelphia wanted to be about and wanted to be recognized for in regards to sports," he said of Iverson. "He was a warrior, an ultimate warrior. He was somebody that had the heart of a lion, took no prisoners, constantly was in attack mode, went after it every single day that he stepped on the court. You knew that he was fearless, that he was unafraid, and that more importantly than anything else, he was going to back it up with a level of production that most people couldn't … He was unwilling to compromise who he authentically was just to sit there and market himself better or make more money; that ingratiated himself further with a blue collar city like this."
Unfortunately to those in attendance, Iverson was unable to play in the game, but he did receive a tremendous ovation and spoke to the Philadelphia faithful before his 3's Company played.
See video of the Iverson's ovation and the full interview with Smith, after the break.