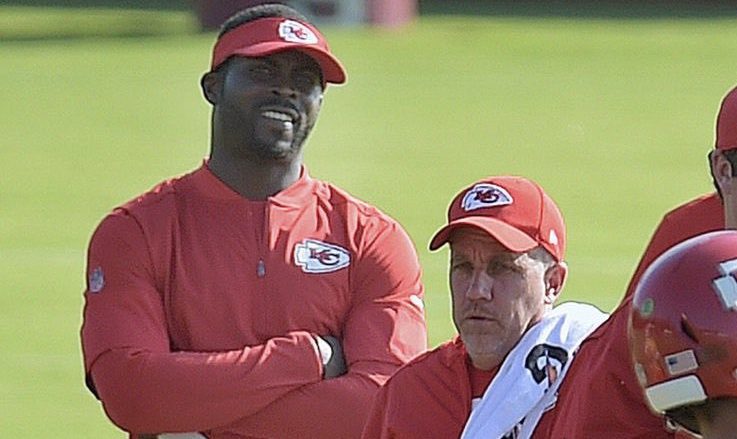 After a few years of operating under the radar as a backup quarterback in the last few years, Michael Vick's name is popping up in headlines again in 2017. He announced he was retiring once the Atlanta Falcons made the Super Bowl, the Falcons decided to honor him alongside Roddy White and then he gave some controversial advice to Colin Kaepernick on how to get back in the NFL. In his latest chronicles, he's been getting ridiculed for being a coaching intern with the Kansas City Chiefs.
The Chiefs' head coach Andy Reid was the head coach for the Philadelphia Eagles when Vick made his return from prison in 2009. Vick posted a photo of himself at the Chiefs' training camp in his new coaching attire. Not everyone was a fan of the controversial athlete's latest move.
1/4 As the Little Red Dog lay on the ground, fighting for air, Quanis Phillips grabbed its front legs and Michael Vick grabbed its back legs

— DeepStateControl (@PaulZRad) July 26, 2017
However, the critics weren't just limited to the dogfighting ones. Supporters of Kaepernick also entered Vick's mentions.
ohhhh I see why you slammed Kap,cooned to get a coaching job. sell out

— RUDY (@RudyDaddysean02) July 26, 2017
Now we see why you said that cause you promise a job Wow!!!!!!

— kenneth davis (@kennethdavis26) July 26, 2017
Then there were others who decided to get a little more personal in their attacks.
Well, whatever team Mike Vick is associated with should be banned from the NFL! He is a disgraceful excuse for a human being!!

— Karen Benning (@KarenBenning2) July 26, 2017
https://twitter.com/dustoffonefour/status/890224782922444801
It is well documented that while Vick is widely loved, he's also strongly disliked.
He is slated to spend the entire preseason with the Chiefs, including all four preseason games as he focuses on working with the team's quarterbacks. Coach Reid said he decided to invite Vick because he knew that he enjoyed coaching on the high school level since playing his last few games in the NFL with the Pittsburgh Steelers in 2015. According to The Kansas City Star, Chiefs personnel said that the players have been very receptive to Vick and have been nothing but welcoming to him.
Vick was arguably at one point the face of the NFL. He was on the cover of Madden 2004, he had huge Nike and Powerade deals, and he had the second-highest selling jersey in 2004 behind Pittsburgh Steelers quarterback Ben Roethlisberger. The current quarterbacks on the Chiefs' roster include Alex Smith, Patrick Mahomes II, Joel Stave and Tyler Bray. The Chiefs' first preseason game is on Aug. 11 against the San Francisco 49ers.