"Bullets take lives, but words change lives." These aren't simply words yelled by teenagers at a day camp, but instead, it is a mission statement embodied by thousands of young people who've been empowered by Kuumba Lynx, an urban arts youth development organization.
For two decades, alongside many of Chicago's artists, activists, educators, and youth communities, Kuumba Lynx has honed art that presents, preserves and promotes hip-hop as a tool to reimagine and demonstrate a more just world.
Kuumba Lynx was launched in 1996 by three female artists: Jaquanda Villegas, Leida Garcia-Mukwacha, and Jacinda Bullie, who wanted to address the lack of arts programs in the Chicago school system. Many teens view Kuumba Lynx as "a second home" and believe it's a forum for their "voices to be heard."
Kuumba Lynx is not only a safe haven for youth, but the organization allows youth to find their authentic voice and truth and provides them with the resources and platform to express that truth artistically. As a result, Kuumba Lynx has cultivated more than 10,000 youth artists since inception.
This confidence to creatively speak their minds has helped Kuumba Lynx's Poetry Team become three-time champions of "Louder Than A Bomb," the world's largest youth poetry festival held in Chicago each year.
Spoken word, photography, beat box, graffiti arts, dance; these are just a few of the powerful mediums Kuumba Lynx encourages its participants to use as a means to share their personal struggles, mixed emotions, and life stories. The goal is to "challenge youth and their communities to engage and listen, critically observe and react genuinely, and creatively speak with one another."
Here, we had the pleasure of interviewing two of their founders, Jaquanda Villegas and Jacinda Bullie.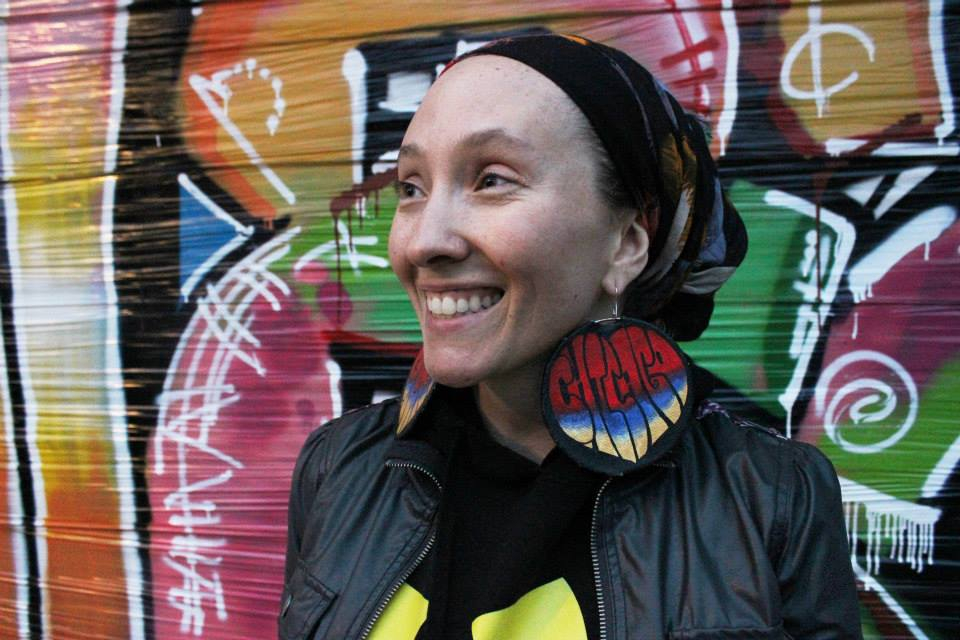 What is your day-to-day like at working with the students of Kuumba Lynx?
Jacinda: Most days never go as planned because we often are dealing with the unexpected. The work we do requires a day to day commitment to being present and showing up in your best way, meeting young folks where they are at, and challenging them to go wherever they envision. We are continuously inspired and humbled by the genius of youth. They are a constant reminder of all that is just and right in this world.
Jaquanda: We work to fill each day with "peace, love, respect, for everybody, paz, amor, respecto, para todos, ase, ase, ase." These are the affirmations we use in our KL opening and closing circles with our students.
KL days are also filled with facilitated conversations around art making and critically looking at our world. We ask lots of questions and have grown to understand that there is a lot of unpacking we have to do to liberate ourselves. Anywhere between three and five days a week throughout the year, you can find various workshops where Graffiti pieces are being crafted, a series of new beats are in production, vocals and music is blasting off the dance floors, feet are foot workin,' and African drums summoning the Griots and Poets preparing to slam.
Jacinda: Kuumba Lynx is an ongoing continuum of transformative space where half pints, ages 8-13, grow into to Youth Apprentices, 14-18; and as alumni, 19-25, and young adults and their families, 25 plus, remain connected to their KL community. When you walk into a KL space, you walk into a 21-year-old history. The KL home space is located on the second floor of Clarendon Park, a Chicago Park District community center. It is here where you will find critical art making labs amplifying voice and a reimagined world.
What inspires you to show up at work every day?
Jaquanda: KL was created to hold space for youth and their communities. We are '90s babies of post civil rights era; who had ourselves been exposed to arts through the Chicago Public Schools magnet and arts programs. We started as 19 and 20 years olds. The work came during a time in our lives when we needed space to heal. We valued the influence of our arts education and had a passion for it. Also, as co-founders, we grew up in homes that reared in the way of justice.
Our families worked to elect Harold Washington. They were keeping us active through Operation Push and Black Panther Survival Programs. Given the effects of budget cuts, disenfranchised communities by way of gentrification, and the increasing criminalization of Black and Brown youth, we knew we had to show up to hold down a different narrative. We show up every day to be with the communities in this city that are lacking support and physical resources.
Jacinda: KL celebrates youth and their communities by holding the space we do. We encourage them to acknowledge and value their cultural capital and we support their growth. We are learning together about transformative justice and collectively we reimagine what justice, accountability and a healthy community looks like. We have seen how KL has had the power to counter this negative image of our city when we see emerging leaders who are asking essential questions about community and value systems and taking chances to try out their ideas. These youth leaders come to our KL space ready to share and develop core values like centering the wellness of a community. When a KL alumnus goes to college and seeks to learn about Arts Management because they want to return to KL and contribute to the organization's sustainability, I am inspired that they choose to reinvest their time and vision in the organization they were raised.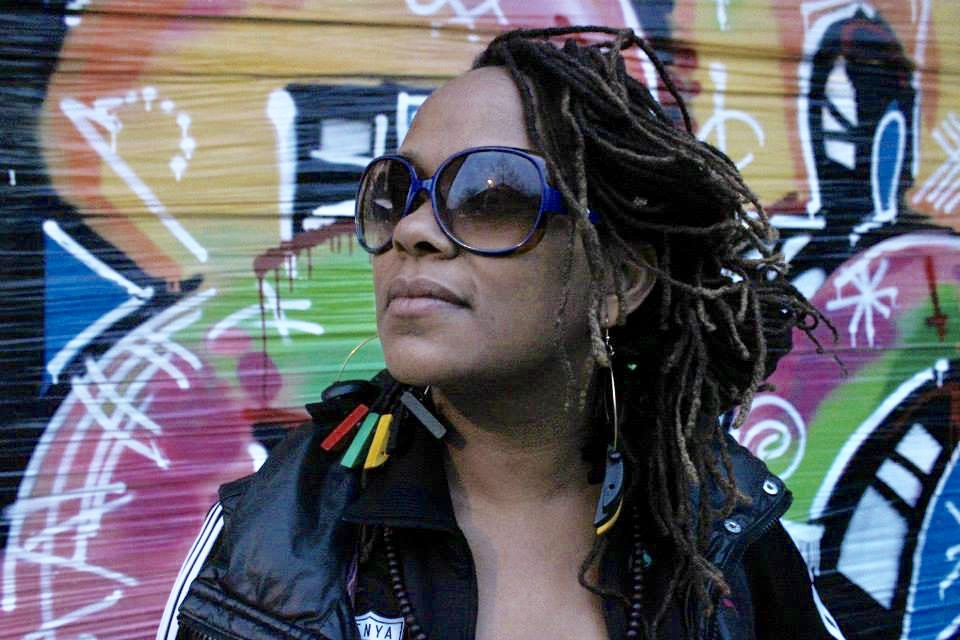 How did you determine that Kuumba Lynx was needed in the community?
Jacinda: In 1996, there were budget cuts to arts programming in Chicago Public Schools that were alarming to us as artists and activists. At the same time, there were laws that criminalized youth such as the three strikes law and the anti-gang loitering law. It was apparent that we needed to step in and do our part. Our goal was to create an environment where arts and activism could engage our youth in liberating their voices, connect to the power of their story and its relevance in our city, country, and the world.
What industries connected you to this career choice?
Jaquanda: As hip-hop educators, culture keepers, the hip-hop Industry has been a model for us to use in our curriculum as we dissect and interrogate what we are consuming. The theater industry has also been an entryway for us to put hip-hop theater on stages in throughout Chicago and the nation. Breakthrough theater stage plays such as Hamilton, affirm the foundational Chicago hip-hop theater work that we invested in back in 1996.
Describe the future skill sets that are essential to future business leader and innovators who want to establish an organization similar to Kuumba Lynx?
Jacinda: Not for profit management, arts development, and cultural work are the skill sets that would be best to grow an organization similar to Kuumba Lynx (KL). The future of this work looks bright and hopeful as we have been able to establish a national cohort of leaders in this work through Youth Speaks out of the Bay Area. Specifically for KL the As I Am Initiative which has a mission of supporting emerging cultural workers and creatives ages 18-25 in a self-defined vision for their lives, creates a track of inter-generational and organizational sustainability.
Define innovative methods you apply to your business and life.
Jacinda: As we envision the next 20 years, KL's innovation lies in people and curating creative methods to expand community audiences. We believe our KL arts activists and not-for-profit business mentees are new innovative thought leaders. We are invested in the future by creating programming that supports new leaders, creatives, and cultural workers. We defined this program as our "As I Am" initiative. Its mission is to support emerging cultural workers and creatives ages 18 to 25 in a self-defined vision for their lives.
Jaquanda: We are also investing time and innovation into expanding our audience. We have invested in a Mobile Black Box Container Structure that has traveled from Uptown to provide more than 50 hours of free community arts programming. It has since moved into the Englewood community where it will help provide 20 free hours of arts programming in that community as well. When creating the Chicago Hip-Hop Theater Festival in 2016, we thought about the theater festival going to communities where residents may not have the privilege to travel to a theater. We also wanted to present theater in our communities on our terms and use this community structure to engage community dialogue, critical conversation, and community building. This was all done while being inspired by public art and reclaiming public space. In one year from inception we were able to manifest this vision and now are currently running the Chicago Hip-Hop Theater programming out of our temporary container structure.
Describe how you set goals and evaluate your success.
Jacinda: Our organization has an integrated strategic plan, that aims to boost our capacity around programming, funding, board development, and marketing to which our board of directors and stakeholders hold myself and my co-director accountable. We have been successful in meeting our goals and evaluating the successes and challenges.
Jaquanda: We learn from our failures and continue to grow the organization deeper in ways that are healthy for our size, and that fits our long term vision of KL being a thriving and sustainable organization for years to come.
Who do you consider your peers in your field? How have they supported you? What best practices have they shared?
Jaquanda: Youth Speaks out of the Bay Area, and Word Beats and Life (WBL) out of D.C. are peers that we respect. We borrow best practices around:
● Operations
● Fiscal management
● Programming
● Fund development
● Success and practice models and templates
Youth Speaks was able to take a 2,000,000 grant and split it across a network of other organizations to support the growth of our field. WBL has made international and national partnerships that have yielded amazing co-produced festivals, teach-ins, and events. It has led to the growth of global exposure and a stronger field of Hip-Hop Arts education.
Name your favorite role models for success in two different industries.
Jacinda and Jaquanda: Camila Forbes and Clyde Valentine for producing the NYC HIP-HOP THEATER FEST and offering a model that was respected in the theater industry.
Miriam Kaba for bringing activism and harm informed practices to the center of the cultural Work.
Names three books that changed how you saw life and you recommend to others.
Jacinda and Jaquanda:
● The Revolution Starts at Home: Transformative/Restorative Justice cultural work
● Not for profit industrial complex: not for profit groundness
● Between the World: Cultural/Youth Development, provides a youth perspective and understanding context of young Black life
We also enjoy poetry such as The Lost Women Poem by Lucille Clifton.
Describe why lifelong learning is important to you.
Jacinda: When we are living each day seeking to know ourselves and serve our purpose, we naturally have a thirst for wisdom and we have to be willing to learn and unlearn. We all learn all of the time. If our sincerest goal is to be/do better than we did before, then we have to commit to lifelong learning in both traditional and nontraditional ways. The ego can stand in the way of this, so lifelong learning is also about doing the necessary continuous heart work. Studying history, observing and analyzing society and engaging with art and culture are critical for guiding how we show up to life each day. We believe there is something profound in learning about places and people. Asking and researching how they learned, gathered, strategized and fought for justice. We love listening to interviews with artists, and people who share themselves.
Jaquanda: Every exchange deepens an understanding. It is nourishment that propels and grows, it expands my perspective. Lifelong learning is necessary if we want the cultural shift to the more just world that we dream of. It helps us to unpack and unlearn, to reflect on the ways we have internalized and perpetuated oppression and to name the qualities of white supremacy. Lifelong learning teaches us the importance of communication and investing in relationships and that is how to build power with each other. If we can't address conflict among ourselves in healthy ways, how do we shift the world and eradicate the ills? When we can identify the sickness and how it has bound us to a particular narrative or way of thinking, we can call on our ancestral remedies and heal. Lifelong learning gives us the opportunity to shift, amplify and reimagine and relearn, it strengthens and inspires us for our current struggles.
Describe the voice of success you hear in your head that keeps you going and doing what you do.
Jacinda: The voice of success is in our heart and we gain wisdom when we listen to it. When we work on listening to the heart we get wisdom. That wisdom of the heart reminds us of our gifts and the gifts of others. Our spiritual guides teach us that simple knowledge will tend to divide us and trouble us, but the heart wisdom helps us to create meaning and gives us vision. It is hard to find genuine wisdom but that is why heart work is so critical for us. We are grateful and determined to work toward a physical existence that thinks and plans for seven generations forward. Creating heaven on earth is a crazy concept but the heart tells us to pursue it. The heart is the voice that reminds us that our joy, justice and liberation must not come at the expense of someone else — that we are walking this journey together.
Community success based on what you do in the community means what to you?
Jaquanda: It means people showing up and doing the work consistently. It means talking it out, having an analysis, gathering ideas and things to try out, strategize and fail, then do it again. Success is a collective struggle to transform ourselves and this world.
Technology plays what role in your daily life working with Kuumba Lynx?
Jacinda: In regards to phones, computers, beat machines, mics, video projectors, it is a sure a tool for communicating. KL engages with technology and utilizes it to communicate and express creative ideas. From enlarged wall projections with certain messaging that reach hundreds of folks to making beats on our phones or recording a new poem/rap, we are always engaging with technology.
Regarding social media, we are very cautious. Personally, I've watched my confidence shift when I engage, so I try very hard for it to not be a factor. It's so powerful and can be really damaging to my spirit so I keep a healthy distance. I just tell myself you can't let a like or absence of one define me. I mean I get like 20 likes on a pic–why would I do that to myself – I can't let that determine my self-worth. However, when it comes to KL and our crew, we know and understand from a business perspective that it's important to be immediately accessible and constantly visible so we do engage on that level.
What software and technology tools have made the biggest difference in your life and with your business?
Jaquanda: Smartphones are very accessible and provide opportunities to connect with someone. It also allows us the ability to create anytime anywhere. But, it can also become a heavy burden because people always have access to you, and you never have downtime unless intentionally turn it off and set boundaries. For example, the other day I had to put my phone on airplane mode to avoid distractions, and it gave me a chance to use my phone in ways I hadn't before. I created a movie trailer in a couple of hours and got really excited.
Define your personal culture.
Jaquanda:Transformative, healing and abolitionist — meaning we all can shift and change and grow and we must be willing to unpack and unlearn and rid ourselves of certain ideas and behaviors. No one is disposable; everyone has a part to play even if that means moving around or going away solo for a time. That does not mean you are exiled. It means your role shifts and allows space and time for you to seek an activity, shift your behavior, and work on your own healing or on finding inner peace. Once you do that you can then return when you want others to be a part of that process, you want to reconcile and/or have something to give to your community.
How does music impact and influence you?
Jacinda:There is usually a soundtrack to my day whether it's an album, a rhythm I am inventing or replicating in my head or simply the sounds I am touching, interacting with, witnessing, smelling, digesting. These musical soundscapes and songs hold me and lift me. They tell me it's ok to have a trajectory of emotion and to be both comfortable and uncomfortable sometimes simultaneously.
Jaquanda: I like to go thru my day with a soundtrack. Sometimes it's an album or just a song that gets me thinking, smiling and bearing witness. Sometimes it's a soundscape collage of voices and sounds off the block. Other times my music is the breath of silence in the trees, a body of water, or a quiet fire, the wind or a chirping bird that reminds me of our Creator of a bigger purpose. It re-centers me and calms and clarifies my mind.
Describe your favorite vacation spot.
Jacinda:Anywhere where there is sunshine and warmth, a place that doesn't require layers of clothing, somewhere I can let my toes breathe. I really appreciate being by water also. I like to play in the jumbo waves. I don't like to be a tourist so much. I prefer something low key, or really anytime I can be with my three seeds and husband or the KL crew all in the same space. That is the vacation spot.
If you could change one thing about the world, what would it be?
Jaquanda: Designate time for us to show gratitude to the earth and our Creator. A time where we can slow down and remember that transformation is a lifelong process. We would each work to acknowledge our harms and then try our best to repair them.
If you could change one thing about yourself, what would it be?
Jacinda: I am super sensitive but don't always express it productively. It's like a curse and blessing to be hypersensitive. Your mind is constantly thinking about everyone and everything. You are over-analyzing and considering others so much that you forget to consider yourself and those closest to you. There's this tremendous responsibility that comes with self-awareness, and I know the importance of it. I know I have to constantly think and work on it because sometimes it may create a disconnect between myself and others.