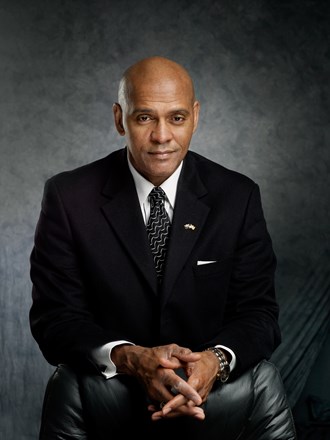 Roland Parrish is the president, CEO and owner of Parrish McDonald's Restaurants Ltd. Parrish is also the former chairman and CEO of the National Black McDonald's Operators Association, a 42-year-old organization with $2.7 billion in sales and 1,300 restaurants. However, it didn't take long to discover that Parrish is a force of nature, whose level of success is not determined by the size of his business holdings, but by the size of his heart. Parrish took the time to discuss the keys to his success and the current state of Black business.
Parrish came from humble beginnings in Hammond, Indiana, where his talent in track and field earned him a scholarship to Purdue University. Well into a career with the Exxon Corporation, Parrish applied to the McDonald's management program but was initially denied. However, Parrish was eventually approved and purchased his first McDonald's in the Pleasant Grove area in 1989 with $180K he saved by working at Exxon.
"My goal was to only own five restaurants, but after I read a book by Reginald Lewis called Why Should White Guys Have All the Fun? I decided I had higher mountains to climb. I was fortunate to be given the opportunity to grow restaurants," Parrish said.
Parrish's company has grown to as many as 27 restaurants at one time, grossing $63 million last year. Parrish believes the true key to his success lies in his employees and stated that he has succeeded by adopting the philosophy, "Find the people, train them, give them an opportunity and don't bridle them, but empower them, and then reward them. … My employees feel more like family. My job is to take care of them," he said.
When asked about the state of Black business in the country, Parrish commented, "I was somewhat shocked to find a majority of business owners of color are not actually from the United States, but from other areas such as Jamaica, the Caribbean, and Africa."
Parrish has made a conscious effort to patronize Black businesses and uses everything from Black attorneys and accountants to Black landscapers in an effort to keep his dollars in the Black community.
Through Parrish's philanthropic efforts, Purdue's Management and Economics Library renovation project, which was renamed the Roland G. Parrish Library of Management and Economics,  received a $2 million leadership gift. Parrish is also the proud sponsor of "McMiracle on Highway 67," an annual event held in December that provides fifth graders in the Dallas area with the gift of a brand new 26-inch bike.
Parrish constructed and established the John H. and Marie Parrish Medical Center in Fort Portal, Uganda, named in honor of his parents. The clinic provides treatment to patients with treatable ailments and cares for orphans whose parents have died due HIV/AIDS. Parrish is in the process of working with an advertising firm in Uganda to start an international mission campaign to assist the clinic to become fully self-sustaining.
Parrish admits he plans to continue with growing businesses and giving back but stated he eventually would love to see one of his three children, Rowland, Jade and Wesley, continue his legacy through providing scholarships for the youth. Parrish believes strongly that in order for our youth to be successful, education is necessary.
For donations to assist the clinic, log on to http://hhcharities.org/get-involved/donate or contact HHCharities at www.hhcharities.org or send an email to [email protected]