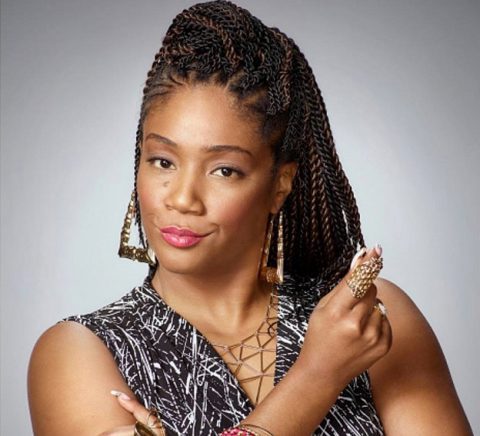 Tiffany Haddish recently recalled impersonating a White woman, sort of.
During a recent appearance on "Stephen Colbert," the breakout actress-comedian who's been on the road promoting her Showtime special, "She Ready! From the Hood to Hollywood," revealed that if given "Any chance that I get to play a White woman, I am there!"
"I'm a White woman on paper; I've been a White woman for the last five, ten years now," she continued. While initially, the Girls Trip actress was referring to her cameo in Jay-Z's "Friends" parody, she took it one step further with what she does best: storytelling.
When asked to explain the meaning behind "White on paper," she began, "Like seven years ago, the Census had come around, right? The census came and they showed up to my house, and they asked me what my nationality was, 'cause they [were] counting to see how many Black people are in the neighborhood."
"I was like, 'What do you mean? I'm American.' And he was like, 'No, what's your race?' I was like, 'Oh! So, we're doing that today? We're bringing racism in my front door on this day? What are you, colorblind?' And he said, 'Yes,'" Haddish joked. "I was like, 'Ooh! This is my chance.' I had like a 'That's So Raven' moment; I went into my brain and I was like, 'Girl, this is your chance. What do you mean this is my chance? Obama said it's time for change; you could be whatever you want to be today.' And I was like, 'You're right! I can be whatever I want to be.' And I looked at him and said, 'I'm car-casian.' Because I got a car and I know a lot of Asians, so I just put that together. I told him I was 'car-casian' and he said OK. He checked the White box and it has been fantastic. Oh, my goodness!"
According to Haddish, since becoming a White woman, life has been going just swimmingly. "A few days later my credit score went up by 300 points," she joked. "I got a black card. I got a Mexican housekeeper now. Life has been really awesome. I've been booking all of these TV show roles because of affirmative action," Haddish continued. "They need White women to play Black women, so that's me!"
Years ago, Haddish was like many aspiring entertainers, struggling to catch her big break while living out of her car in sunny Los Angeles. Fellow comedian Kevin Hart learned about her situation and threw her a bone to the tune of $300. "He gave me the money and he said, 'Make a list. Make a list of goals that you want from your life. What do you want for your life?'" Haddish told the late-night host. "'And when you're sitting in that room, start figuring out how to tackle that list.'"
Knowing she could stretch $300 only so much, Haddish decided to rent a hotel room by the hour. "I took a shower and I started writing out my list. I wrote that I wanted to get my own place one day, work with Jada Pinkett Smith, have my own stand-up comedy special, sit across from you one day and you googly eye me like yaasss. I also wrote that Brad Pitt would start asking me to dinner all the time, so much that it's like, 'Look, Brad! I'm busy! I can't!' " Haddish explained. "Also, I wrote on there that I want to get pregnant by Leonardo DiCaprio and that I'll have me a big ol' house and that I'll get my own two streets. I want my own two streets that intersect, one called Tiffany and one called Haddish, and then I'll start youth centers over there. People will be like, 'Where'd you learn how to do that?' 'I learned that on Tiffany and Haddish.'"
While Haddish may not be pregnant with DiCaprio's baby, her persistence shows the importance of setting goals and going hard. Now that the rising star has worked with Pinkett, landed her very own comedy special and got "googly eyes" from Colbert, we imagine she'll be dining with Pitt any day now.