Groundbreaking stand-up comedian and Civil Rights activist Dick Gregory has died. He was 84. Earlier this month, the celebrated figure was hospitalized due to a yet-to-be-announced medical condition. On Saturday, August 19, his official Instagram account announced his death, noting that more details would be released in the forthcoming days.
"It is with enormous sadness that the Gregory family confirms that their father, comedic legend and civil rights activist Mr. Dick Gregory departed this earth tonight in Washington, DC," his son, Christian Gregory, wrote in a statement posted to Instagram. "The family appreciates the outpouring of support and love and respectfully asks for their privacy as they grieve during this very difficult time. More details will be released over the next few days."
"He was one of the sweetest, smartest, most loving people one could ever know," his publicist of 50-years, Steve Jaffe, added in a statement to the Hollywood Reporter. "I just hope that God is ready for some outrageously funny times." More details, including funeral information, will be released on Sunday, said Jaffe.
Born Richard Claxton Gregory, the St. Louis native got his big break in 1961 when he booked his first major gig at the Playboy Club in downtown Chicago, replacing Professor Irwin Corey, a White comic who didn't want to work seven nights a week.
"When I started, a Black comic couldn't work a white nightclub. You could sing, you could dance, but you couldn't stand flat-footed and talk — then the system would know how brilliant black folks was," he recalled in an 2016 interview with The Florida Times Union. But, that all changed the night Hugh Hefner walked into his club. "So Hugh Hefner, he came up to this black club, when Sammy Davis and all of them were there, and he saw me. And then one day Professor Irwin Corey decided that he wasn't going to work seven days, and they brought me in [as a replacement at the Playboy Club] because Hefner saw me. No other reason. And that started a whole new industry."
He was paid $50 for that show, a huge payday for the budding performer at the time. Of course, that was just the beginning for Gregory, whose three-week stint turned into three years and gained notice of publications like Time magazine — "Dick Gregory, 28, has become the first Negro comedian to make his way into the nightclub big time."
In 1962, Gregory was invited to perform on "The Tonight Show," but wouldn't agree unless he was able to sit down next to host Jack Paar after his routine and be interviewed, a first for any Black performer. "I went in, and as I sat on the couch, talking about my children, so many people called the switchboard at NBC in New York that the circuits blew out," he said. "And thousands of letters came in and folks were saying, 'I didn't know black children and white children were the same.'"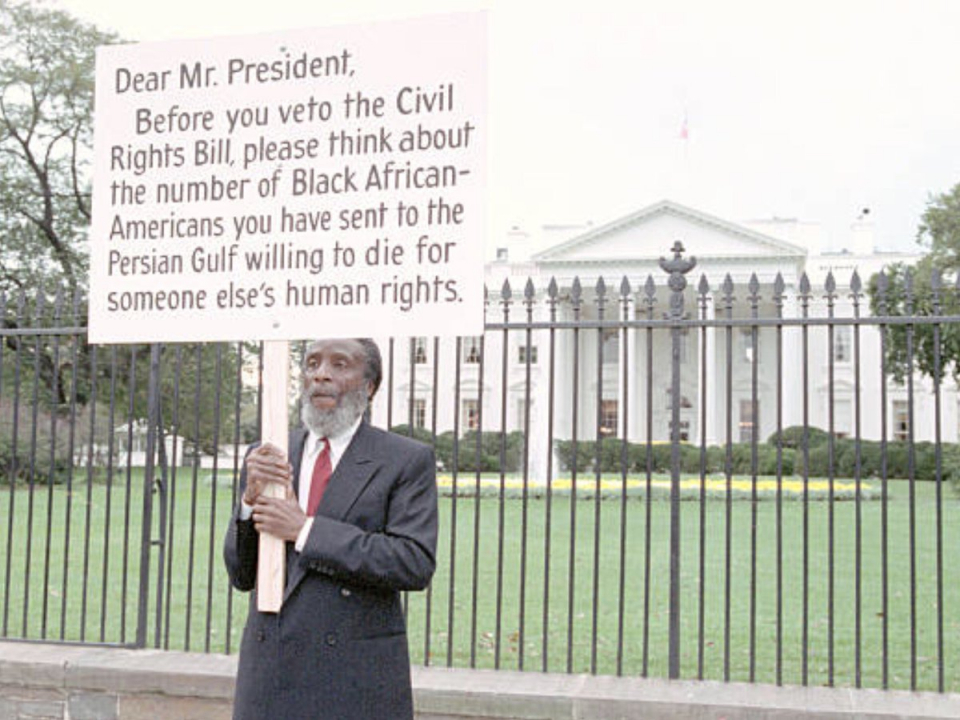 Following his "Tonight Show" appearance, Gregory's salary jumped from $250 for seven nights of work — three shows a night — to $5K a night. "And the next year and a half, I made $3.9 million," he said. "That is the power."
Now that Gregory had discovered fame, he went on to use his platform to oppose the Vietnam War, among other things. Alongside friends Martin Luther King Jr. and Malcolm X, Gregory quickly became a celebrated Civil Rights activist, speaking at a voter registration rally in Jackson, Mississippi, delivering food to NAACP offices in the South. He also marched in Selma, Alabama. He even got shot while trying to keep the peace during the 1965 Watts riots.
In 1967, Gregory ran for mayor in Chicago, but lost to Richard Daley. Still, he entered the race for U.S. president a year later. A write-in candidate on the Peace and Freedom Party ticket, he received some 47K votes. "Had I won, first thing I would do is dig up that Rose Garden and plant me a watermelon patch," he said in 2016. "And it would be no more state dinners, but watermelon lunches. We'd eat watermelon and spit the seeds on Pennsylvania Avenue."
Prior to finding favor at the Playboy Club, Gregory worked as a nightclub emcee at the Black-owned Herman Roberts Show Bar in Chicago in 1958, while he maintained a day job at the U.S. Post Office. However, in 1973, Gregory ceased performing in clubs due to his beliefs about smoking and drinking. It would be more than two decades before he returned to the stage. He knocked out more than 200 shows and lectures a year.
Among other things, Gregory was an author, penning books such as his eye-opening autobiography, N*gger (1964,) and Dick Gregory's Natural Diet for Folks Who Eat: Cookin' With Mother Nature (1973).
He leaves behind his wife Lillian, a secretary whom he'd met at a club in Chicago and 11 children (one which died at birth).