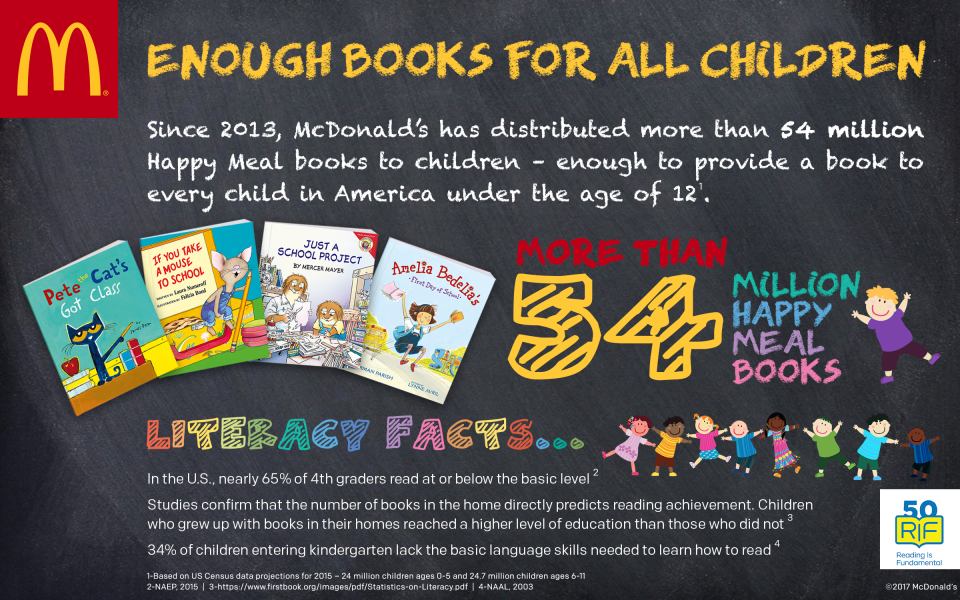 In celebration of National Literacy Month in September, McDonald's USA is inviting families to celebrate the joy of reading with the launch of the latest Happy Meal Books promotion. Happy Meal Books will return to restaurants nationwide from September 5-18 helping spread the gift of reading to families across the U.S.
In celebration of its 200th anniversary, HarperCollins Publishers, one of the leading publishers of children's books, is joining forces with McDonald's USA to bring families a collection of four Happy Meal-sized books featuring popular titles – Pete the Cat's Got Class by James Dean, Amelia Bedelia's First Day of School by Herman Parish, Just A School Project by Mercer Mayer and If You Take a Mouse to School by Laura Numeroff. Books are available in English and, in select restaurants, in Spanish.
Suzanne Murphy, president and publisher of HarperCollins Children's Books says, "HarperCollins is pleased to be part of McDonald's Happy Meal Books promotion again this year to place beloved books in the hands of millions of children. Reading has a profound impact on the educational development of a child and through this program along with our donation to Reading is Fundamental, we hope to make book ownership for children more accessible."
McDonald's is also a proud supporter of Reading is Fundamental (RIF), the nation's largest children's literacy organization, which seeks to promote literacy by making it easier for children throughout the country to have access to interesting, captivating reading materials. By 2018, McDonald's will have donated approximately 400,000 books from the Happy Meal Books promotions to RIF literacy efforts and programs across the country.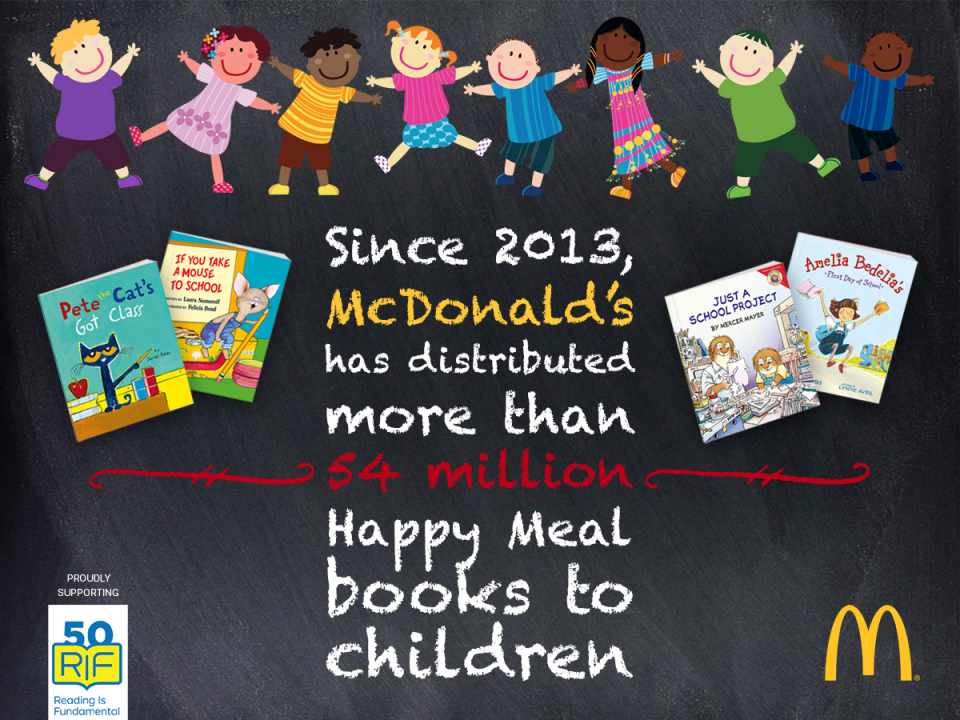 "McDonald's partnership with RIF is a celebration of the power and joy of families reading together,' adds Beth Meyer, Chief Marketing Officer of Reading Is Fundamental. "Six out of 10 low-income families still have no age-appropriate books in their homes, so providing children with books coupled with supplemental literacy resources they need to achieve their full potential has never been more important."
McDonald's Happy Meal Book promotion is among a list of the company's actions supporting a commitment to promote children's well-being by inspiring kids to engage in active and imaginative play in a fun way and help develop a sense of community.
This announcement follows a number of changes McDonald's has made to its Happy Meal including:
Between 2012-2016, the company served over 78 million Cuties helping increase families' access to fruit in partnership with the Alliance for a Healthier Generation.
McDonald's has served more than 2 billion servings of fruit and low-fat dairy products like Go-Gurt in Happy Meals between 2012-2016.
Since 2013, the company has been automatically offering apple slices, a smaller kids- sized fry and the choice of a low-fat dairy option like 1% low-fat white milk or fat-free chocolate milk.
Since 2013, McDonald's has distributed 54 million Happy Meal Books to children nationwide — enough to provide a book to every child in America under the age of 12. (Based on US Census data projections for 2015 – 24 million children ages 0-5 and 24.7 million children ages 6-11).
In 2016, the company announced Chicken McNuggets have no artificial preservatives, colors or flavors. "As we continue to raise the bar for our customers, we're excited to add to the fun of the Happy Meal experience by inspiring more family time together," reveals Julie Wenger, senior director of U.S. marketing at McDonald's. "We're proud to partner with HarperCollins and Reading is Fundamental and invite families to spread the joy of reading through these fun, classic books in our Happy Meals."
Research by the American Academy of Pediatrics shows that reading daily to young children stimulates early brain development and helps build key language, literacy and social skills.
Through McDonald's partnership with RIF, families can extend learning after reading "Pete the Cat's Got Class", "Amelia Bedelia's First Day of School", "Just A School Project" and "If You Take a Mouse to School" through Literacy Central. This new, free digital portal, will feature lesson plans, puzzles, activities, and leveled reading passages designed to help build literacy development in children with a focus on the books from the Happy Meal Books program.
For more information about Happy Meal Books, visit www.McDonald's.com.