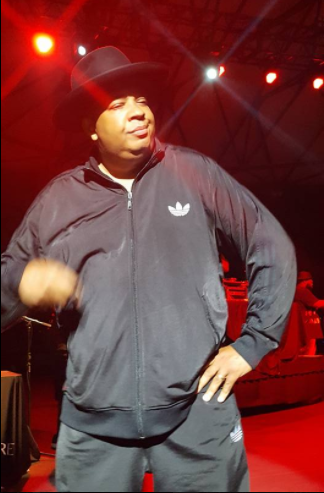 When did you fall in love with hip hop!? Was it after hearing the classic rap song "Rapper's Delight" by the pioneering Sugar Hill Gang? Or perhaps it was after hearing the rhyming styles of big-name rappers like Curtis Blow, or Grand Master Flash, or Roxanne Shante, Marley Marl, and the Juice Crew? Could it have been the first time you heard Tupac or Biggie or NAS or Jay-Z? Or maybe your first love of hip-hop developed after hearing the old-school group Whodini? Remember their classic tune "Friends," with its unforgettable refrain, "How many of us have them?"
Well, for over 6K loyal hip hop fans that gathered at Detroit's Chene Park Amphitheater this past weekend, their love for hip hop was reignited when several of their favorite childhood rappers performed during the Hip Hop Royalty concert and shut the entire city down. Presented by Fort Knox Entertainment, the tour was headlined by hip-hop legends and Rock and Roll Hall of Famers RUN-D.M.C. and had guest performances by the legendary lyricist Rakim and the dynamic duo EPMD.
"Chene Park Amphitheater hosted an incredible concert performance from the kings of rap and the Rock and Roll Hall of Fame hip-hop group Run-D.M.C. The show opened with a walk back in time from the legendary group EPMD and master lyricist Rakim. Run-D.M.C. has not performed in the city of Detroit since 1988, and this was a first for the group to perform at Chene Park Amphitheater," said Sulaiman Mausi, vice president of the Right Productions and general manager of Detroit's Chene Park.
Fans couldn't agree more that the concert was incredible. When taking a quick unofficial poll on social media, it was confirmed that if you were in Detroit on the night of the concert, your timeline was laden with concert talk, photos and hashtags pertaining to the concert. Many fans proclaimed that this concert was by far the best concert of the summer season in Detroit. It was mind-blowing!
Concertgoers came from far and wide and sold out Chene Park's 6K plus capacity venue. There was standing room only, and trust us, everyone in the building was standing, rapping and busting old-school dance moves the entire time. Almost every fan came donned in their throwback attire, comprising of their shell-toe Adidas kicks and their full Adidas track suits – that included the pants, T-shirt, and the warm-up jacket to make the ensemble complete. There were fat gold rope chains, Kangol hats and '80s style thick black-framed glasses that could be seen throughout the crowd. The entire experience was nostalgic and nothing short of epic.
EPMD was first to step onto the stage and they rapped to their classic hits "So Whatcha Sayin," "Strictly Business" (a remake of Bob Marley's "I Shot The Sheriff") and  "You Gots to Chill." They had the crowd hyped up and bouncing back and forth, dancing and rapping along word for word. Next up was the lyrical rhyme master Rakim. Rakim showed up looking like he hadn't aged one bit in 20 years and rocked out hit after hit as he took hip-hop lovers back down memory lane with jams like "Paid In Full," "(Check Out) My Melody" and "I Ain't No Joke." During set changes, the DJ kept the crowd moving by spinning old-school classics and hosting an old-school dance contest. Next to the stage was crowd favorite RUN-D.M.C. They stepped onto the stage and rocked the mic for old times' sake. They had the crowd "waving their hands in the air, and [waving] them like they just [didn't] care." Of course, they asked their most famous question to the crowd: "Whose house?" — to which the audience simultaneously replied in unison, "Run's House!" The kings of "rock" never missed a beat as they turned it out and outperformed the majority of these new-school rappers out today. When the baseline dropped for "My Adidas," the crowd went berserk. It was evident that this was a concert that was long overdue in the city of Detroit.
A great time was had by all and everyone stayed until the very end of the show, making sure to not miss one minute of the monumental show. By all accounts, history was made that night.
Take a look at the pics from the concert's meet and greet. Chime in on the comments. We want to hear from you. When did you fall in love with hip-hop?