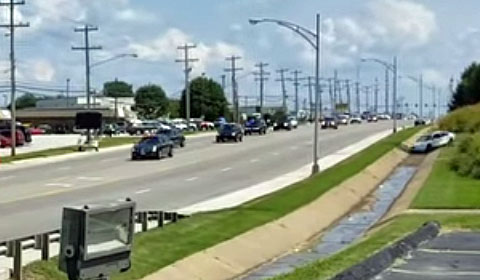 As President Donald Trump's motorcade traveled through Springfield, Missouri, yesterday his security detail was caught flat-footed. A video posted to Facebook by a user named Clayte Hefner shows the presidential motorcade traveling down a stretch of road. Just as the presidential limousine, known as "The Beast," passes, a white car is seen speeding from nearby woods. It looked to many like the car was trying to ram the motorcade before it crashed into an embankment and came to a stop.
It was approximately 30 seconds later that an SUV pulled out of line and approached the car, along with a police squad car. The rest of the motorcade sped by without stopping, keeping a constant speed.
According to KYTV, the occupants of the vehicle were two women who had just left a nearby Bass Pro Warehouse parking lot. The driver stated the brakes on her car failed, which caused her to lose control and plunge down an embankment, through woods, and onto the roadway.
Trump was not the target of an attack and the driver is reported to be OK and will not face charges.
The video of the accident can be viewed below: