An Instagram trend has begun that has many people irate.
At least three Instagram models have posted well wishes and photos to those suffering through the hurricanes that have destroyed whole islands and they have done it with photos of themselves posing in skimpy bikinis – or nothing at all – on those same islands.
This  led to many people calling them "tone-deaf and self-absorbed."
One woman who incurred the wrath of Instagram users is model Kara Del Toro, 25, who boasts about a half a million Instagram followers. She posted a photo of herself on a beach in Turks and Caicos with this message, "Sending positive thoughts and good vibes to the islands right now."
The image was shot earlier this summer and that island bore the brunt of the Category 5 Hurricane Irma on Friday. The storm has claimed the lives of 18 people and destroyed countless homes. It has been said it will cost billions to repair the damage.
"Talk about tone deaf, as people are losing all of their property and in some cases their lives this is what you post? Selfish narcissist," wrote one outraged Instagram user.
Del Toro defended her actions by saying she is a native of southeastern Texas, which was hit with Tropical Storm Harvey just last week.
"I also lost my property during Hurricane Ike," she posted.
"We lost EVERYTHING we owned.. and last week my town was just destroyed by Hurricane Harvey.
"If you were following me you would know that I have been a STRONG advocate to raising money for all victims people and animals of the last hurricane.
"I know what it's like to be in their shoes. I've been there.
"So check your facts before you criticize someone for posting a photo in a beautiful location that has been hit by a storm.
"I was just there [in Turks and Caicos] last month. I don't see any problem with sharing a little light in this world."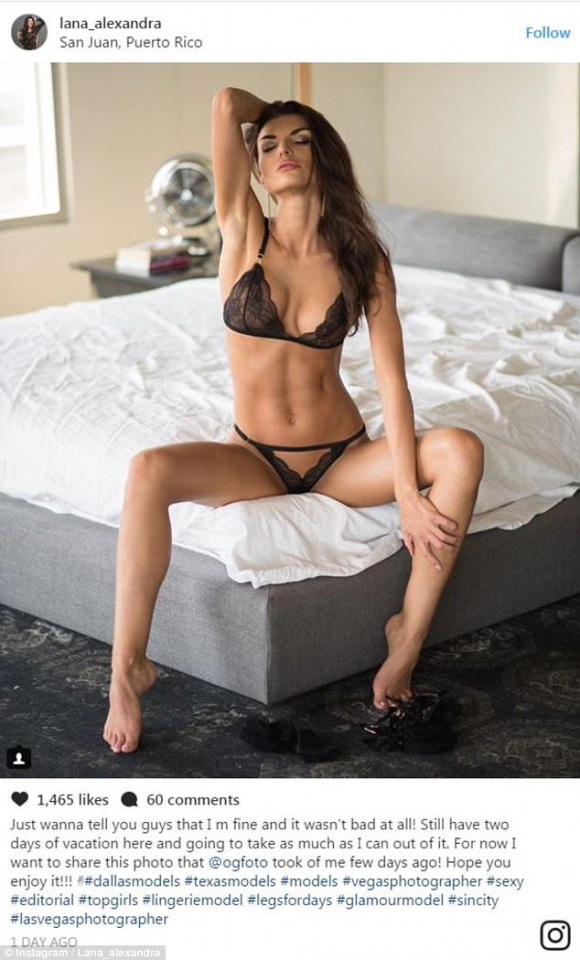 Del Toro is not the only one being pummeled on social media. Lana Alexandra also posted sexy shots of herself and had people commenting things like, "This is in such bad taste. Millions in the path of a hurricane with their property and lives at stake and your thought is to post this? #idiot"
She tried to counter the attacks by saying she was on vacation in Puerto Rico and it wasn't that bad. She was going to stay and make the best out of her vacation.
"This is the first bikini photo that I would consider pathetic," wrote one Instagram user.
"How about you use your remaining 'vacation' time to lend a hand to people."
Like Del Toro, Alexandra just had to defend herself.
"So I'm the only one who's posting bikini pics right now??" she asked.
"Why wouldn't you complain about every bikini pic posted during hurricane Harvey and Irma and coming Jose and Katya? Posting a photo in bikini doesn't make you heartless person.
"If you are so caring why do you waste your time checking out my IG account instead of helping people who are victims of hurricane??? Show in action how great you are."