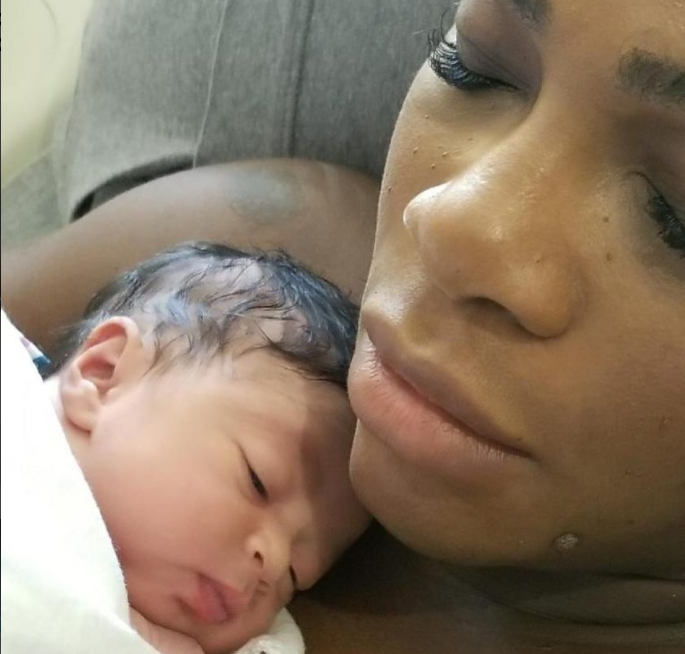 Serena Williams won yet another Grand Slam, this time in the game of life.
The winningest female tennis champion of all time produced the greatest achievement of her illustrious life when she gave birth to her daughter at the top of the month.
Williams and her fiancé Alexis Ohanian just revealed the first pic of their brand-new daughter —Alexis Olympia Ohanian Jr.
Yes, you read that right. Serena's gorgeous new bundle of joy, a female, has the same name as her daddy — and she's a junior, to boot.
Serena says Alexis Jr. weighed 6 pounds, 14 ounces when she was born on Sept. 1.
And she's already crediting the baby with winning a Grand Slam title. Incredibly, Serena won the Australian Open — the sport's first major — while she was pregnant with her daughter.
But the delivery wasn't exactly smooth sailing — 35-year-old Serena says there were "a lot of complications" at the hospital that required them to stay there for six or seven days.
The good news, everything seems fine now as Serena says in a caption on the Instagram post: "Look what we got! A baby girl!"
The youngest of Richard and Oracene Williams's five daughters, Serena, along with her sister Venus, would grow up to become one of the sport's great champions.
Serena Jameka Williams was ranked No. 1 by the Women's Tennis Association in singles on eight occasions, from 2002 to 2017. She became the world No. 1 for the first time on July 8, 2002. On the sixth occasion, she held the ranking for 186 consecutive weeks, tying the record set by Steffi Graf for the most consecutive weeks as world No. 1 by a female tennis player. In total, she has been world No. 1 for 319 weeks, which ranks her third in the Open Era among female tennis players. Some commentators, players and sports writers regard her as the greatest female tennis player of all time.
Williams holds the most Grand Slam titles in singles, doubles, and mixed doubles combined among active players. Her record of 39 Grand Slam titles puts her third on the all-time list and second in the open era: 23 in singles, 14 in women's doubles, and two in mixed doubles. She is the most recent female player to have held all four Grand Slam singles titles simultaneously (2002–03 and 2014–15) and the third player to achieve this record twice after Rod Laver and Steffi Graf.
Williams' total of 23 Grand Slam singles titles marks the record for the most Grand Slam wins by a tennis player in the Open Era, and is second on the all-time list behind Margaret Court.