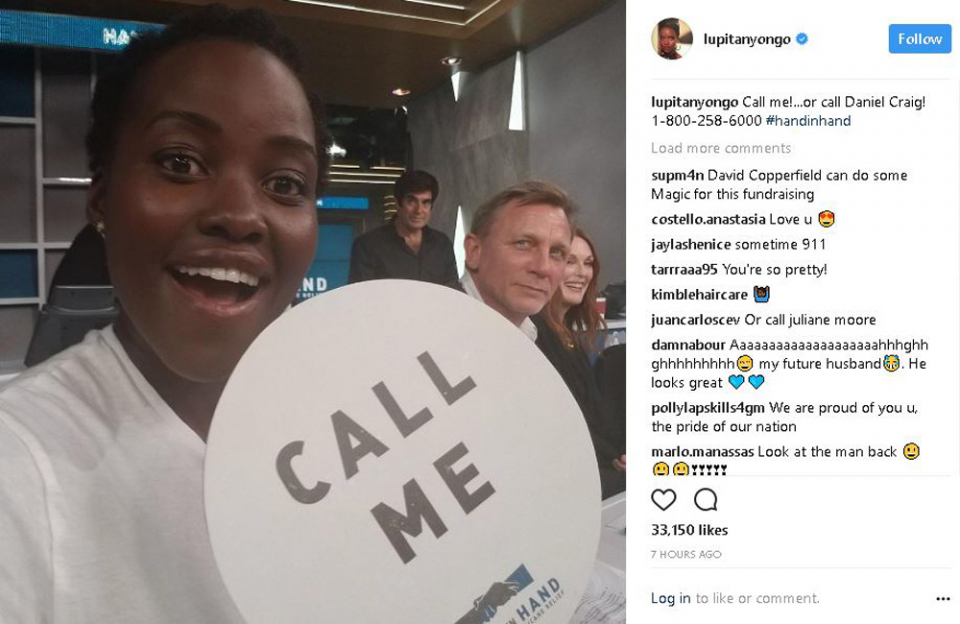 A star-studded telethon has raised more than $15M for Hurricane Harvey and Hurricane Irma relief.
P. Diddy, Justin Bieber, Julia Roberts, Kelly Rowland, Lupita Nyong'o, and Oprah Winfrey were among the big names who appeared in the one-hour "Hand in Hand: A Benefit for Hurricane Relief" event, which was broadcasted on the major US TV networks from New York, Los Angeles, Nashville and San Antonio.
Stevie Wonder opened the telethon with a performance of his hit "Lean on Me" and several stars told emotional stories about those affected by Hurricane Harvey and Hurricane Irma, which have destroyed parts of the US and Caribbean.
Beyonce, who was born in Houston, one of the areas hit hard by Harvey, pleaded with people to stick together in the wake of the horrific events.
In a video message, she said, "During a time where it's impossible to watch the news without seeing violence or racism in this country, just when you think it couldn't possibly get worse, natural disasters take precious life, do massive damage and forever change lives, leaving behind contaminated water, flooded hospitals, schools and nursing homes.
"Natural disasters don't discriminate. They don't see if you're an immigrant, black or white, Hispanic or Asian, Jewish or Muslim, wealthy or poor. It doesn't matter if you're from Third Ward or River Oaks, we're all in this together. Seeing everyone of different racial, social and religious backgrounds put their own lives at risk to help each other survive, restored my faith in humanity."
A number of big names worked the phone banks at the event, the brainchild of rapper Bun B and Justin's manager Scooter Braun, and many took to social media to talk about the telethon.
Nicki Minaj tweeted a group shot of many celebs involved, adding the caption, "Just got the word, over 15 MILLION was raised tonight. You guys are AMAZING!!!! Had such a good time speaking to all of you. #HandinHand (sic)"
Lupita tweeted a picture of herself and Bruce Willis, and wrote, "We've made $14 million thus far! Bruce Willis and I say thank you! @handinhandfund #handinhand (sic)"
She also posted a selfie alongside James Bond actor Daniel Craig, who was also working the phones.
She tweeted:,"Call me!…or call Daniel Craig! 1-800-258-6000 #handinhand (sic)"
P. Diddy wrote, "Truly honored to be at #HandInHand supporting those affected by Hurricane Harvey and Irma. Call 1-800-258-6000 or text GIVE to 80777 NOW!!! (sic)"
Justin posted, "Call me 1 (800) 258-6000#HandInHand (sic)"
Usher, Demi Lovato, Blake Shelton, Miranda Lambert, George Strait, Chris Stapleton and Darius Rucker also performed at the event.