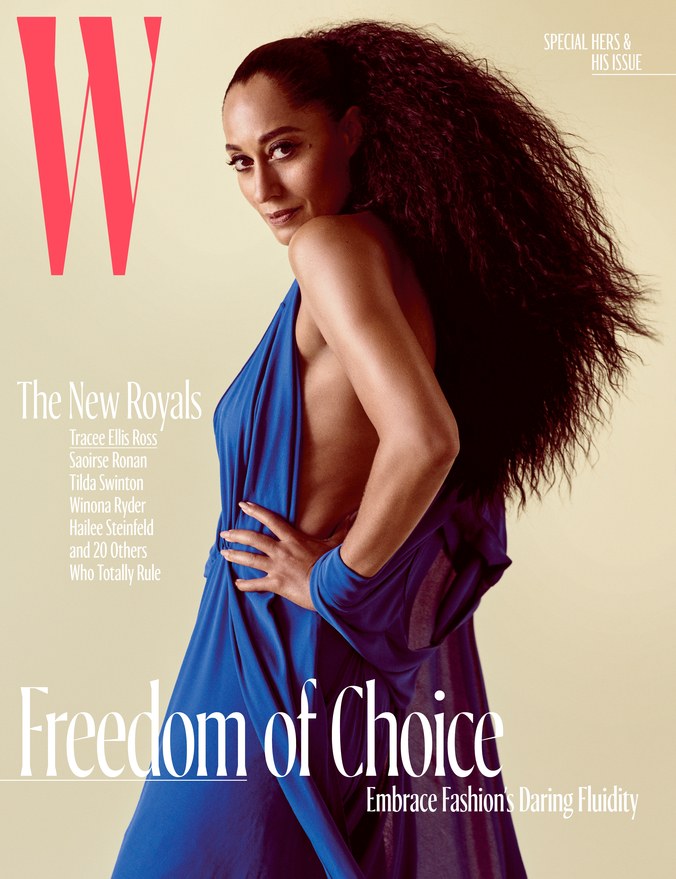 Tracee Ellis Ross just may have the coolest mom ever.
In an interview with Lynn Hirschberg for W Magazine's annual New Royals issue, the Golden Globes-winning star of the ABC sitcom "Black-ish" reflected on the her unique style, revealing that her passion for fashion stems back to her childhood.
"She [Diana] would leave the house and I went in her room and looked out the window and saw her car go down the driveway, and I marched myself right into her bathroom and started taking clothes. What I liked to do is put them in my closet and live with them as if they were mine," said Ross of her sneaking into her mother's grand closet as a child to play dress-up.
"I call it shopping, and to this day whenever I go over to my mom's I sometimes look at my brother, Evan, and I'm like, 'Should we go shopping?' And I will ask if I can take something and she always says, 'No.' My mom will say 'no' often. She will give me anything, give us anything off of her back, but sometimes she's like, 'For God's sakes, leave my mirror alone!' You know," she added later on.
Of course, that was at the beginning of Ross' career, which delved into both acting and modeling: "I was living in New York when I started my acting career. I had just come out of college and I was actually working in the fashion industry. I was a fashion editor—I guess a contributing editor, you would say, an intern at first at Mirabella magazine."
"I have always been a lover of clothing and beauty and aesthetics and all of that," she added. "I had wanted to model when I was younger and then that kind of translated into me realizing that I was in love with images and the fashion industry. But in college I discovered acting even though I was quite shy, which I know is really hard to imagine. [Laughs.] I realized that it was a very honest form of expression for me, so I was working in the fashion industry and taking more acting classes, even though that was what I had studied at Brown. And then I just kind of jumped off the cliff into the acting world."
Now an award-winning actress and fashion icon, Ross credits the former Supremes' singer for being a living example. "She likes everything. My mom is so supportive. I have a really good mommy," said Ross, 44.
"I was raised by a woman who lived out her dreams," continued the "Girlfriends" alum. "So she's not living them out through me, or her children. She really gave us space and the courage to live the lives that we want to be living, and to have time to dream and conjure up the life that I wanted to be living. I could really curate or design the world I wanted to be living in."