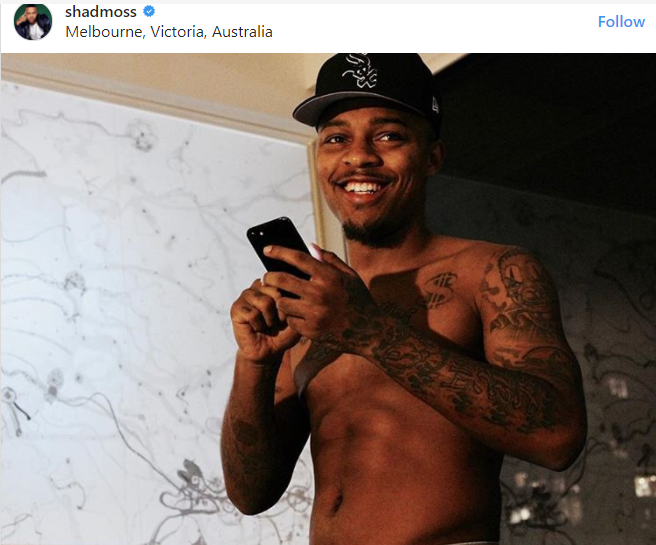 Bow Wow is being psychoanalyzed from one end of Black Twitter to the other after the rapper provided some strange and baffling musings while on tour in Australia.
After Shad Moss failed in his relationships or hookups with the likes of Ciara, Erica Mena, Keyshia Cole, Angela Simmons and his child's mother Joie Chaves, on Instagram, he floated the bold idea that he didn't need relationships … but that he did: "I don't want a relationship! They hold you back. I want a bestfriend i can sleep with, make love to, hustle with, get money with, travel with, shop with, club with & live life with. I want a partner in crime, a life partner. Someone that i can laugh with and build with. A woman I'm not afraid to lose because i know they'll always be there. Relationships are played but a partnership i'll take. 💯"
Pop culture observers are concerned for Bow Wow's mental well being after he posted this Instagram message about not wanting a relationship, but wanting everything that basically constitutes a relationship.
The rapper didn't stop there. Bow Wow couldn't help posting idiotic thoughts for public consumption, such as this banal stream of mysogyny:
"If you were his side b**** 👱🏽‍♀️and you become his main b***** 👱🏽‍♀️you have no business 🙅🏽going through your mans phone 📱and addressing him about other b****** cause at ☝🏽one time you were the other b**** disrespecting 🙈his main 💍 and it was ok now that the shoe 👠 is on the other foot 👣be humble 💯 😂"
Game, set and match. Twitter wasted little time digging into Bow Wow for these vacuous postings. Take a look at some of the most hilarious responses below:
Bow Wow just said "I don't want a burger. I just want a bun, beef , lettuce , tomatoes & onions" https://t.co/yWuGGj0r9N

— JJ Velásquez (@TheBloodShow) September 13, 2017
Twitter: * Bow Wow Trending

Me: * …. pic.twitter.com/lS2AEluxkA

— Blake🔱 (@blakehaywood_) September 13, 2017
Bow Wow : I don't want a car, I just want a tool that can get me from A to B with 4 wheels, AC, V8 engine, airbags, and GPS. pic.twitter.com/CKlFFhwLmL

— Kerv (@KRVNZ) September 14, 2017
Sees that "Bow Wow" is trending again… pic.twitter.com/rUw772oBmW

— Life With Khelaire (@LifeWKhelaire) September 13, 2017
How black ppl look when makin fun of bow wow vs how black ppl look when white ppl make fun of him pic.twitter.com/TWvSgaFNgT

— Rio Hendrix (@Mister_Blake) September 13, 2017
* Bow Wow walks into a restaurant*

Server: " Hello sir would you like to try our signature lemonade?"

Bow Wow : pic.twitter.com/VvixOBOcSQ

— you (@AsapVirgo) September 13, 2017
Everyone on Twitter: Man wtf wrong wit Bow Wow

Bow Wow: Hold my drink fam pic.twitter.com/v4NxncklVr

— ericd (@ericdtx) September 14, 2017
i saw bow wow trending and just knew he said some dumb shit

— childish™ (@rachaelpikachu) September 13, 2017
All the women on my TL would have given bow wow the box when we was kids now he can't even get a positive RT. Life comes at you fast.

— Sweet Jones Jr. (@RobDeNiro007) September 13, 2017
So Bow Wow doesn't want a relationship. He just wants…….a relationship? 🤔🤔🤔 pic.twitter.com/E43DJIvswI

— Ryan Belk (@rbelk_94) September 13, 2017
I had one ounce of faith that Bow Wow didn't really type this out and thought it was deep .. I was wrong https://t.co/beupBvkyFC

— Trevor Norris (@trevor_norris0) September 13, 2017
Black Twitter anytime Bow Wow says something 😂 pic.twitter.com/Qf2xe7z47k

— rosechocglam (@rosechocglam) September 14, 2017
Bow wow: pic.twitter.com/9eitoKlPBr

— CC💋 (@PrettyBarz) September 14, 2017