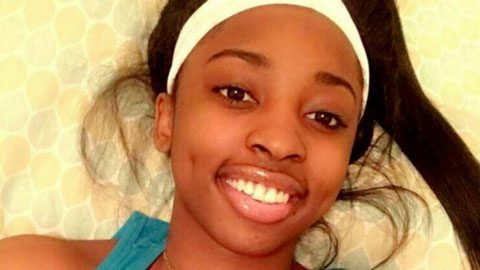 The mysterious death of Kenneka Jenkins caused a flurry of protest in Chicago. The teen was found dead in a hotel freezer last weekend after attending a party in a hotel room at the Crowne Plaza near Chicago's O'Hare Airport. Attendees at the party uploaded a video showing that alcohol and drugs were present and may have been a factor in Jenkins' death.
The team's mother, Tereasa Martin, expressed frustration with the lack of information given to her by Chicago police. According to Martin, she was not allowed to view the hotel surveillance tapes and the teens who were with her daughter at the party gave conflicting stories.
Now, according to the Chicago Tribune, there is new information regarding Jenkins' death. Community activist Andrew Holmes has stated that he was allowed to view the hotel surveillance video and speak with officers about the circumstances surrounding the discovery of Jenkins' body. Holmes does not believe foul play was involved in teen's death. "The important part is we all wanted to know: Did anybody call her down there?" he said. "Did anybody force her down there? Was there anybody on the other side of the room when she got down there? And the answer to that is no."
According to Holmes, the video that he viewed showed Jenkins wandering around the area seemingly disoriented. She is then seen opening two doors in a kitchen area and enters the walk-in freezer. The doors closed behind her and Jenkins is seen no more.
But the family said Holmes was not authorized to speak on their behalf and his narrative is undercutting the prevailing thought that others were involved in Jenkins' death. Social media users have posted conspiracy theories that imply that the teen was raped and placed in the freezer by unknown persons. The Chicago Police Department says that the footage was released to Jenkins 'family and to the Cook County Medical Examiner's Office.  The case is still under investigation.