Serena Williams' newborn baby girl, Alexis Olympia Ohanian Jr., adorably shows off her muscles.
On Friday, the 35-year-old tennis champ shared a pic of she and fiancé Alexis Ohanian's daughter, where she can be seen fast asleep while flexing her tiny biceps.
Sporting a navy onesie with the phrase "Smart and Strong like my Mama" etched across the front, the pic is nothing short of spot on.
As previously reported, Alexis Olympia was born on Sept. 1 and is the couple's first child together. Fans got their first glimpse of the celebrity seed on Wednesday, Sept. 13, when Williams first introduced her little lady to the world with a sweet pic on Instagram as well as a followup image on her daughter's social media page.
"Thinking about mommy and daddy 🏃🏿‍♀️👨🏻‍💻," the caption reads, alongside a pic of Alexis rocking a yellow onsie while sleeping soundly in her bed.
In December, Williams shocked fans when she announced her engagement to the Reddit co-founder, especially since the duo were successful in keeping their relationship on the hush-hush.
"I came home/ A little late/ Someone had a bag packed for me/ And a carriage awaited," she wrote. "Destination: Rome/ To escort me to my very own 'charming'/ Back to where our stars first collided," wrote Williams via her verified Reddit account, taking a more poetic approach.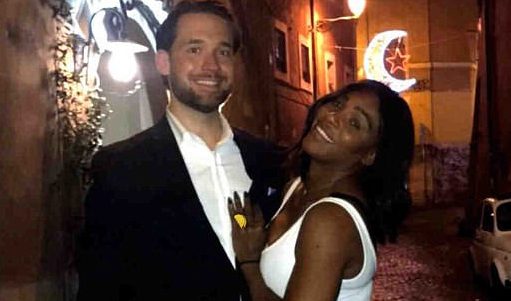 "And now it was full circle/ At the same table we first met by chance/ This time he made it not by chance/ But by choice/ Down on one knee/ He said 4 words/ And I said yes," she concluded.
Meanwhile, Ohanian responded to the post using his own Reddit account "kn0thing" (hence the "Mrs. kn0thing" in the drawing), writing, "And you made me the happiest man on the planet."
What an adorable family. We can't wait to see what's next for the Williams-Ohanian crew.