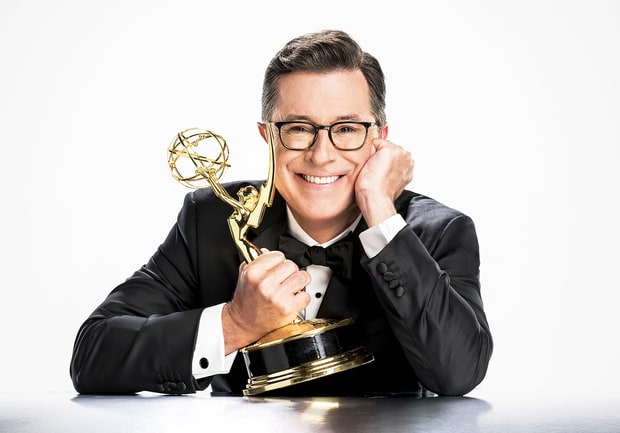 The 2017 Emmy Awards are finally here.
The 69th annual Primetime Emmy Awards go down tonight, Sept. 17, 2017, but before the annual celebration highlighting top performances in televison begins, we've rounded up everything you need to know, ahead of the show.
What time does the show begin?
The show kicks off at 8 p.m. ETon CBS, from Microsoft Theater in Los Angeles. Before the broadcast, fans can catch their favorite stars sashay down the red carpet on E! network during their annual "Live from the Red Carpet" special, beginning at 6 p.m. EST.
Will the show stream live?
No cable, no problem! Viewers can also live-stream the ceremony via CBS All Access available via their website or a smart TV. Even better, you can bypass the $6 a month subscription fee, by signing up for a free seven-day trial.
Who's hosting?
Stephen Colbert will be taking the main stage as this year's Master of ceremonies. While "The Late Show" star previously hosted the Kennedy Center Honors in 2016, the Emmys cements his first major hosting gig.
Taking the main stage as presenter …
There's a long list of big names on deck to help present the awards of the night, including: Nicole Kidman, Oprah Winfrey, Alec Baldwin, Tracee Ellis Ross, Reese Witherspoon, Edie Falco, Lea Michele, Debra Messing, Jason Bateman, Jessica Biel, Anna Faris, Rashida Jones, Shemar Moore, Kumail Nanjiani, Jim Parsons, Adam Scott and many more.
And the front-runners are …
Although, fan favorite "Game of Thrones" is ineligible this year due to its summer start date, HBO's "Westworld," "Saturday Night Live," — both which lead the pack with 22 nominations — Hulu's "The Handmaid's Tale," NBC's "This Is Us," and Netlfix's "The Crown and Stranger Things" are all in the running to walk away with Golden Statues.
What are your Emmys predictions? Sound off in the comment section below.