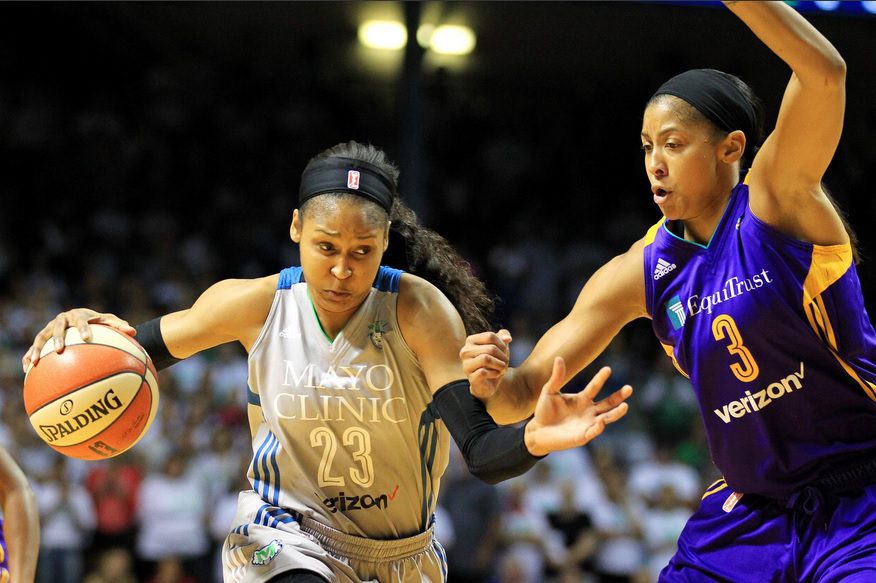 Game 3 of the WNBA Finals featuring the Los Angeles Sparks and the Minnesota Lynx will air Friday, Sept. 29 at 9 p.m. Each game of the series so far has come down to the final buzzer and has featured comebacks of 15 or larger point deficits. The rivalry between these two teams didn't begin last Sunday during Game 1, however.
Last year, the WNBA saw its greatest finals series ever as the 2016 regular season MVP Nneka Ogwumike made a putback shot from under the basket with three seconds remaining to give the Sparks the championship during the deciding Game 5. Last year in the NBA, Kyrie Irving hit the go-ahead jumper in the deciding Game 7 of the finals. That four-point victory of Game 7 in 2016 was the second-closest game the Cleveland Cavaliers and Golden State Warriors have had in the finals in the last three years. The Lynx and Sparks currently have a total point differential of three after two games. Sparks guard Alana Beard hit a game-winning three-pointer as time expired during Game 1 of the 2016 finals as well.
This rivalry in the WNBA has the last two regular-season MVPs and they aren't even the team's most recognizable names. The Sparks go-to option in the final seconds isn't Candace Parker or Ogwumike, it's Chelsea Gray. The Lynxs are the WNBA's equivalent of the Warriors with All-Stars Maya Moore, Slyvia Fowles, Semone Augustus, and Lindsay Whalen in their lineup, with former All-Star Renee Montgomery coming off the bench.
The rivalry between the two squads perhaps began on June 21, 2016. Both teams were undefeated going into the matchup and traded baskets until the last second. Montgomery knocked down a corner three with 2.9 seconds left. to give the Lynx the lead. After being fouled intentionally, Parker missed her last free throw on purpose with 2.1 seconds remaining, kicked the ball out to Kristi Tolliver that drained a game-tying three — except the ball was still in Tolliver's hands as time expired. The Lynx won and the Sparks' perfect record ended. Three days later, the Sparks visited Minnesota to return the favor and after an 18-point win, the Lynx undefeated record was no more.
These two teams create great basketball, filled with great passion and with almost a guaranteed great ending every time they face each other on the floor.