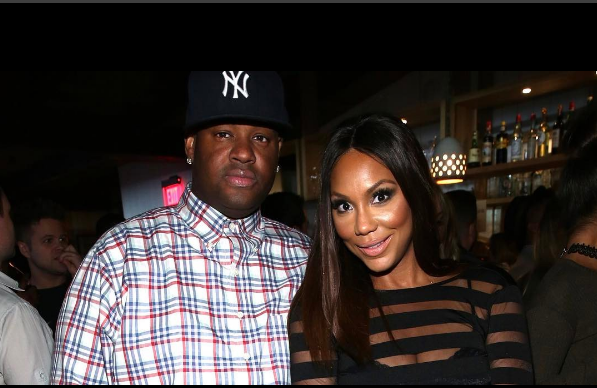 It took a few years, but the Tamar Braxton and Vincent Herbert marriage became one of the most admired among urban audiences.
Braxton and Herbert, two music industry veterans and best friends, are sadly headed for divorce. But Herbert is trying to see if he can rescue the marriage from complete doom.
Sources connected to Herbert told TMZ that he and his estranged wife can work things out and save their marriage — if she's willing to give it another try. Braxton filed for divorce last week.
Herbert will pull out all the stops to accomplish this, including counseling to repair their marriage and other issues that emanated from her unceremonious and sudden termination from "The Real."
Confident that he can reverse their marital fortunes, Herbert won't even broach the subject of shared custody for their son because he wants to keep them under one roof.
It won't be easy or quick. Their marriage was eroding behind the scenes, despite the fact that they were able to smile for the cameras and their fans once they stepped out of the house. 
"There was lots of fighting, lots of yelling, lots of threats, but as soon as they'd go out in public, they'd act as if nothing was wrong," a source told BET.
Where did all the infighting emanate from? Reportedly, Herbert was having financial troubles, which stood as a major problem to the "Love & War" singer. He was sued by Sony, TMZ reported, to the tune of nearly $4M after a business arrangement went bad, which exacerbated things on the home front. 
"Tamar wasn't aware of some of the business issues that Vince had," a source told BET. "He doesn't know how to manage money. One time their house almost went into foreclosure. She had no idea. One of her sisters found out, told Tamar and she took care of it."
And it's not as if Braxton didn't try. She told "Entertainment Tonight" that she was retiring from the music industry to protect the sanctity of her marriage. 
"My husband and I work very close together and it's really hard, you know? Not only do we work together, he is my baby daddy and, you know, we've been together forever. He's my best friend. [There are] a lot of things to discuss and argue about.
"This is just my job," she continued on about the industry. "When I go home, that's my home. I always want to keep my home a sanctuary and somewhere safe. Not just for me, but for my husband and my kid."
Despite the efforts, however, it just didn't work out, as Braxton reportedly spent less and less personal time with him.
"Outside of work, she didn't want to socialize with him as much," the insider mentioned, according to BET. "She'd say, 'He has his friends and I have mine.' Tamar didn't want to be up under him anymore. She wanted more independence."