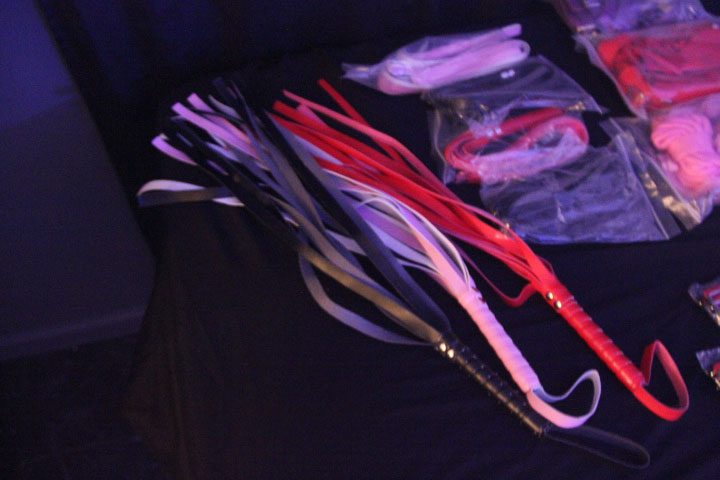 An outrageous appetite for wild sex sometimes crosses over to what is known as kink or fetish. When consenting adults engage in alternative sex play for many there are no rules or limits. But in today's heated racial climate there is an aspect of kink known as race play that continues to grow in popularity.
Raceplay is an aspect of BDSM (bondage, domination, submission, masochism) where interracial sex partners decide to engage in sex based on race, humiliation, domination, and subservience. Participants are both male and female who engage in straight or gay sex. One popular adult fetish website lists over 300 national groups whose members enjoy this lifestyle. It's more than just being called the n-word during sex, it involves sexual degradation at its most brutal levels.
On the website Fetlife, a search of the term "race play" pulled a huge list of groups and comments from members. For example:
Plantation play fantasy

"This is an extreme role I know for most, but one that I was turned onto years ago by a girlfriend, I'm just curious are there any other black females that this is a type of fantasy for them?"

"I have experience at plantation/farm servant play and have enjoyed it in the past with my husband and other partners, including being sold at mock auctions. Makes for interesting scenarios."
It is mind-boggling that any Black person would submit willingly to this lifestyle but Black men and women, as well as other people of color, participate. Some Black couples even have a White slave they sexually humiliate in a perverse game of sexual power.
There are places known as "Plantation Retreats" where people into this lifestyle engage in mock slave auctions, and group sex. One woman who was into this lifestyle is a Black woman named  Mollena Williams Haas. She describes herself on her Twitter page as an "Executive Slave & Muse. Funny. Friendly. Foulmouthed. Fabulous.Overachiever, Ass-Kicker, Submissive Scheherazade, Fat Fetish Model & Cupcake bitch. Jai Ganesh!"
Williams explored her enjoyment being "topped" by a White Jewish man on a podcast featuring a mock job interview. During the session, Williams pretended she needed a job and the White man was the employer who made her have sex for the job. Williams stated that he called her a n-word and bi–h and threatened to shove a watermelon up her a–. Williams called the sex session hot but afterward stated because of the racist dialogue the emotional and psychological play made her upset but she enjoyed the degradation. But all of this was planned out and agreed beforehand and Williams continued her racial BDSM play. This included a mock kidnapping at a sex club dungeon where a hood was placed over her head and she was dragged into a basement. When the hood was taken off, she was surrounded by 3-4 other White men who whipped her and degraded her. This was called a scene and to stop it from spiraling out of control, a safe word is used if the action gets too uncomfortable. All of the men were her friends and part of the role play was her trying to get away and getting beaten, kicked and forced down with booted feet. Eventually, she described being hung by her hands from a hook in a ceiling as she was blindfolded and heard a whip being snapped.
Williams stated that in her mind her friend transformed into a brutal, racist, White man who was holding her captive and she became terrified but could do nothing since she was bound, Her friend pulled out a knife and pressed it against her body as the crowd grew to 20-30 White people taking in the scene. The man torturing her whispered to Williams ,"I could cut you open right here and no one would do anything. Because no one gives a  f–k about another dead n-word."
The host of the dungeon informed her sex partners that they were about to close and the scene needed to end. Williams stated that she had lost track of time as she went deeper into her role. Williams was taken down to begin what was known as aftercare where she was to be given water, wrapped in a blanket and cared for by participants. But the scene was so traumatic Williams was terrified and screaming for others to stay away from her. Eventually, she went home, but the trauma was done. Afterwards, people were split into two camps, those who enjoyed it and those who stated that the scene should have been stopped. But others blamed Williams for not using her safe word during the BDSM scene.
Williams' story is extreme but this type of sex play is done by consenting adults across the country. There is even a website called The Slave Registry where a "master" can register the UPC Barcode of their slave. The power and lack of power during these sex sessions is what drives these individuals. But Williams stated that working through that fear and excitement is amazing, dangerous and hot.