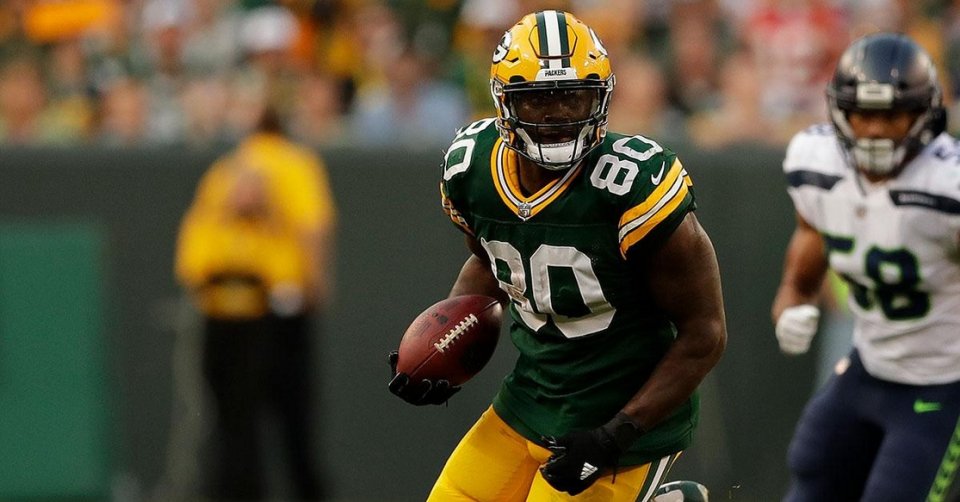 Martellus Bennett caught three passes for 38 yards in his return to the New England Patriots on Sunday night. The game came days after Bennett was cut by the Green Bay Packers for failing to disclose a prior injury.
After being cut, Bennett detailed through a series of Instagram stories how his time in Green Bay ended. In the stories, Bennett posted that the Packers cleared his shoulder before signing him in March and in the team's weekly body evaluations he'd let the organization know his shoulder was hurting. Bennett said the team doctor was hinting that he could play through the injury, although Bennett didn't feel comfortable with that answer. After getting the shoulder checked out by three other experts, the general consensus was that it would be better for Bennett to get surgery. Bennett hadn't practiced with the Packers his last 14 days on the roster and said he was open to retiring after this season in October. Bennett claimed that the Packers cut him because his 3-year contract would remain on the team's books after getting surgery this season and retiring during the other two.
Bennett signed to return to the Patriots a day after the Packers waived him and immediately practiced with the team. After the game, Bennett wanted to clarify that the pain in his shoulder didn't vanish.
"It's not about, 'could you play?' but 'should you play?' Right now, I'm just like f— it," Bennett said to reporters after his first game back with New England.
Now, the Packers reportedly plan on reclaiming all of the bonus money from their contract with Bennett, which is totally possible.
"Absolutely. It's possible that they can ask for the money back or file a grievance," NFL agent and criminal defense attorney Tiffany Porter said in an interview with rolling out. "They have about a month to do that through the league because they can file that based on if the player had a pre-existing condition before signing, or assuming that the club didn't know about it."
Porter, who has represented over 200 NFL players, also pointed out that regardless of how Green Bay has handled the situation, this is just a reminder that the NFL is a business.
"Yes, there's a camaraderie, it's family, but at the end of the day, it's still about the bottom line dollar. If they're not making money or if they're losing money on players, they're going to cut them and they're always going to be looking for the next big thing, the next best player," Porter said.
Concern for each businesses product is the reason Colin Kaepernick isn't signed yet, in Porter's opinion.
"Anything that is going to cause drama or they think it's going to take away from the game or their money? They don't want to be a part of it," Porter said. "These owners, their agenda first is the team. What they feel is best for the team. If they believe that bringing on a player, now you've got quarterbacks lined up waiting to play. If they believe bringing this person on is not only going to be a hindrance to the team but also bring limelight to the team that they don't want or unwarranted press, they're not going to hire him. It's just as simple as that. No matter how good he is."
There are five more games remaining in the regular season for the Patriots to see if Bennett plays in all of them in addition to the potential postseason that will follow.
Porter can be followed on Twitter @AgentPorterESQ.