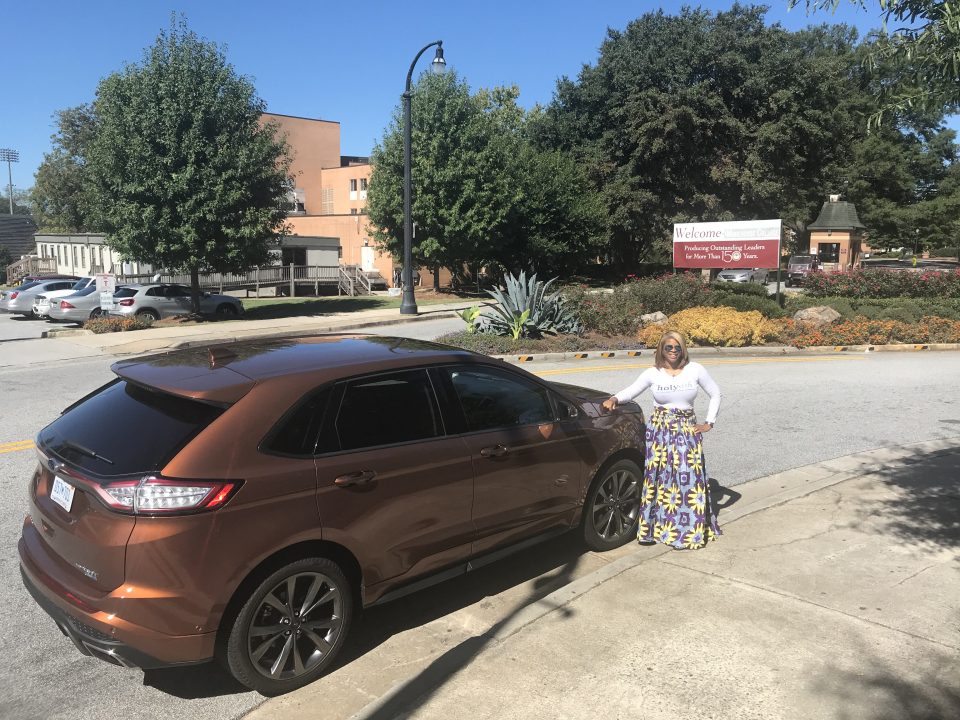 There's no doubt that Spelhouse homecoming 2017 was the biggest event of the season at Atlanta University Center. The annual gathering where Morehouse College and Spelman College combine their schools' homecoming activities is filled with concerts, parties, reunions, town halls, fashion, tailgate tents and of course football — and where new bonds are made.
It's always a great time to kick off the school year after a long, hot summer. This year, Ford sponsored the annual fete. Adding ride and drives to the mix of festivities, Ford's Drive2Greatness program continued with the first-ever Ford Ultimate Homecoming Takeover, a weeklong homecoming takeover at Morehouse and Spelman in Atlanta.
This writer had the exclusive opportunity to experience the 2017 Ford Edge Sport with Intelligent All Wheel Drive (AWD). The five-passenger crossover that showed up on my doorstep was an eye-catching and warm Canyon Ridge Metallic, which is complementary to the much-touted Autumn Maple, one of Pantone's top 10 colors of this fall.
Yesssss! This Ford Edge was both fashionable and functional. Rolling out covered and participated in many of the homecoming activities, AUC-wide, including the Terrence J-hosted empowerment panel where our publisher Munson Steed joined the list of panelists and CAU's lit 21 Savage concert.
The five things I love about the 2017 Ford Edge:
Roomy interior: Aside from the fact that you and your passengers don't have to fight over cupholders because there are eight; the front bucket seats and the rear bench recline. Hauling our camera and video gear, DJ equipment, step-and-repeat and pop-up banners was a breeze and only required one trip from rolling out's doorstep to Epps Gymnasium at CAU.
Quiet and soothing ride: I was actually unbothered by the horns and rumble of Atlanta's traffic. Thanks to the ambient lighting, armrests in the front console, the heated front seats, and the 10-way power driver's seat which made it easier to adjust the recline, find the right distance from pedals, and adjust the height – and simply be comfortable. Mood: Relax. Relate. Release.
Great sound: The standard Sony® 12-Speaker Audio System is a really rich in quality and makes for an enjoyable listen.
Style: It's stylish from the inside out. It comes standard with a leather-wrapped steering wheel, Piano Black grille, and projector style headlamps.
Fuel economy: The 2.7L V6 EcoBoost® Engine delivers 325-hp and has great acceleration, along with 20 MPG highway and city.
Total MSRP: $46,980