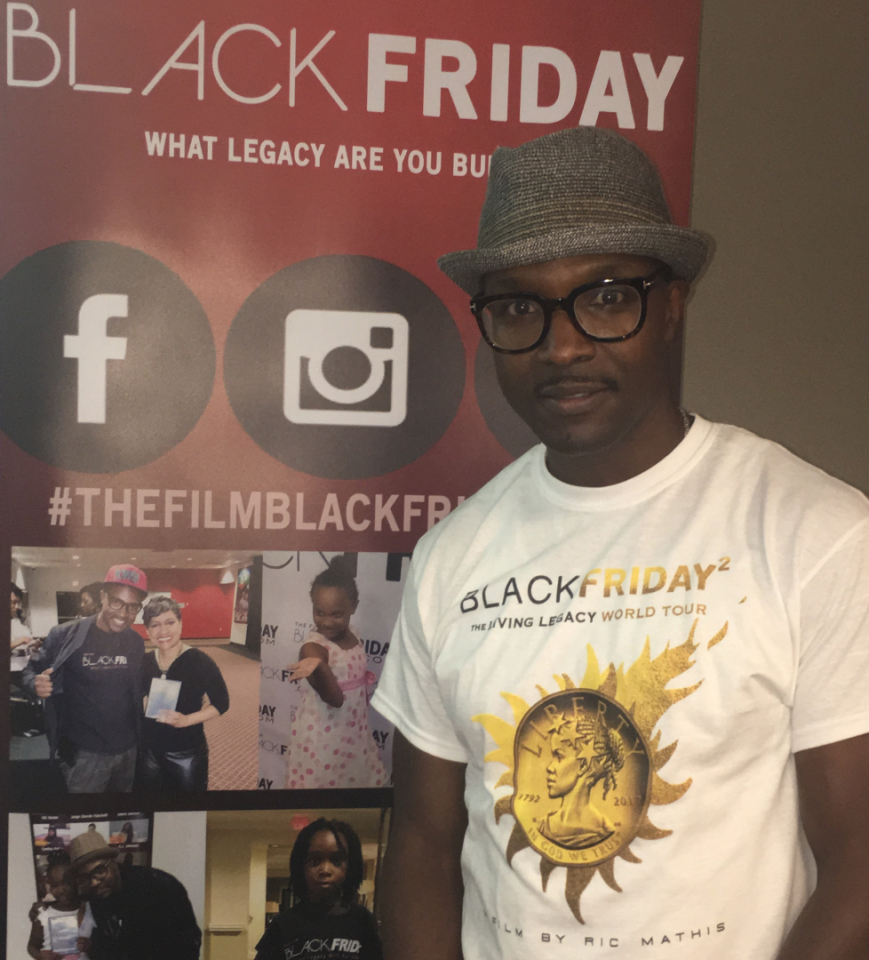 Black Friday is arguably the most anticipated retail holiday of the year, and it's just around the corner. But wait … before you spend your mighty dollar in a retail store, check out the wealth of information in the newest film in the Black Friday franchise.
Filmmaker and producer Ric Mathis is helping to refocus the thoughts of how and where people spend their money. Black Friday 2 is sparking conversations in the Black community on race and economics. For this film, Mathis traveled to several countries to help African Americans understand the true meaning of economic security. He presents seven practical principles to help you reshape your mindset and to recharge your pockets.
Rolling out had an exclusive interview with Mathis to discuss the importance of supporting Black-owned businesses, his traveling expeditions, and why race and economics are at the forefront of our lives today. 
What is Black Friday, the movement?
The Black Friday movement is a film series that deals with how we as African Americans, value a dollar and the importance of leaving a legacy for the next generation. It is a series that offers practical solutions for the economic problems that we have in the African American community. Right now, as African Americans, we spend $1.3 trillion per year and when you look at the community it does not look as if that amount of money flows through the community because that money is being mismanaged. Only 3 percent of that $1.3 trillion stays in the Black community.
You produced two documentaries around the concept of Black Friday. You were the executive director of the documentary Black Friday: What Legacy Will You Leave? And you also more recently released Black Friday 2. Tell us about each of the documentaries and what they should mean for the Black community. Let's start with your first documentary, give us a recap.
Black Friday: What Legacy Will You Leave? was the first installment, which was released in 2015 and the series scratched the surface in creating the platform to talk about money and to offer practical solutions for the economic problem. At the beginning of the film, a 9-year old kid asked me, "If you die today, will you leave bills or benefits?" That is a heat check question to get you to think "What I am doing with my money?" Death doesn't give you a notice, it's unexpected and the question is to give you a chance to check your funds.
In 2016, I produced Black Friday The Remix and I did not want to produce an entirely new film, so I did a remix version and added new people like Ice-T, Chuck D, Les Brown and more. In the African American community, we often do not see Black fathers taking their sons into banks and opening banking accounts, not saying it does not happen but, in this film, you get to see that. In the 'Black Friday Remix', we also wanted to show people from the community supporting the community and genuinely wanting to see the community flourish.
Now tell us about Black Friday 2.
In October 2017, we released Black Friday 2. After screening the film over 100 times from Alaska to London, we would [host] a question and answer session after the screenings. Afterward, there were two things that really jumped out at me: number one is that we are suffering from identity theft, we have been disconnected from our land, our language, and our legacy; and number two is that we need a step-by-step process to better manage the $1.3 trillion in our community, as well as to leave a legacy for the next generation. In Black Friday 2, I decided to show that we as African Americans already have a legacy around the world and I went to places like Barcelona, Spain, to show that people literally stand in line to go see the Black Madonna. People come from all around the world to pay homage to the Black Madonna. This film is about race and economics and we are at the intersection of those two topics.
With the retail holiday Black Friday coming up on the day after Thanksgiving, tell us why it's so important for Blacks to buy from Black-owned businesses.
Everyone else is supporting their own community and putting their community first. The Black community is the only people that do not support one another. The reason we don't do that is because we don't own a lot of the businesses that we support. Another reason is that our narrative is different and unlike any other group of people so there has been a distrust that has been embedded within us to not trust and support each other. We must support African American businesses that have an excellent product and an excellent service. By raising the standard of service and providing a quality of excellence not only will our own kind support us, but other ethnicities will support us as well. Principle No. 5 in the film [says] that, you buy Black but, you sell to everybody. Then, once you start to make money you should then put it back into the community, so the dollar can circulate several times. The first law of nature is self-preservation, which means we should put ourselves, African Americans, first. One of the questions in the film is, "Is it racist to put your race first?" No, it is not racist to put your race first because that is self-preservation. No one is going to look after the African American community like African Americans.
What major obstacles did you face while creating and producing Black Friday 2?
We had scheduling conflicts, there were people that did not want to be in the film at first but, then changed their mind. There were many financial sacrifices with the film as well. There were several obstacles that we had with the film, but we persevered through it and released the film in a timely manner.
You have screened your film at various high schools and colleges, recently you were at Clark Atlanta University partnering with their Financial Literacy program. Tell us how students react to your film after seeing it for the first time? What were some things that they shared with you?
Students appreciate the fact that there is a Black Madonna in Spain and people from around the world go to worship her. Also, students enjoyed the production and video quality of the film. In the film, we take you around the world to Ghana, South Africa, Spain and other countries. We encourage students to travel to Africa because it is not just "bamboo" and jungle like we have been shown. In Africa especially, they have the same nice hotels, beautiful shopping malls, and stores that Americans have. We use that as bait to attract the audience and we show the similarities between the various countries. We want to connect with our fellow brothers and sisters in Africa and in other parts of the world and to start doing business with each other.
Where can our readers find out more information about your documentaries?
Go to the website: thefilmblackfriday.com, the film can be purchased on the website as well. Also, I can be found on Facebook at The Film Black Friday and Instagram @thefilmblackfriday
Check out the Black Friday 2 trailer below. Chime in on the comments. What do you think of the Black Friday 2 trailer? Sound off in the comments.