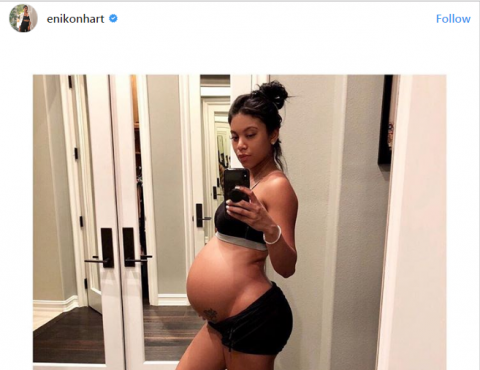 Kevin Hart can exhale now. This was no false alarm this time. The comedian became a daddy for the third time as his wife Eniko Parrish Hart has given birth to a healthy baby, TMZ reports.
Hart said wife Eniko delivered their son at 1:45 a.m. PT (4:45 a.m. ET), and his wife and newborn son are reportedly in good health.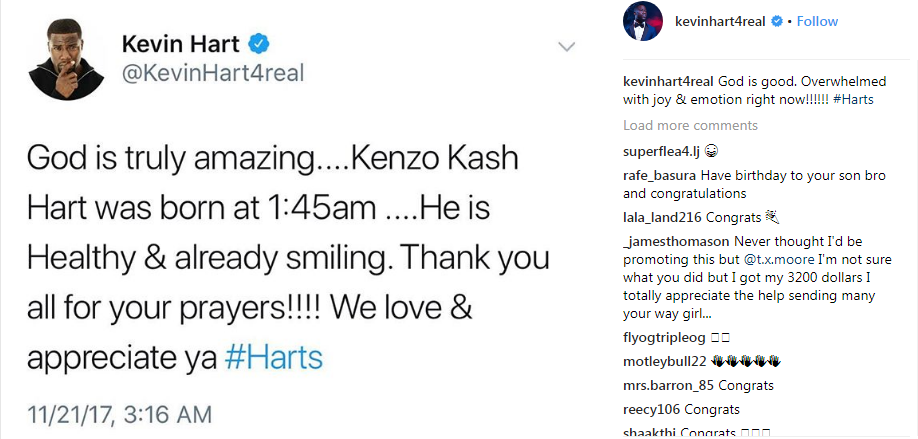 Hart captioned the above post with this:
God is good. Overwhelmed with joy & emotion right now!!!!!! #Harts
This comes after Eniko playfully pleaded with their baby boy to "hurry up."
"I know you're quite comfy and warm in there..but it's time," said Eniko.
Eniko Parrish Hart captioned her very pregnant photo (above) with this cute note:
dear kenzo,? you're now 40 weeks, and 3 days past your due date! i know you're quite comfy and warm in there..but it's time! ? even though we don't have any control over when you decide to make your debut we just want u to know that we are ready for you any day now baby boy, it's time to meet your parents! We love you.. ?￰゚マᄑ♥ #SpeakitintoExistence ✨ #AllOnGodsTiming #HappySunday??
As for the name? Hart named him Kenzo Kash.
Celebrities are notorious for giving their offspring interesting names (to say the least; Jermaine Jackson of the Jackson 5 named one of his children "Jermajesty"). But this time, Hart assures there is a method to their madness.
"Kenzo" is a Japanese name, meaning strong and healthy. "Kash" means mom and dad's pockets are strong and healthy. 
Just last week, Hart was forced to cancel an interview at the last second because Eniko Hart had gone into labor, but it turned out to be a false alarm. The second time around proved to be the lucky charm.
This is the Harts' first child together. Hart has two children with ex-wife Torrei.
There are no photos of Kenzo Hart yet, but we're sure they are coming soon. Stay tuned!