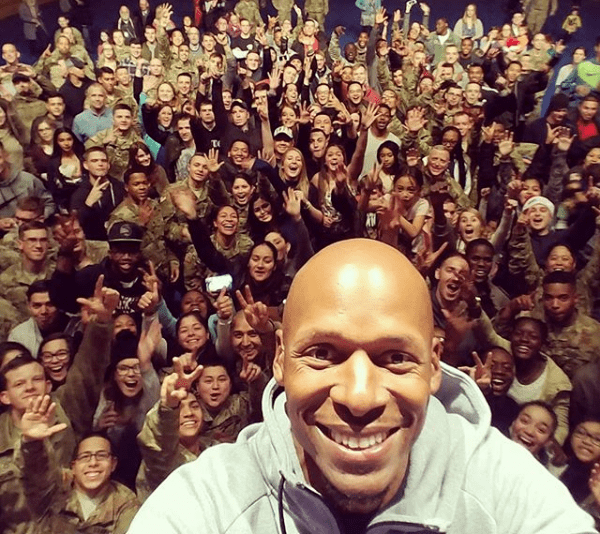 Ray Allen, the NBA's all-time leading 3-point shooter, was blindsided when he was served a restraining order by a man who claims the basketball legend is really gay and was stalking him after he ended their romantic relationship.
Bryant Coleman, who works in the communications department at the University of Central Florida in Orlando, says they've been in a relationship for the past several years and that Allen refused to leave him alone. 
Allen's attorney fired back, stating the Florida man is lying and was "catfishing" Allen as he pretended to be several women interested in Allen. The attorney also told TMZ that Coleman is delusional.
Allen, by the way, has been married to Shannon Walker Williams since 2008, and now says he regrets even getting involved online with this person. 
Coleman says Allen's allegations that he pretended to be a woman to obtain "private information" about Ray are false. Instead, Allen eagerly gave Coleman his private information in addition to pictures and videos. Coleman said Allen knew he was a man from the start and that their relationship goes back several years. 
"[Ray's] account of our relationship is false," Coleman says in a statement to TMZ Sports. "Ray knows how I look, he knows how my voice sounds, he knows how I think, and most importantly, he knows my heart.
"However, because of confidentially [sic] considerations, I am not in a position to provide a more detailed response to Mr. Allen's false and salacious claims. I will rely on the courts to protect me against Mr. Allen's violent threats and false accusations."
Coleman did not specify what kind of "violent threats" were allegedly made by Allen. Coleman obtained a restraining order, claiming Allen was stalking him.
Allen's attorneys were reached for comment and they blasted Coleman's claims. "Mr. Coleman's statement would be funny if it wasn't so crazy," Ray's lawyer said. "There has never been and never will be a relationship or friendship between Ray Allen and Mr. Coleman. They have never met and never have spoken.
"Ray obviously hasn't threatened anyone. Any statement or inference otherwise is a complete fabrication. Ray wants nothing to do with Mr. Coleman, who obviously has some serious issues with understanding the difference between fact and fantasy." 
Now, this is the interesting and sick part: Coleman was allegedly "catfishing" Allen from Allen's wife's restaurant in Orlando, Florida. And Coleman allegedly threatened to reveal the contents of their conversations, Allen's attorney's reveal. Therefore, the pair allegedly came to a financial agreement to keep things quiet. Allen now says Coleman violated the terms of that agreement and has been harassing his family nonstop. Coleman was the one cyber-stalking him, Allen claims, not the other way around. 
What a mess.  
Allen, a two-time NBA champion (one title each with the Boston Celtics and the Miami Heat) is pretty much a lock to make the Hall of Fame. He passed Hall of Famer Reggie Miller's 3-point record of 2,560 shots made. Allen retired with 2,973 long-distant shots made, according to basketball-reference.com. Allen also received critical acclaim for his debut film role in the Spike Lee-directed movie He Got Game opposite Denzel Washington. He played a high school basketball prodigy named Jesus Shuttlesworth who had to juggle the responsibility of raising his little sister alone after his felon father (Washington) killed his mother during a domestic dispute.