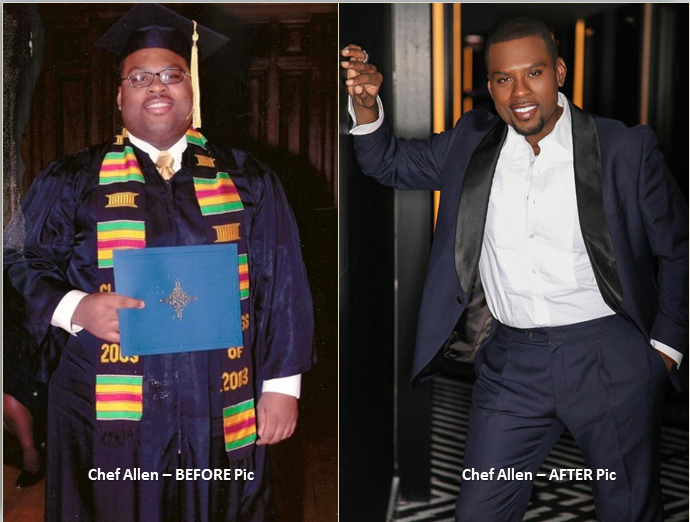 DAYUM! Yep, that's the same thing we said too when we saw Chef Judson Todd Allen's amazing weight loss transformation. In the infamous words of the great rapper Mike Jones, "…back then they didn't want me, now I'm hot and they're all up on me," is probably what Chef Allen thinks every day of his new life, and by the looks of it, we can say that he definitely has earned the right to think that way.
Chef Judson Todd Allen is on a mission to design powerhouse flavors, sourcing seasonal, local and sustainable ingredients that change the way people think and feel about healthier foods.  Having struggled with weight for a significant part of his life, Chef Allen speaks from experience and now maintains a weight loss of over 160lbs.
Chef Allen is the self-proclaimed Architect of Flavor ® and the inventor of the Spice Diet. The diet is Chef Allen's proven plan for using flavor to break addictions to unhealthy foods without feeling deprived. He's traveled the world in search of hidden culinary treasures and has studied at the world-renowned Le Cordon Bleu and the Ritz in Paris. He's authored a book by the same name where he shares his personal story of being addicted to food, encourages weight loss and shows you how to pair the perfect spices and ingredients, excluding salt, sugar and processed foods, to yield simple and flavorful meals that also happen to be healthy. In his book, he features 70 simple healthy recipes and also gives the reader tricks that he's used to make his favorite foods as healthy and tasty as they are healing. The Food Network alum has traveled throughout the islands of Jamaica and Bahamas to uncover the indigenous spices, ingredients and techniques used in food preparation. "The Spice Diet is packed with irresistible treats like guilt-free pancakes, lip-smacking chicken wings, sweet potato crumble, and hazelnut dark chocolate truffles; recipes that taste great and can actually support your efforts to get healthier with every bite."
Allen is currently the culinary lead and head chef at Taste 222, where he consults with clients and entrepreneurs as well as oversees the menu ideation and development for the restaurant. He is currently partnering with former CEO of McDonald's, Don Thompson, on his new venture – Cleveland Avenue, LLC, a food and beverage accelerator and venture capital firm. The Chicago native also provides culinary information as a food contributor for television programs like "The Steve Harvey Show" and FOX 32 Chicago. As the founder of Healthy Infused Cuisine, LLC, Chef Allen prides himself on "…transforming the way you think and feel about healthy cuisine.
Rolling out recently talked to Chef Allen to see if we could unlock his secret to success, discover some of his healthy spice combinations and glean some of his expert advice on how to continue to lose weight and eat healthy, especially during the holiday season. Check out the interview below and chime in on the comments to let us know if you're feeling Chef Allen's Spice Diet.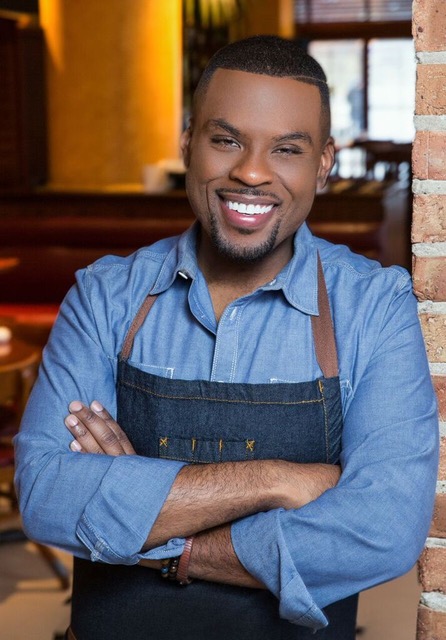 What role does the Spice Diet play in helping one to lose weight?
I drive home the importance of spices and how it promotes weight loss in my book The Spice Diet, so you must grab your [own] copy from www.TheSpiceDiet.com. More specifically, in my book, I share my proven plan for using spices and ingredients, what I call flavor, to break food addiction without feeling deprived. It is known that spices have powerful medicinal benefits that aid in overall health and weight loss. I share these benefits in The Spice Diet, along with providing dozens of recipes and flavor guides that show which spices go well together to make a dish "foodgasmic."
What do you say to someone who's not losing weight fast enough?
For someone who has lost over 160 pounds (an entire person), I always make sure people know that while I have been successful, my battle with weight is still not over. I have to be cognizant of it for the rest of my life. Weight loss requires a lifestyle change, one that you must be committed to for the long haul. I encourage individuals struggling with weight to not get so caught up with how fast you can lose it or even the number [of pounds you lose]; rather, make healthy eating and daily routines a natural fixture in your everyday life.
What are the first six spices one should add to their spice cabinet?
You're telling me I can only start with six? If I had to choose, I would say cinnamon, turmeric, paprika, garlic powder, black pepper and dried thyme.
We're well into the holiday season. How does one avoid food triggers during holidays?
My "go to" strategy for avoiding food triggers is to make my favorite dishes that deliver the same flavor and experience, but [are] made in a healthy way. Now, I am not just selling "wolf tickets" here. This [advice] is coming from a former food addict, so I know all about the wrong types of foods. I had to adjust my palette to appreciate the right foods and the only way to do that was with flavor!  Without using salt, processed sugars or "bad" fats, The Spice Diet makes creating these new dishes simple and fun.
What holiday spices do you recommend for everyday dishes?
Every holiday I have my go-to spices, which are of course nutmeg, cinnamon, ground ginger and my [very own] cajun spice blend. Now my secret is [that] I also incorporate my core "fresh" herbs, which packs my holiday cooking with serious flavor. I recommend fresh thyme, sage, garlic and lemon zest. These all have serious flavor profiles.
What are five dishes from your book that you recommend for the holidays?
New Orleans Pecan Crusted Catfish
Buttery Macadamia Nut "Ice Cream"
Steve Harvey's favorite, Lobster Mac and Cheese
Sweet Potato Crumble
Kale Salad
Follow Chef Allen on FB at  @ChefJudsonToddAllen and @TheSpiceDiet, or on Instagram at @JudsonToddAllen and @TheSpiceDiet, as well as on Twitter @JudsonToddAllen and @TheSpiceDiet. The Spice Diet is now available for pre-orders at Barnes & Nobles, Amazon, Walmart.com and via TheSpiceDiet.com. The book launches January 16, 2018.