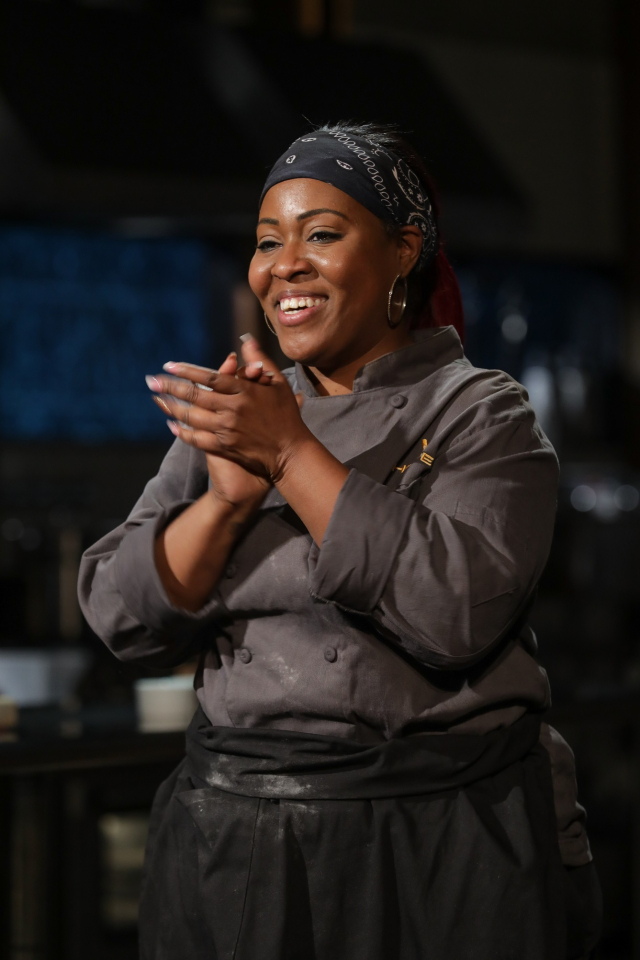 Thirty-four-year-old native Detroiter Crystal Smith was recently crowned a winner of the Food Network show "Chopped." Smith was selected in February as one of the final cast members and was later flown out to New York in March to record the show.
"Chopped" is a game show that challenges contestants to create a masterpiece of delicious and creative dishes from a basket of unusual and assorted ingredients. The winner is selected from three rounds of competition and is judged on presentation and how tasteful their dishes are. During the show, four chefs compete and three judges decide who will be cut, or chopped at the end of each round. Of course, Smith stood tall until the very last episode and claimed the $10K prize money.
Smith has been a family chef since age 12 and is currently an entrepreneur at You Had Me at Cake 313 LLC. She is also a single mother and recent culinary arts graduate of the Art Institute of Michigan in Novi. Smith was employed at the Bayview Yacht Club in Detroit as a pastry chef, where her beloved bourbon bread pudding was the best-selling dessert. Luckily, Smith befriended her former supervisor who is now her "number one supporter since I've known her," Smith says. Her former supervisor was also a past 'Chopped' contestant two weeks prior and submitted Smith's profile to Food Network.
"When I found out that she sent in my information, my first instinct was 'Oh my God! I'm going to choke her!' because I clearly told her I wasn't going to do it because she was going to do it — and my biggest fear was that I would end up having to compete against her," Smith explains.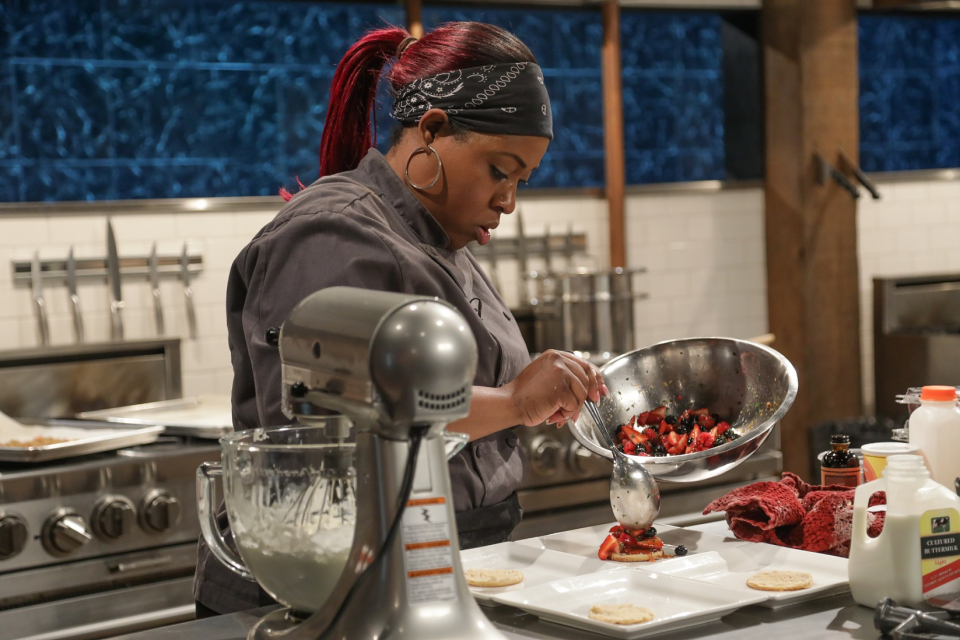 Smith now has a "sweet" plan to put her earnings toward opening up her first location for her company, You Had Me at Cake 313 LLC. Rolling out caught up with the "Chopped" champion of Detroit after her victory to find out what she's been up to since winning the competition.
How long you've been in the culinary arts industry?
I've been in the culinary arts industry professionally for about three years now, but I've been cooking since I was about 12.
What kind of meals would you prepare back then?
My mother worked two jobs, which left me at home with my older sister.  My sister was primarily in charge of taking care of me while my mother was at work and she was starting to prepare meals every day. She didn't really like to cook, she could, but she never liked to. Then she would pretty much cook the same things that she knew how to cook, and I just got tired of eating the same thing every day, so I just decided to learn how to cook on my own. I would cook whatever I could find. For instance, instead of frying chicken, I would bake it or grill it, or sauté it in a pan, instead of cooking regular fried chicken.
Why baking over anything else?
Well, I always loved to bake because I have my aunt, as well as my great grandmother who were phenomenal bakers.  My grandma could make the best sweet potato pie you've ever had. My aunt would make the best caramel cake, they were pretty much the primary bakers in the family. They would have family gatherings and were always in charge of the sweets, peach cobbler, cake, pies, dinner rolls, everything. I started going into the kitchen with my grandmother a lot because we were very close, my great grandmother. She started teaching me a lot of things that she didn't teach other people in my family, like her granddaughters, which is my mom and her sisters, and my grandmother. And I just really wanted to learn how to be as good as she was. So a lot of things I've learned were from picking up things from them teaching me. Then, I developed a love for it because I saw the response I was getting from people in my family.  I started to notice whether I was upset about something, stressing about anything, frustrated with school, which was when I felt the calmest.
We read that your former boss actually gave your info to the casting crew and that's how you were entered into the contest. How grateful are you to your former boss? What did they have to say about you actually winning the competition?
I thanked her for even believing in me enough to even want to give them my information and to want to see me go forward and do it. She's extremely proud of me. She actually competed on the show two weeks before I did. When she found out I won she was so proud, extremely proud of me — she's been one of my biggest supporters thus far for the few years that I've known her.
Tell us about the show. How was it being on one of your favorite shows? How did your competitors react to you?
They were all very friendly women. I do think that they kind of underestimated me a little bit because I did have less experience professionally in the industry than they did. But, for me cooking and baking aren't about money, it's not about attention, it's not about any of that. It's literally something that I love to do. So for me, it's more of a passion thing rather than recognition and acknowledgment. But they were all very, very nice.
What strategies and tactics do you think you applied the most in winning this competition?
Pretty much, my strategy was doing what I know how to do well — and cook from my heart.
What was your biggest challenge on "Chopped"?
My biggest challenge was pretty much toward the end when I started to second-guess myself just a little bit, and it caused me to be a little nervous during the dessert round. But prior to that, I was completely fine.
What was the biggest lesson learned? What has the competition taught you?
Not to second-guess myself at all. I wanted to be able to show people that there are good things that come out of Detroit because we get so much bad press and every time you hear something about Detroit it's always a crime they committed or something went wrong and that's not something we're all about.
Any big plans for your prize money? How do you plan on using it?
I plan on using it to open my first business location. My goal is to offer custom cakes, but I also want to have a dining area for my lunch menu like soups, and sandwiches, Wi-Fi hotspot … I want to have something at the cusp of like a bakery, a Panera Bread, and a Starbucks all in one.
Where can our readers keep up with you and your company on social media?
My Instagram is @youhadmeatcake313 as well as Facebook.