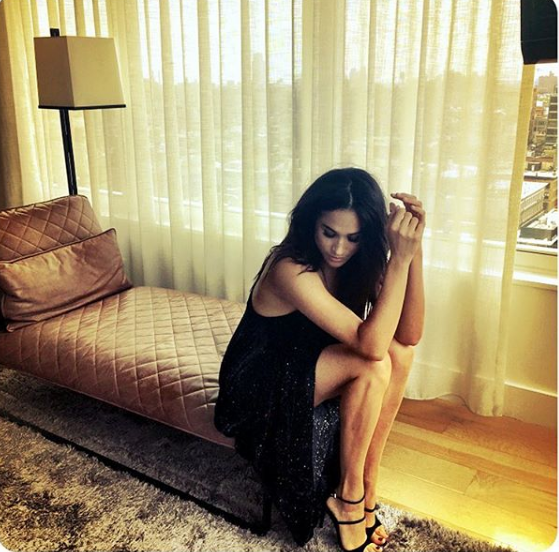 Less than a decade after Western civilization witnessed the first-ever African American president of the United States with Barack Obama, the British royal family is about to turn a couple of shades darker.
Now before Blacks go envisioning barbecues and block parties around Buckingham Palace, as some of you on Twitter have already, we must address the elephant in the room about what might be the newest addition to England's royal family: "Suits" star Meghan Markle is biracial. Her mother is African American.
It is going to be OK, my fellow Caucasian Americans. Just breathe slowly. 
Prince Harry, 33, proposed to Rachael Meghan Markle, 36, and it was announced through the royal family's official communications office this morning (Nov. 27, 2017). This means there will be a Black American woman in the previously monoethnic castle. If they have kids then the royal family will forever have some melanin in it.
We all might as well accept it. Markle did so long ago. 
"I have come to embrace [this and] say who I am, to share where I'm from, to voice my pride in being a strong, confident, mixed-race woman," Markle told Elle UK. Her mother, Doria Radlan, has a master's degree in social work from the University of Southern California and works as a psychotherapist and yoga instructor. Markle's father is of Dutch, English, Irish and Scottish descent, He is Emmy-winning lighting director Thomas W. Markle, whose profession resulted in his young daughter often visiting the set of the 1990s sitcom "Married … With Children."
As the couple continues to celebrate their engagement, and the mainstream works to digest this bit of startling news, take a look at some of the funniest Black Twitter reactions to the news of Prince Harry's successful proposal to Markle.
Black American Princess.
Palace about to be lit. #PrinceHarry #MeghanMarkle pic.twitter.com/xbjvaA3pPz

— Rii (@LifeRiiImagined) November 27, 2017
Meghan Markle's mum should bring the whole of Compton since media british tried to drag her about it pic.twitter.com/FL4eQRyb09

— Doris Payne (@ohfads) November 27, 2017
When Kate Middleton is at the Hen-Do for Meghan Markle https://t.co/8wa7E1cInE

— Roadman Keating (@Im_Antz) November 27, 2017
Check out more on the succeeding page: