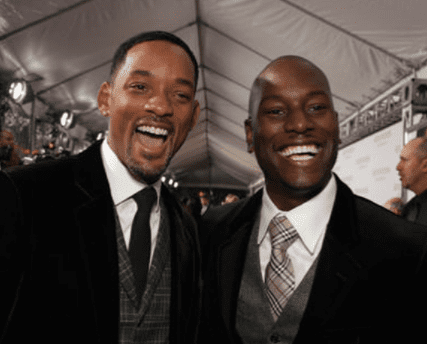 The ongoing soap opera that is Tyrese Gibson has added yet another profound twist to this never-ending drama.
Before you suffer a detached retina rolling your eyes all over your head, this one posting is to get the record straight because Tyrese admits that he has lied about several very important things recently.
In the singer/actor's latest social media post, he admits that he is not broke and his wife is not, in fact, pregnant. Nor does Tyrese need your help with his wife's community activities in order for him to stay married. 
As reported, Tyrese blamed his frequent and bizarre social media outbursts on the powerful narcotic Rexulti, claiming it made him do "some really stupid things publicly and privately." Rexulti (brexpiprazole) is "an atypical antipsychotic indicated for use as an adjunctive therapy to antidepressants for the treatment of major depressive disorder (MDD), for treatment of schizophrenia and to treat anxiety (panic) attacks," according to rxlist.com.
Now that he is apparently off the meds, he wants to make a confession to his fans: "To clear the air cause I'm an open book and got nothing to hide. My wife is NOT pregnant and never was (those meds had me on one) I owe no one any money on any level matter of fact I just took care of both of my lawyers fully 108k for my lawyer and almost 20k for Shaylas lawyer. I could never give what I don't have. Smart folks do the math!"
The Fast & Furious and Baby Boy star also apologized for his recent claims that Will and Jada Pinkett Smith had loaned him an astronomical $5M in exchange for his social media silence and to cover his legal bills. The Smiths had to come out publicly and refute Tyrese's outlandish earlier claims of a massive money giveaway to one person.
"And I've already mentioned that there was a few talks with the Smiths and those meds made me jump out there and speak on monies that never came in- I've already again apologized to them privately and publicly for everything," he wrote.
"I apologize again for what happened privately and publicly I know the jokes have been flying and will continue to fly and I'm ok with it I'm a big boy with Thick skin," he added.
Now with certain stressers in his life now eliminated – and the fact that he has shared custody of his daughter, Shayla, and the fact the judge threw out ex-wife Norma Gibson's order of protection – the talented singer and charismatic actor will comport himself more within the parameters of reality.
Here is Tyrese's mea culpa in full below:
Let's get this all off the table a few weeks back while stressed and of course as I embarrassingly spoke on this.. I was advised to use some psych meds called Rexulti and I did and did some really stupid things publicly and privately that will take me a while to recover from. To clear the air cause I'm an open book and got nothing to hide. My wife is NOT pregnant and never was (those meds had me on one) I owe no one any money on any level matter of fact I just took care of both of my lawyers fully 108k for my lawyer and almost 20k for Shaylas lawyer. I could never give what I don't have. Smart folks do the math! And I've already mentioned that there was a few talks with the Smiths and those meds made me jump out there and speak on monies that never came in- I've already again apologized to them privately and publicly for everything. I'm traveling cause I can afford to, and I'm not out here hosting parties ( cause you haven't seen me post about any lol ) I'm out here handling business long awaited Business! #VoltronBusiness After being 100% exonerated my name is cleared of 10 years of lies and allegations that I'm very happy to move away from. it's that I have a Movie/ Documentary coming from the moment it all happened I hired a camera crew to follow me around and capture every moment. I apologize again for what happened privately and publicly I know the jokes have been flying and will continue to fly and I'm ok with it I'm a big boy with Thick skin. NO one I repeat NO one has flown me around, I've arranged and made these moves myself.. That "Fast" bag would of been nice of course but that's life right? The real fathers and hustlers understand that it's whatever it takes to get shit done. feel free to take my words and pick them all apart that's MY story and my TRUTH and that will never change.. Again I apologize to those of you that I've let down from the "way" this all looks but we live and learn and I've learned a LOT.. For my so called loved ones who went out of their to step on me while I was Down. I know exactly who you are… and I seen everything- I love You Too. This is my last post about the past. Let's move on shall we? #DaddyDaughterSeason #Capricorn