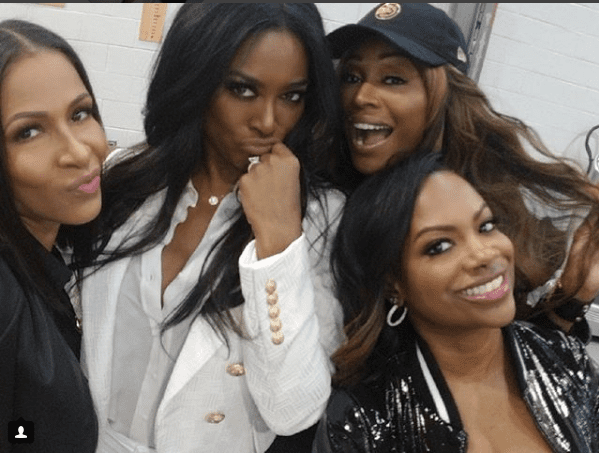 Rumors are gushing in torrents from the set of "Real Housewives of Atlanta" that Kenya Moore's peach was snatched from her hand by Bravo producers due to her resolute unwillingness to divulge details on her wedding to mysterious businessman Marc Daly.
Getting fired was not just a scenario being pushed by Moore's archenemy Kim Zolciak-Biermann, who curses the very air that Moore breathes. RadarOnline stated the writing was on the wall the minute production found out about the surprise Instagram posts about her wedding on a Caribbean beach.
As an insider close to the RHOA set shared with the publication these producer sentiments:
"No one thinks Kenya has ever told the truth of her personal life. There is nothing going on. Normal people got married, had children and shared it all with producers on the show," the person said. "This is Bravo's No. 1 show and the producers don't have access to the story," the source added. "That doesn't work."
The source says producers' frustrations were ratcheted up a few notches with Moore's ridiculous refusal to address anything regarding her relationship or personal life throughout the season. As a form of punishment, producers did not include Moore on the Spain trip opportunity, and then fined her for excluding things that could have been used to craft a viable storyline for her.
"Kenya told us she didn't tell her dad that she got married. But she wouldn't do it on camera. All she would give us was one scene where she spoke on the phone to her dad and we filmed it way later," the source told Radar. "It wasn't really when she told him. She just refused to do anything with him about it and we have deadlines to meet. So, since we couldn't have anything but the car scene in there she lost half and episode's pay, which was $25,000."
That was not the end of it.
"She got taken off the Spain trip the day before the ladies were leaving. She doesn't get paid for the two episodes for the trip. So, she missed out on $100,000 and they fined her $25,000 for the filming with her dad."
Astonishingly, as narcissistic and neurotic as Moore has been in the past, the former beauty queen was really willing to risk it all to keep her personal life private.
However, if the rumors are true, she really lost her job for her boo.