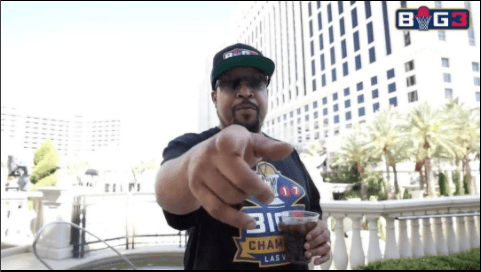 O'Shea Jackson Sr. tells The Players' Tribune that he's known two geniuses in his life. The co-founder of the 3-on-3 pro basketball league, BIG3, Ice Cube says, "The first time I saw Kobe [Bryant] play, he started out on the damn bench. I spent the first half yelling at Del Harris.
"It was Kobe's rookie year, early on, and Del wasn't playing him too much yet. I wasn't having none of that. My wife Kim and I were in our usual seats, 10 rows back behind the bench, and I'm thinking, Nah, man. We didn't pay good money to watch the young dude sit."
Here's more of the interview.
On Kobe and Dr. Dre:
"I've known a couple geniuses in my life.
"One of them is Dr. Dre.
"Every kid in South Central played basketball growing up, but not Dre. I don't think I've ever even seen Dre shoot a basketball. While I was writing rhymes, playing ball, getting into trouble, doing whatever I was doing, Dre was already making records.
"So if Dre did have a jump shot, ain't nobody ever seen it.
"Dre's never had no time for games. That's the thing you gotta know about him. He wasn't trying to be at the playground. If you wanted to find Dre back then, even at that young age, you'd have to meet him at the studio. That's where he was. His dedication to his work was unparalleled. He was all about the music. He was about the work. The hardest I've worked on a song is when it's a song with Dre — back then, and still today. Because you're gonna do the vocals … and then he's gonna make you do them over and over again until you got that perfect cadence. He's a perfectionist. What are you gonna do, go in there, look at Dre and not work as hard? If you're with the best, you gotta be at your best.
"Another guy I put in the genius category is Kobe.
"I could rattle off to you a ton of Kobe's records, but you already know all of that. I could talk about talent, but lots of people have natural talent. Kobe was blessed with unbelievable God-given talents — and he could've rested on those talents and still been a great NBA player. He didn't so that. You already know he was the first in and last out of the gym. He was adding new elements to his game every summer.
"I appreciate all those things about Kobe. I appreciate that talent and his work ethic. But what I respect Kobe for, out of everything? I respect Kobe for his killer instinct. No one had it like he had it. That's what makes Kobe genius level. How can you even describe it? There's a track called "Natural Born Killaz" that I did with Dre 20 years ago. The track's not about basketball, but the vibe is Kobe, no doubt about it. When I'm rapping, "All weak motherf–––––s, give my ring a kiss, that's on a Kobe vibe. That's pure Kobe. Give his five rings a kiss. He was a killa."
Watch the full story here: https://www.theplayerstribune.com/ice-cube-kobe-bryant-tribute/