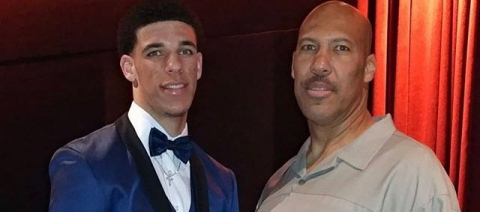 Surprise, surprise: LaVar Ball, one of the hottest topics of 2017, is still making new headlines, each and every week. The entrepreneur announced his plans to begin the Junior Basketball Association (JBA) soon. The league is going to invite the top-ranked high school players who have to comply with the NBA Draft rule of waiting one year upon high school graduation to be eligible to go professional. Here are three reasons the league will work:
Players can get paid without going overseas
LaVar took matters into his own hands after LiAngelo was suspended indefinitely from UCLA and LaMelo's eligibility was in question after he debuted his first pair of shoes for his 16th birthday by sending both sons to Lithuania to play professionally. The overseas method is one that American prep stars like Brandon Jennings and Emmanuel Mudiay took before heading into the NBA Draft. The players chose to get paid versus living a far too short experience as an undergrad. However, this league ensures the prospects get paid without having to leave American soil as teenagers.
Most players don't finish school in four years already
It's rare to see a top NBA Draft prospect be a college senior. In fact, it's a rare to see more than two seniors being picked in the draft's first 14 selections of any year. None of the NBA's biggest stars stayed all four years of college before declaring for the draft. Superstars like Stephen Curry, Blake Griffin, and Dwyane Wade were considered college veterans before turning professional and they only stayed three or two seasons, respectfully.
The "one-and-done" era has left freshmen with no interest in minimum curriculum requirement courses for a semester to remain academically eligible for an entire season. Many players go back and finish school in-between seasons. Players like Kevin Durant, Vince Carter, and Jarrett Jack have all gone back to the schools they once played for to complete undergraduate degrees. Jabari Parker is a student who had a 3.7 GPA in high school and complained about the difficulty of eating as a student-athlete while he was a freshman at Duke. The honor roll student declared for the draft after his only year in college.
Being paid in the JBA gives players an opportunity to pay for college themselves as traditional students.
Pressure on NCAA/NBA will either force payments for student-athletes or get rid of one-and-done rule
The pending success of this league could ultimately force the NBA and/or NCAA to change its policies that created this "one-and-done" epidemic.
The NBA may eliminate its one-year requirement. Kyrie Irving was still selected No. 1 in 2011 after only playing 10 games in college with Duke. Brandon Jennings was still selected in the top 10 of the 2009 draft after struggling for a season overseas in Italy.
The NCAA may give in and allow players to make money off of products sold using their likeness. The rule change would allow players to get paid for jersey signings, commercials, and any other events that professional athletes get paid to do.
These potential rule changes that would come as a response to the JBA is what the new league is all about: exposing a problem.