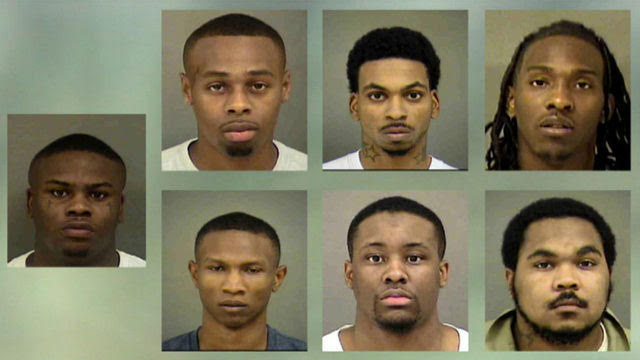 Members of a Charlotte hip-hop group and others face decades in prison after being indicted in a $1.2M bank and identity theft fraud scheme.
Seven members of the FreeBandz Gang, along with some who orbited their world, are accused of financing what the U.S. Department of Justice said were lavish lifestyles by defrauding banks through a scheme involving worthless checks.
The group first attained local fame by posting their music videos and images on YouTube and Facebook, replete with flossing firearms, stacks of cash, jewelry and cars, according to the indictment unsealed in U.S. District Court in Charlotte on Wednesday.
A federal grand jury returned the 46-count indictment on Dec. 13, court records show.
According to the United States Attorneys Office, Western District of North Carolina, Freebandz group members were depositing fake or stolen checks into straw bank accounts and then quickly withdrawing the money before the banks finished clearing the checks, the indictment says.
The indictment also accuses Freebandz of using the internet to steal personal information to create fake IDs that they used to obtain credit, car loans, apartments and cell phones, which were resold for profit.
According to a DOJ press release, James Murray Willingham Jr., 23, Damonte Withers, 27, Deandre Howze, 23, Jeffrey Monteith, 22, Quadarius Thomas, 23, Laerek Williams, 25, and Nemiah Davis, 25, all of Charlotte, are charged with multiple counts of conspiracy, bank fraud and wire fraud, and aggravated identity theft.
Others in the scheme paid people to open new bank accounts or let them use their existing accounts and PIN numbers to carry out the fraud, according to prosecutors. In other cases, the indictment says, group members stole ATM cards and PINs to access the bank account.
The scheme lasted from February 2014 until three months ago and caused at least $235K in losses to financial institutions, the indictment says.
Bank fraud and conspiracy to commit bank fraud each carry a maximum 30 years in prison and $1M fine. Wire fraud and wire fraud conspiracy each carry a 20-year sentence and $250K fine. 
Other charges include possession of device-making and document-making equipment, each carrying a maximum 15-year sentence and $250K fine; aggravated identity theft carries a mandatory two years in prison per count; and firearm possession carries a maximum 10-year sentence and $250K fine.
On Friday, Charlotte-Mecklenburg police said they have arrested all of the suspects except two.