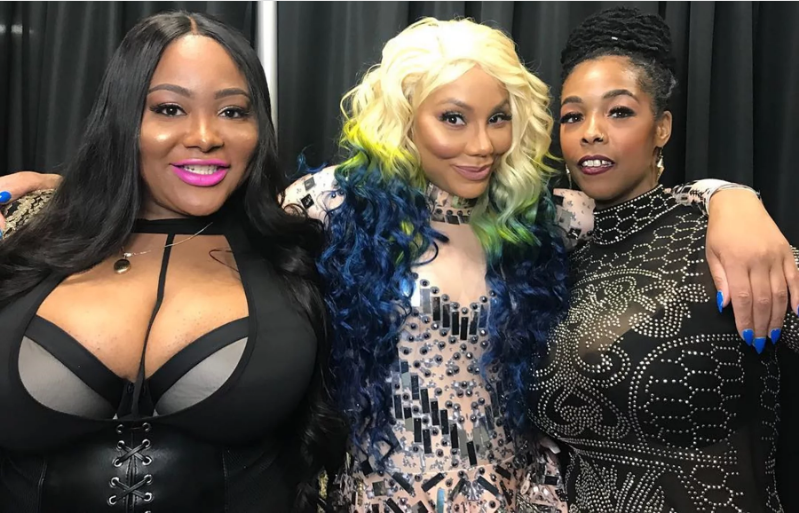 Tamar Braxton thought it was a good idea to bring out Ts Madison and Khia from "The Queens Court" during the Xscape concert in Atlanta, where Tiny Harris and T.I. were also present. But Xscape's Kandi Burruss had other thoughts and promptly banished the pair from the premises.
According to Ts Madison, she and Khia were invited by Braxton and Vince Herbert to be part of a performance during Braxton's set. Braxton had been opening up for Xscape during their national concert tour.
You don't have to be a connoisseur at predicting to know that Khia, best known for her "My Neck, My Back" rap hit, probably would have snatched the mic and proceeded to bash Braxton's nemesis, reality star and author Toya Wright.
Wright has an ongoing feud with Braxton even though Xscape member Tiny Harris has a close relationship with both women.
As we previously reported, Khia slammed Toya ruthlessly for getting pregnant before getting married – again – and also slammed her daughter, Reginae Carter, as well.
When Burruss, star of "The Real Housewives of Atlanta," learned what was about to happen during the Great Xscape Tour, she called security who hauled Khia and Madison out of the building.
Madison spilled some hot tea by writing on her Instagram account: "Well it was about to be an EPIC NIGHT being apart of my girl @tamarbraxton show tonite!! But seems like #TheQueensCourt gets under them other heauxs skin. FUCK THEM OTHER HOES!!! #tamarbraxton you are an AMAZING TALENTED BEAUTIFUL HUMAN BEING!! And you gone SOAR ON YOUR OWN!!! I loooooove you down!"
Ts accused the Xscape people of manufacturing drama in order to get Ts and Khia out of the arena.
She added: "The Queens Court was a guest at Kmart show tonight the Xscape [email protected] told security we had weapons and an attempt to get us kicked out. Then we got dressed and waited to go on with Tamar. I am assuming the Xscape girls wanted us gone. And we didn't leave so they continue to press down on Tamar so she could not do the performance with us. So Vince asked us if we wanted to stay and watch the show and we said no we were not here for them hoes, we were here for Tamar, and we left in our limousine that was taken care of by Vince and Tamar so the homosexual."
Many fans were with Burruss, even calling her a hero and a boss lady, and denounced Braxton as being mean because she is aware that Wright is over seven months pregnant and has been the object of Khia's shade in the recent past.
One fan stated: "Def tired of black women reading, insulting, and roasting each other for fun and profit. Out here in public breeding negativity and division. Love Madison, but I've not watched this court wit Khia for that very reason."
One fan took Khia and Madison to school: "Khia is a pretty lady. Vince is Xscape's manager…he couldn't work it out?!? Something ain't right….I don't trust NONE of them, Maddie. Lol.if Tamar can take the jokes and still be cool with yall after Khia called Logan ugly which he's not!!! The rest of the ladies could've been mature too. Probably BC of paper back Toya."
Another social media observer questioned the motive behind Braxton's invitation of the pair: "Question it shady/wrong for her to have taken picture after ALL they said about Toya & reginae? She tryna be friends, so she don't gets roasted orrrrrrrr OHHHHK THEY ROASTED SUM1 SHE CANT STAND, never mind…"