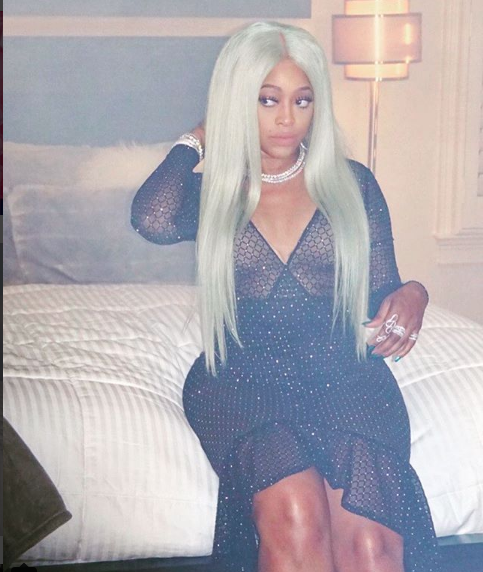 I don't think the South has seen this much destruction since Sherman's March to the Sea during the Civil War.
Khia and cohort Ts Madison are continuing their scorched earth policy, leveling real or perceived enemies with ruthless and indiscriminate abandon. Through their YouTube channel, "The Queens Court," rapper Khia, best known for the raunchy, risque rap single "My Neck, My Back," has continued to fire devastating verbal missiles at her targets Toya and Reginae Carter. She also struck South Florida rap queen Trina.
"That's how far me and your daddy [Lil Wayne] go back," said Khia to Reginae. "When ya step mama Sourp** [Trina] was f**** Baby. No she's not the baddest because she f***d your mama AND your daddy. That don't make her the baddest, baby."
Trina, who is not known for turning the other cheek, fired off her own shots at Khia, telling "The Breakfast Club" that she is in need of some Raid spray.
"We don't address cockroaches on 'The Breakfast Club,'" said Trina, 43, who is starring in the latest incarnation of the "Love & Hip Hop" franchise based in Miami, beginning on VH1 on Jan. 1. "What I'm trying to tell you is when you look at the Trina music, you look at the Trina name, you wonder how Trina lasts for 17 years, you wonder how Trina gets so many bags, hmmmmm —that royalty is very good daddy."
For a Christmas holiday edition of "Queens Court," Khia, 40, ripped into Trina for calling her a cockroach.
"This rotten body whore, corroded a** b*** producing unproductive waste of time," Khia barked. "Walking bedbug — she called me a roach?!But roaches are everywhere. You know, they go everywhere, they all over the world. B*** you ain't nowhere but in Miami.
Talking about you the baddest b***, the queen of Miami, girl — well, at least you got on the 'Breakfast Club' and finally admitted after 17 years, you are a carpet-munching p***y eating whore," she added. "Turning out these young folks, f***** and sucking for beats and fashion."
Khia denies she's dragging Trina because she wants to be added to the cast of "Love & Hip Hop Miami," and she began attacking Trina's looks.
She said, "Sourpuss, sourpuss, sourpuss. Don't you ever in your 49 years of living, you Bassett Hound looking b***, try to come for me. You is not the baddest b***, you do not have more hits than me, you do not look better than me. All you do is try to make friends with b***s in the industry. If I'm a roach, then you're a bed bug. You've been infecting people's beds for many, many, many, years. Bassett Hound looking b***, don't you ever try to come for the queen. You done been in the game 17 years and you ain't won nothing but a disease.
"Did you ever tell anybody why you put out a diss record on me? While you trying to act like you're the Diamond Princess and got everybody thinking I'm hating on you, I had to show you that 'no b****', I don't have to go through you, I'm gonna go through Trick [Daddy]."
Khia then gifted her an iodine douche, feminine deodorant that she said she should share with K. Michelle, some mouthwash and feminine body wash.
What do you make of this? Do you believe Trina should come for Khia's scalp the way Toya Wright and daughter Reginae Carter did?
https://www.youtube.com/watch?v=G_TzJVJA1-E
Source: YouTube/Ts Madison + Khia/The Queens Court