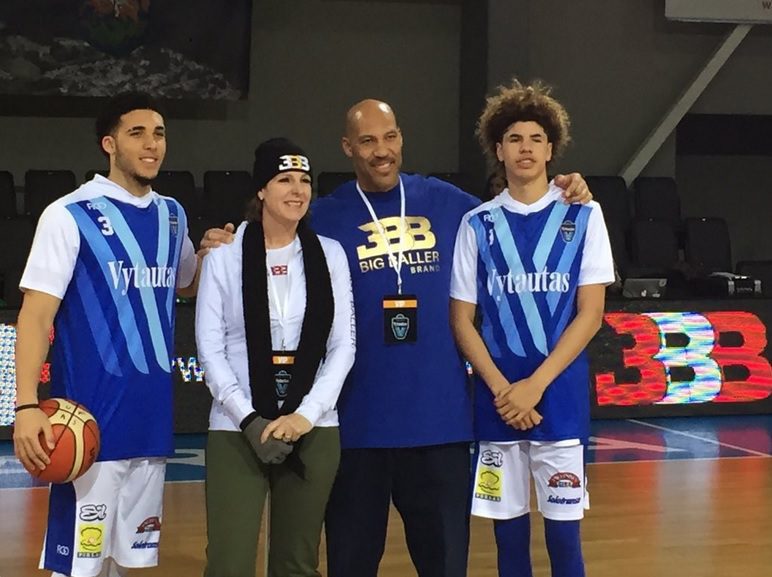 Big Baller Brand made its overseas debut as only Big Baller Brand could. In a packed house, BC Vytautas' two newest players LaMelo and LiAngelo Ball received rousing ovations and the play didn't disappoint.
LiAngelo finished with 21 points and five rebounds, while LaMelo finished with 10 points and nine assists. After being pulled out of UCLA and Chino Hills High School by their father Lavar, this was the first game since last season for both brothers. Despite a few rough moments — LiAngelo missed a wide open layup and LaMelo threw a couple of no-look passes out of bounds — for what it was, the game was a success.
LaMelo is now the youngest American professional basketball player ever. He played in his own signature shoe only a couple of months after beginning his junior year of high school. Last season at Chino Hills, LaMelo once scored 92 points in a single game. LiAngelo is back on the court after being suspended indefinitely by UCLA for stealing sunglasses from a store in China before the team's season-opener against Georgia Tech. LiAngelo led the state of California in scoring last season as a senior and dropped a season-high 72 points.
Most of the Ball family was in Lithuania to support the young ballers. Mother Tina of course with LaVar and his security team of brothers were all in attendance decked out in Big Baller Brand apparel from head to toe. The Triple B logo was at center court, on the banners surrounding the arena, and even on the referees' backs.
Cameras from many media outlets were present, including the ones from the family's reality show. Over 120k people streamed the game live on Facebook during hours that were in the middle of the day for a lot of Americans. The excitement and intrigue around the family have certainly picked up where it left off in 2017.