Norelle (formally Lolah Brown) is a singer-songwriter from Cleveland, Ohio. She has 10 years of experience in the music business by way of a background vocalist for singers such as John Legend, Rihanna, and Nicki Minaj. Her extensive resume in the business has now led her to the pursuit of her own solo career under a new moniker. She spoke about her humble beginnings, early experiences in the business, and more.
When did you realize you could sing?
My earliest recollection of me knowing that I had an actual gift was when I was 5 years old. I was in preschool, in Cleveland, Ohio, singing "Smooth Operator" by Sade. The average child wasn't listening to Sade, but due to my mom playing it all the time, that was the first thing that I connected to. Since then, singing has become this innate gift that I have. I never had any professional training, I didn't sing in the church, and my parents weren't musicians. All I knew is that I caught onto music quickly, and was able to recognize melodies at an early age.
When I was a teenager, I started to go to church, even though I wasn't singing in church. Through the church, I started meeting with more musicians and cultivating myself as a singer in the city of Cleveland.

What was that moment like when you started to connect with your gift?
I don't feel like I've been truly in alignment with my gift until now. Early on, I was winging my gift and going with the flow of things. I knew that I loved singing and that's as far as it went. I never thought that I could really be a star. These opportunities that I now have presented themselves at the right moment. Now that I have a better understanding of who I am as a person and creative, I know where I want to go and the things that I want to do. I've experienced enough of what I don't want to know the things that I want.
How did you receive the opportunity to start singing for superstars such as John Legend and Rihanna?
Before I got my big break, I started off singing with Conya Doss. Through Conya, I met Tarsha McMillan (Anthony Hamilton's ex-wife) and started singing with her, as well. These two artists helped develop me as a background vocalist, and they are the two individuals that I started off with prior to my start as a professional singer in 2008.
My path to John Legend was all divine order. I got to John Legend through a series of musicians which happen to be James Dorsey, Young World, and Eugene Roberts. Eugene was the music director for John Legend, and through him, I found out that John was having auditions for background vocalists in 2008. I was living in Cleveland, Ohio at the time, and I found out that Conya was driving to New York the same weekend that auditions were taking place. When I got to the audition, I didn't even know what to expect because I'd never been to an audition before. I was so scared, and shy, but I closed my eyes and told the Lord that if it's meant for me to be a background vocalist, then it will come to fruition. That John Legend audition was the start of everything for me.
Background singers are the foundation of the studio and live performances. What are some things that you do to keep yourself at your best vocally?
Diet plays a huge part. I love cheese, but I try to stay away from dairy, and alcohol. Rest is probably the most important aspect of them all though. I started working with Rob Stevenson who is Rhianna's vocal coach. He also has worked with Justin Timberlake, Monica, and The Dave Matthews Band. He has an app out that we use to practice vocal warm-ups to strengthen our voice. These exercises help clear out the mucus that's in your chords, so you can be clear and ready to go.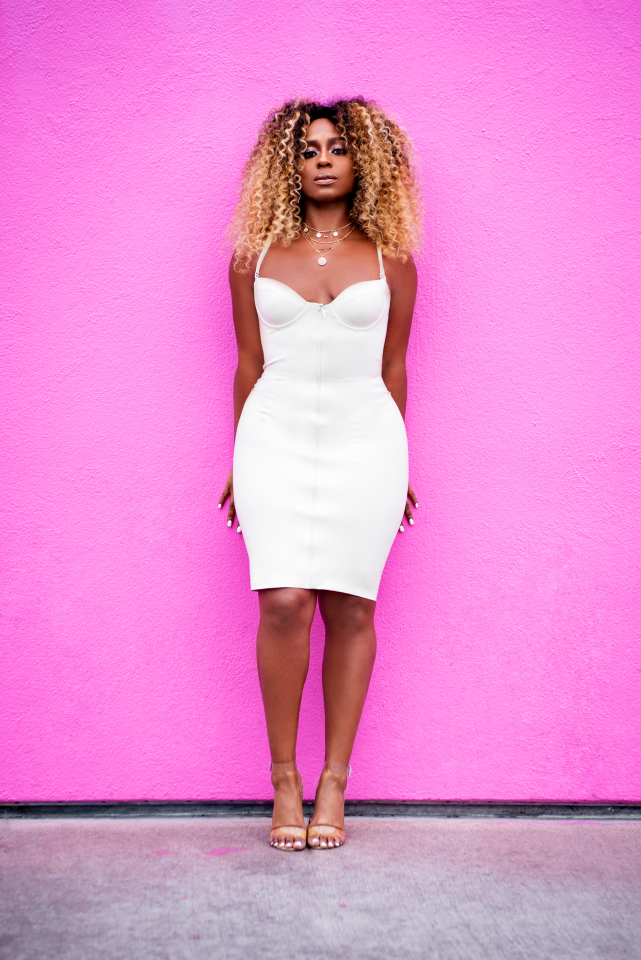 How essential is it to have a great management team behind you as an artist? I know you recently just signed with W Entertainment.
Having a solid management team behind me is pivotal in this business. I would be in the same position that I was in a couple of months ago had I not signed with W Entertainment. I have the relationships on my end when it comes to the music and they meet me halfway with the business relationships. It's important to have people around me that will help carry the vision because I can't do everything alone. W Entertainment has helped me in this aspect and I'm excited to be moving forward with them.
Talk to me about the experience of becoming a solo artist under a new moniker?
I'm petrified. Not because of my audience or my fans, but I think as humans, change is a scary thing. Letting go of anything that we've become accustomed to is hard, but I know that this is necessary for me as a person.
For me, Lolah Brown worked for a time, but being that I'm growing and evolving as a woman and singer, it was time to end that era of myself. I even looked up the name Lolah and it means, "woman of sorrow." That's not anything that I want to be connected to, so I knew I had to drop that energy. I'm now going by my middle name which is "Norelle." Norelle means, "woman of light." In terms of my upcoming project, I'm working with a ton of people from back home. On my first single, I'm going to be talking about letting go of old things and following my passion. This is a fresh start for me, and I'm excited about the life lessons that I'm learning through this process.