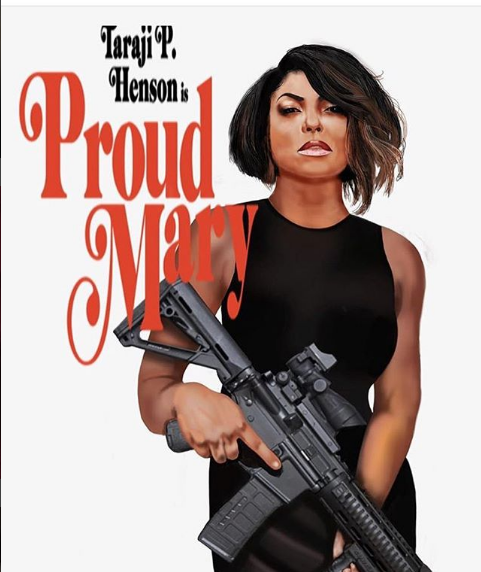 Smoke is still billowing up from the Taraji P. Henson's new film, Proud Mary, after it crashed and burned at the box office. And there are a lot of Henson supporters and contemporaries who have smoke shooting out their ears and eyes because of the studio that put the movie out.
The film, directed by Babak Najafi, follows the story of an assassin who ends up looking after a teenage boy. Mary, a hitwoman for an organized crime family, finds herself caring for the boy as the film progresses. 
Proud Mary was projected by industry prognosticators to haul in $20 million during its debut weekend, according to Forbes. But the first movie to feature a Black female action star in 40 years only made $10 million during its opening weekend. The film, which debuted at No. 8 in the country, made $3.2 million on opening day, in which it competed with The Post and other debuts for Paddington 2 and The Commuter.
By comparison, The Post earned nearly $24 million domestically.
When the trailer dropped for Proud Mary, folks were excited. It looked like an epic action movie, one that Black people would appreciate for showing us in the lead role.
It was like Sony dropped the ball on the movie, going silent as the release approached, which led some people to ask whether the studio was burying the film.
Henson was outraged with the lack of marketing, telling The Hollywood Reporter that she had been "begging and pleading my connections and doing whatever I can to make this movie the best it can be. I don't just put my name on stuff just to say it; I get down and dirty.
"[Studios] never expect [Black films] to do well overseas. Meanwhile, you go overseas and what do you see? People trying to look like African-Americans with Afros and dressing in hip-hop fashions. To say that Black culture doesn't sell well overseas, that's a lie. Somebody just doesn't want to do their job and promote the film overseas," she added.
"Do you not have people streaming my Christmas specials in Australia? Come on, y'all! I don't understand the thinking. Send me over there, and if it fails, then we don't do it again, but why not try? If I knew this movie was gonna make money domestically, I would try to get more money overseas. It's business!" she said.

Past collaborators like Will Packer, who produced the Think Like a Man movie Henson starred in, fired up social media to encourage people to support the film given its uniqueness in having a Black woman lead in an action film. Its support, they argued, would be a litmus test on the future of such films in Hollywood.
Others used Twitter to blast the decision makers at Sony:
Taraji supports everybody. She's an amazing actress & it's so disappointing that Proud Mary wasn't marketed right. She deserves better than that. 😣

— nelley🎀 (@JayBeQueenin) January 14, 2018
Pls read this thread and SUPPORT!! #ProudMary @TherealTaraji https://t.co/ezCf6YL2vK

— Gabrielle Union (@itsgabrielleu) January 14, 2018
Go see @ProudMaryMovie. Because we don't get Black women as action leads often. And if the movie doesn't do well, it will be a while before we do again. If you're not interested in the movie, buy a ticket anyway & don't go. Help Taraji. She'd do it for you. pic.twitter.com/1a7gsq4Nky

— April (@ReignOfApril) January 14, 2018
LMAOOOOO BRO SHE SO BOLD…. yeah her life over after these videos lmaooo pic.twitter.com/1vYt80ACkr

— Tabarius da Feminist (@TabisBack) January 16, 2018
'