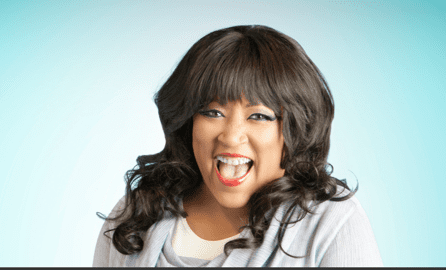 Jackee Harry is one of the most uniquely beloved Black actresses of our time. If you grew up in the '80s, you were mesmerized watching her play sexy siren Saundra Clark on NBC's family sitcom "227." Although introduced to stars Marla Gibbs via "The Jeffersons" and even more importantly to me at the time, Alaina Reed Hall from "Sesame Street," it was Jackee's charming rendition of the unapologetically sensual Saundra that captured my attention every time she switched into a scene in her fitted peplum dresses, with her fabulous hair and flawless makeup. She was the visual explanation of the Commodore's timeless hit "Brickhouse" in motion. Jackee's presence gave the matter-of-fact family drama some much needed sass and pop and ironically Jackee sans Saundra Clark continues to deliver that long after the sitcom has ended.
When asked about the recent controversy from fellow comedienne Mo'Nique, Jackee was surprisingly candid.
"She's really good. I miss seeing her do her thing. We need her back on television; she's so good. I wish she would've found a way to do it and maybe get something on the back-end. Sometimes you got to do things differently to get what you want," she said.
Jackee admitted being a fan of Dave Chapelle, Chris Rock and Amy Schumer, as well.
"You see Tiffany Haddish got this deal with HBO and she's gonna blow it out the water. It's her time. She's been working for awhile; she's been around. If you work hard, eventually things will come around. That's just how it goes," Jackee explained.
Her career has been filled with memorable characters: my generation loved Saundra Clark and my daughter's generation loved Jackee's "Lisa Landry" character from ABC's "Sister Sister." The series introduced Tia and Tamera Mowry, and starred Jackee as their adopted mom. Like "227," "Sister to Sister" was a staple show, growing and nurturing a generation and Jackee's unforgettable personality was a driving force. Besides the sitcoms she's known for, Jackee has been in a host of movies and shows over a career that spans three decades.
Tyler Perry is the latest to tap into Jackee's magic. A call from Perry convinced Jackee to join his re-birthed effort of "House of Payne." After debuting on TBS years ago, Perry is re-launching the cast on OWN under the title "The Paynes."
Jackee will join original cast members Lavan and Cassi Davis as the story picks up with the Payne family re-locating to Miami from Atlanta. No doubt the Emmy winning actress will add her own sass and pop to the fan favorite.
OWN's "The Paynes" airs Friday, Jan. 26 at 9:00 p.m. ET/PM on OWN.