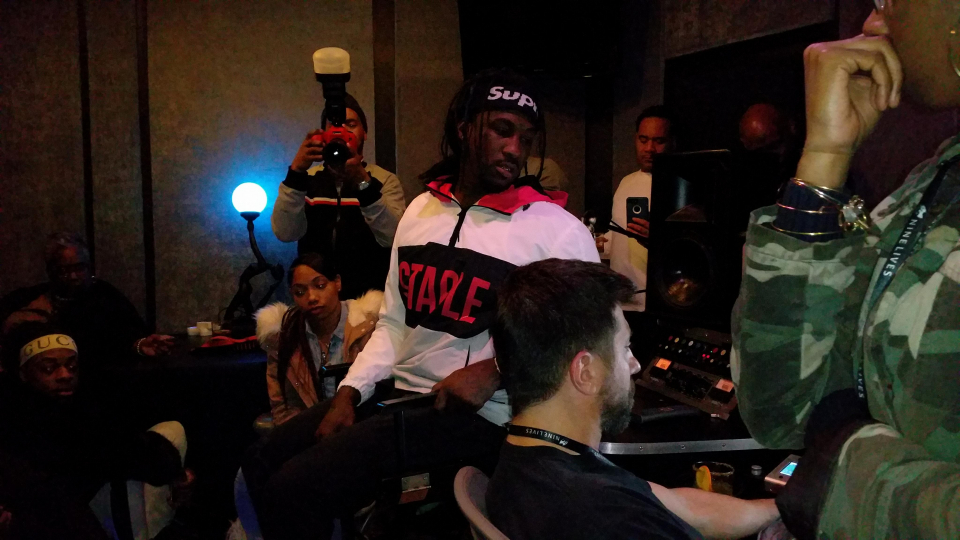 The music business is saturated with urban myths of artists like Mykko Montana who get million-dollar deals with hit records, and then falling quickly into "has-been" obscurity. If you look at the landscape of artists today, very few were around 10 years ago, especially when it comes to hip-hop. To get a second go-around in hip-hop is something that few get a chance to live out. Mykko Montana may get that chance but what may be even more valuable is the fact that he learned the lesson he was meant to learn. Rolling out and Martell sponsored a private listening session at Parhelion studios in Atlanta for Mykko to both share his story and allow media and tastemakers to hear a preview of his new music.
In 2012, Mykko Montana signed a million-dollar music deal and was living the life that most rappers will never experience. His hit single "Do It" featuring K. Camp created the type of buzz that only his hometown of Atlanta can deliver. The song was playing on every radio station and had clubs on fire across the country.
One minute Mykko was homeless floating between friends's homes and the next he was flying in first class with more shoes and clothes and women than he knew what to do with. "God told me I was going to be blessed and he told me when I got my blessing, it was my responsibility to help my family. I was supposed to help my mother and my sisters, grandmother …," Mykko shared. Instead of stepping up and helping his family, Mykko focused on himself and the friends he acquired in the industry.
Today, Mykko doesn't travel with the large entourage he used to years ago. He isn't laced with expensive jewelry and the arrogance he carried years ago is gone. Instead of ego, one can hear maturity and gratefulness in his voice. "It all fell apart because I didn't do what I was supposed to. God told me to do something and I didn't do it. I didn't treat the people around me right. I was just doing me," Mykko admitted. "Out of all the money I had I think I gave my family $800," he admitted.
Mykko's grandmother and two sisters were in the audience for support. They co-signed his account of how things happened and seemed proud of the man he has become. Mykko played his new single, "1000" along with several singles from his upcoming EP. Instead of a young emcee rapping about material things, his new music is focused on his experience, lessons learned, and hopefully, being an inspiration to others.
Whether Mykko gets the million-dollar deal that he had in 2012 or even surpasses it remains to be seen. What remains certain is that his experiences in the music business taught him some valuable lessons in manhood that will no doubt serve him well wherever his journey leads him.