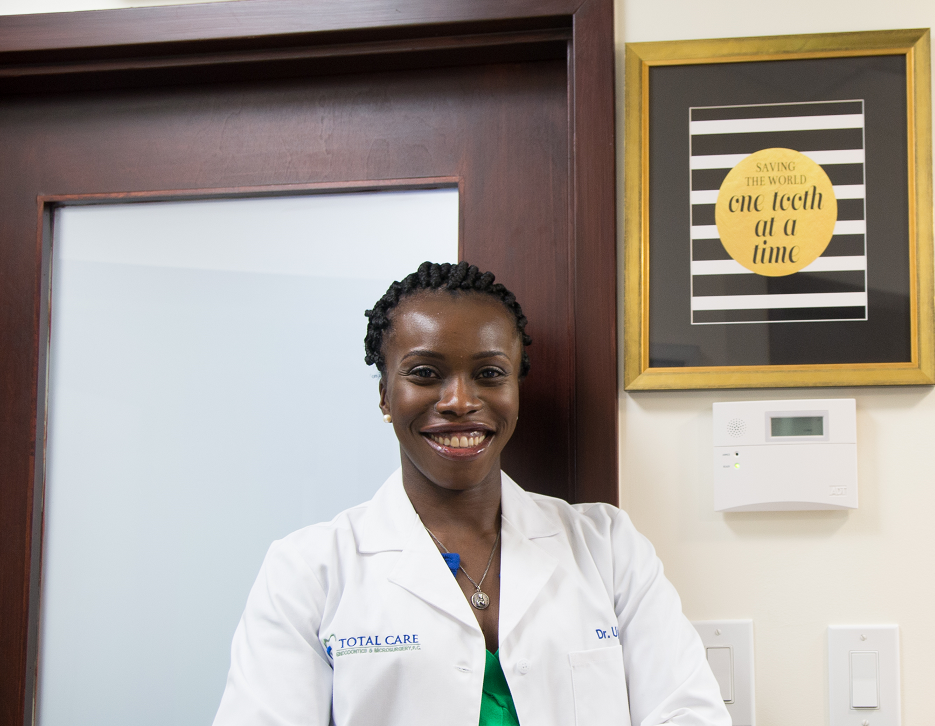 Dr. Uju Mbamalu of, Total Care Endodontics & Microsurgery, P.C., has the perfect remedy for an unforgettable memorable Valentine's Day kiss.
The Nigerian-born, Harlem-raised New Yorker, made saving teeth and preserving smiles her life's focus. She says, "I am grateful for the opportunity to do so while strengthening my local roots and availing myself as a friendly resource for colleagues and patients alike. As a board certified Endodontist, I also have a resolute commitment to delivering the highest quality treatment."
Having earned her bachelor's degree in Sociology from Vanderbilt University in Nashville, she returned to the Tri-State area to complete her Doctor of Dental Medicine degree at Rutgers University School of Dental Medicine (formerly the University of Medicine and Dentistry of New Jersey – UMDNJ). She adds, I spent my final year in Somerdale, New Jersey at the Community-Oriented Dental Education (CODE) program. I performed my residency at the University of Pennsylvania, earning my Certificate in Endodontics and learning modern endodontic and microsurgical techniques from some of the most accomplished and innovative minds in the field. Upon the completion of my studies, I moved to Albany, New York to begin my private practice career and to gain vast knowledge and insight about evidence-based dentistry. Subsequently, I served as an attending faculty member for four years at Harlem Hospital's General Practice Residency program, which is affiliated with Columbia University."
Here, Dr. Mbamalu has the ultimate secret to how you can be a good kisser [in my Usher voice]. Happy Valentine's Day and beyond.
1. FLOSS FLOSS FLOSS
a. The No. 1 cause for bad breathe is bacterial buildup, especially in the hard to get spaces between your teeth. No need to be self-conscious, we all have bacteria.
b. Best way to combat that is to floss 2x daily
2. Flossing Friends
a. Now that we've told you the importance of flossing, in order to maximize results you should look into what I like to call "flossing friends," which are simple flossing aids, such as soft picks, rubber tooth picks or water picks
3. Take Down that Tartar
a. Tartar is bacteria that calcify on your teeth. Make sure you are vigilant with your dental cleanings (every 4-6 months), so that you can manage tarter build-up as it accumulates. If it's been a while, make that call and make that appointment!
4. Liquid Support
a. Rinse with the right kind of mouthwash after every brush. Check the label to make sure your rinse has fluoride. Drink a glass of water with every meal to help dislodge loose food particles from your teeth
5. Stimulate that Saliva
a. For some of us, kissing is a big part of the Valentine's Day experience. Like anything in life, practice makes perfect. Keep your saliva stimulated by chewing sugar-free gum that contains the ingredient xylitol, which can be found in Trident, Orbit and others.