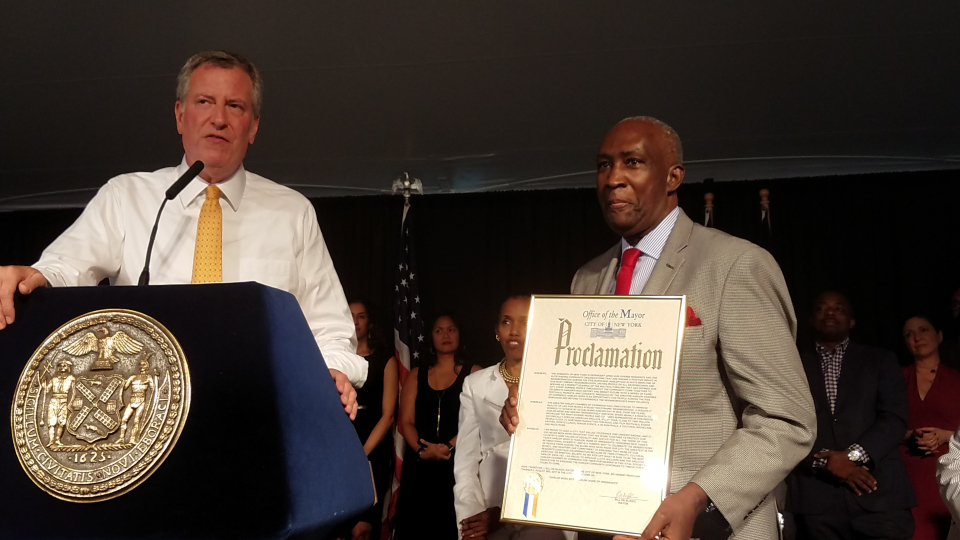 Harlem-based politicians, restaurateurs, publishers and socialites flocked to the home of the New York City Mayor Bill de Blasio and his wife Chirlane McCray for a reception titled "Harlem: Home of Immigrants: Honoring New York's International Diversity" at Gracie Mansion last week.
A beautiful summer day and an indoor-outdoor venue along with a Cuban band greeted guests upon entrance, as well as passed hors d'oeuvres from various Harlem restaurants. Patrons sipped on a variety of different wine and beer, as well as a signature cocktail, with a water station and plenty of non-alcoholic drinks on hand for the occasion.
Lloyd A. Williams, president and CEO of the The Greater Harlem Chamber of Commerce, took the stage to hand out several awards, and later to introduce the first lady of the city of New York, McCray, who had poignant words to share with the gathered Harlemites about how some of its history makers inspired her.
"Writers like James Baldwin, Langston Hughes, Zora Neale Hurston,  Maya Angelou, all those poets, singers, and activists with ties to Harlem inspired me to speak out with my own voice and fundamentally changed my relationship to the world," she said.
McCray then introduced her husband, and, after joking about the length of Harlem Week (which began in late July and ends in late August) the mayor had strong words for those who desire to rename a certain section of Harlem, which received the most thunderous applause of the event.
"Harlem does not need another name. Harlem is a name steeped in history and culture and greatness and if you don't understand that you shouldn't be selling property in Harlem," Mayor de Blasio said. The mayor then presented Williams with a proclamation for Harlem Week 2017.
Among the notables on hand for the event were former member of the House of Representatives Charles Rangel, who is affectionately known as the "Lion of Harlem"; restaurateurs Melba Wilson of Melba's; and Norma Jean Darden of Miss Mamie's Spoonbread Too; Emmy Award-winning anchor Vanessa Tyler; award recipient, anchor and author Cheryl Wills; and musician Paul Shaffer.
For a listing of upcoming Harlem Week events, visit http://harlemweek.com/calendar-of-events/